I was fortunate enough to see this production of Sister Act last year at the Palace Theatre in Manchester, and although I was impressed by it there were a few areas where I felt it could have been improved. Tonight, I was thrilled to see on the whole this production has flourished and grown as a result of its time on the road.
Sister Act is the story of night club singer Deloris Van Cartier (Alexander Burke) who witnesses her bad boy lover Curtis (Aaron Lee Lambert) murder somebody for allegedly informing on him to the Police. After going to the Police herself, Eddie (Joe Vetch) who has admired Deloris from their school days sends her into hiding at the local Convent. Here, in order to try and get Deloris to conform with the rules Mother Superior (Karen Mann) tasks her with coaching the choir and the results are not quite what Mother Superior envisaged.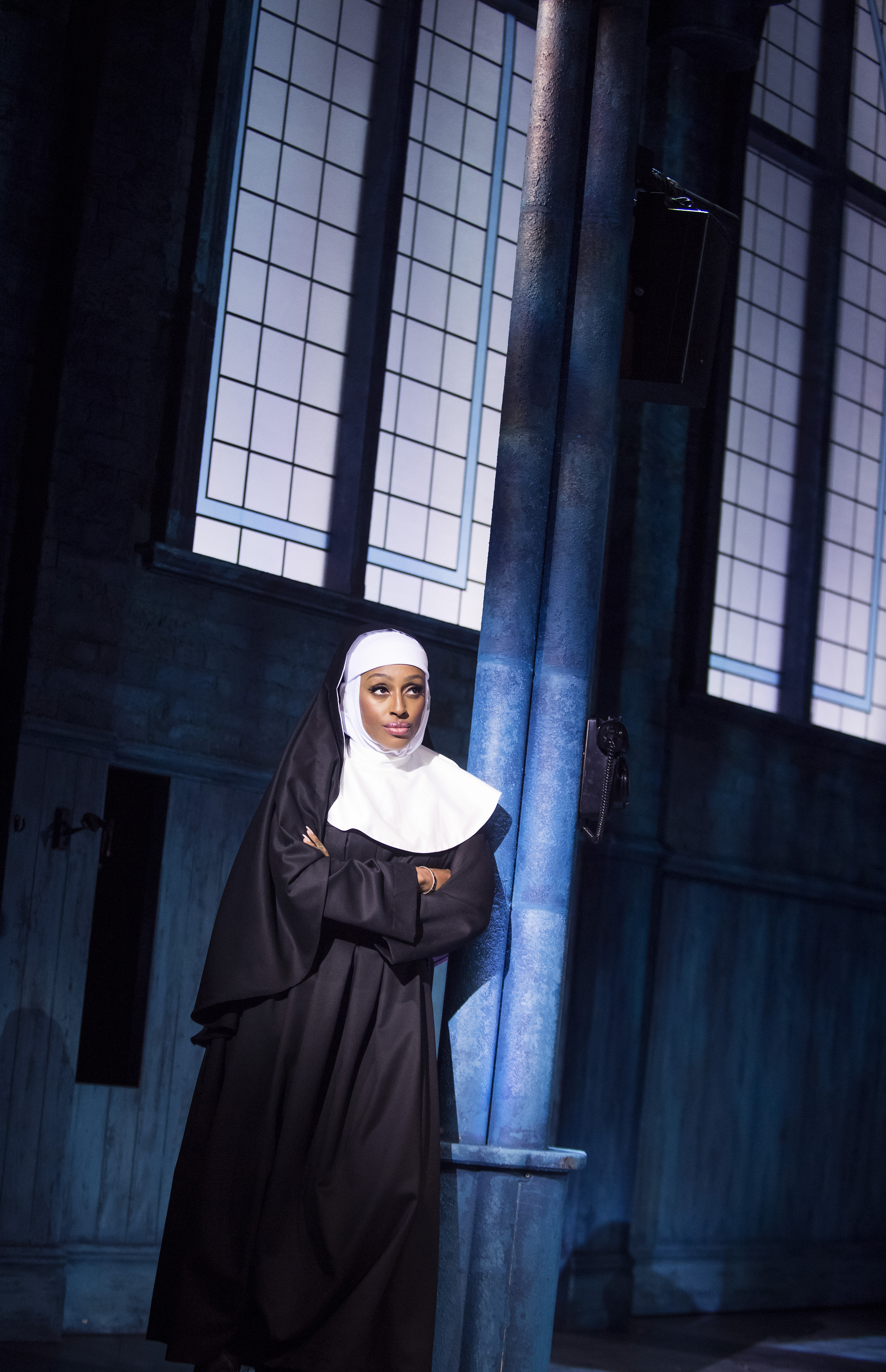 I shall start with a small negative however, something which I did not like last time and despite the show's growth has failed to convince me it is right. The show uses a large number of actor-musicians, now this is fine in some cases such as the current UK tours of Buddy and Sunny Afternoon, but for Sister Act it just does not work. The fact that a large proportion of the cast carry instruments on stage restricts their acting and ability to participate in the choreographed numbers effectively. This is a strange decision from director Craig Revel Horwood, who after all is probably best known for his choreography.
That aside, there are a number of the cast who shine, none more so than Burke who has really grown into this role since I last saw the show. She now displays a greater confidence and allows herself to play with the part more. Add to this her faultless vocals and I think this is her best stage role to date.
Sarah Goggin as Sister Mary Robert portrays the innocence of the role expertly and her transition from young postulant to confident woman is well balanced and as with Burke her vocals are faultless. Susannah Van Den Berg as Sister Mary Patrick has some of the best comedic lines in the show and is a joy from start to finish. Liz Kitchen as Sister Mary Lazarus is also a joy and has possibly the best two solo moments in the show.
Vetch as (sweaty) Eddie plays the nervous nature of his character superbly and the journey he goes on as his confidence grows along with his feelings for Deloris is perfectly pitched.
Special mention should go to Curtis's three henchmen Pablo (Ricky Rojas), Joey (Samuel Morgan-Grahame) and TJ (Sandy Grigelis) who perform superbly throughout, especially singing "Lady in the Long Black Dress" much to the amusement of the near capacity audience at the Wolverhampton Grand.
Sister Act is a joyous evening of fun, laughter and superb music. It is one step away from a five-star show, however for me, the lack of a traditional band in the pit means I can only honestly award it four.
Sister Act continues at Wolverhampton Grand until the 4th March and then continues on its extended UK tour throughout 2017.
Reviewer: Lewis John
Reviewed: 27th February 2017
North West End Rating: ★★★★