I was very eager to attend 'Brassed Off' since my friend had told me they watched the film, so when I had the chance to see Wolverhampton Grand's in-house production of the show I had to take the chance. It should be noted here that this is Wolverhampton Grand's first in house production in 40 years! They picked the perfect show to revitalise them and I hope they continue for years to come, I am already eager to see the next.
If you don't know the story of 'Brassed Off' then it is easy to follow the narrative, but it tells the story of a group of miners in 1994, when their coal pit is near closure and the families are left wondering what will happen to their jobs, their lives and how far they have come already.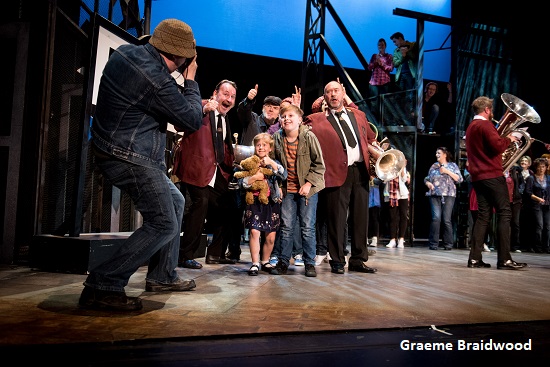 But when the miners are not at work they are in a brass band on the side. This play, written by Paul Allen and Mark Herman, can still be relevant to this day as well as stirring memories from members of the audience who have more of a recollection of this time more than myself, as I learnt more about the miners situation through this piece of work.
For this in-house production the Grand went though some difficult casting in order to fill the cast, for example the four named characters of Jim, Harry, Vera and Rita are played by Greg Yates, Tim Jones, Donna Heaslip and Susie Wilcox respectively, and they were fantastic attributes to the cast, as they brought definition, humour and dramatic elements to their characters and I wanted to know about their story as much as the leading actors.
As well as these wonderful supporting characters, the stand out of the night definitely came from Jeffrey Holland, who played the lead Danny, Miriam Grace Edwards, Sandra, Ash Matthews as Shane, and Clara Darcy (Gloria) and Eddy Massarella (Andy). These five actors were shining beacons of the performance and for me, as well as blending into the local actors, made the show move and flow seamlessly with their lines.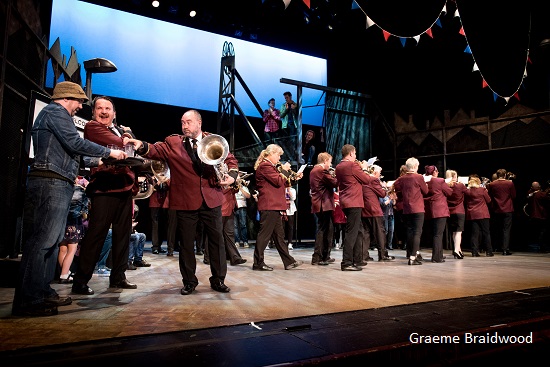 It must be noted here that all actors with leading lines held their northern accent throughout and didn't let their lines be lost through dialogue or arguments. Two standouts for the show were Ash Matthews (Shane) and Clara Darcy (Gloria) who handled their roles perfectly and personally I would like to see both, either tour or be on television, they were utterly perfect.
The set was simplistic but made you feel attached the show and really gave the piece some gravitas. As well as the set, the in-house production also utilised the work of the Wolverhampton Brass Band, who play in the ensemble and seem to blend well with the actors, who I believe play their own instruments within the band, if not they portray this very well and it was believable to me.
In all this production was outstanding and the team who put this show on at the Wolverhampton Grand should be proud of themselves and I hope that they will produce another show next year. Bravo!
Reviewer: Matthew Palmer
Reviewed: 24th August 2017
North West End Rating: ★★★★★