After a successful run the USA, The Addams Family: The Musical Comedy, is currently on its last leg of a UK tour. Written by Andrew Lippa, this show sees the same family we all know and love, but a few years later than the original series. The children are all grown up and Wednesday has fallen in love with a boy called Lucas. The story follows the family as they try to be 'normal' for just one night as his family come to The Addams household for a meet the family dinner.
We meet Gomez and Morticia, as devoted to each other as ever, in their as run down as ever mansion somewhere in the middle of central park. Gomez is horrified to learn that Wednesday is engaged to a boy from Ohio. Before getting married the young couple want their families to meet, to prove they can get along and to get their blessing. Wednesday asked her Daddy to keep the engagement a secret from her mother until after the dinner. Gomez has never lied to Morticia before but he cannot deny this request from his darling Wednesday.
From the onset this show is laugh out loud funny, the script is witty and all the cast had great comedic timing, but Gomez, played by Cameron Blakely steals the show in that department- what an actor, what a comic and what a voice!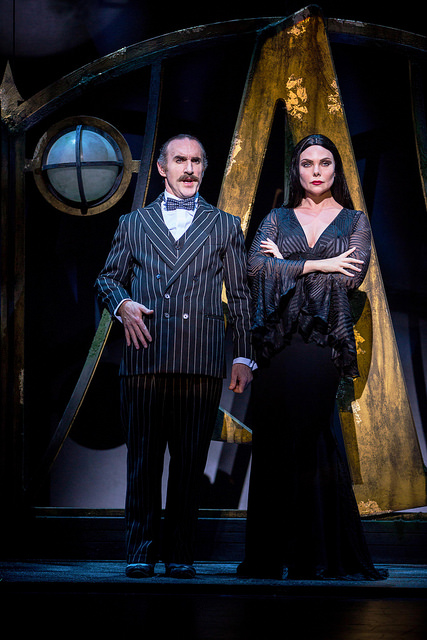 The musical numbers are instantly enjoyable and memorable, I found myself singing a mix of lines such as "When You're an Addams" and "I'm Crazier Than You, your parents screwed you too" all the way home. Numbers such as Gomez's What If, Pugsley's What If & Happy Sad were moving as the characters deal with inner turmoil, lies, betrayal, letting go of the past and letting the people you love move on.
The show benefits from great costumes, fantastic stage design and a live orchestra that didn't overpower the cast as I have seen in the past. These things along with a very talented ensemble made for a magical experience.
Lucas and Wednesday have great Chemistry and I was yet again blown away by Carrie Hope Fletcher's voice- what a set of pipes she has! If you are unaware of Carrie, I urge you to find out about her, she in one to watch in the theatre world and has already accomplished a lot for one so young.
This show is suitable for the whole family and all with love it children and adults alike- it's energetic, completely crazy and non stop fun from start to finish. The show is running until the 21st October in Wolverhampton- what a great Halloween treat!


Reviewer: Lowri Hiles
Reviewed: 17th October 2017
North West End Rating: ★★★★