The English Touring Opera Company (ETO) is the leading touring opera company in the UK. Furthermore, its performances at many venues including those where little or no opera is received, is testament to the dedication of this company in getting opera out to people who may not have experienced it before.
Their production of Mozart's comedy, The Marriage of Figaro was energetic, fast paced and appropriately packed full of farce. As a whole production, the compelling passion from the entire cast was to be applauded. However, stand out performers were Nadine Benjamin (The Countess), for her incredibly powerful operatic vocals and Rachel Redmond (Susanna), who sang with intense emotion and warmth in all her parts – again, her voice outstanding. A special mention must go to Cherubino (Katherine Aitken). She played the fool to perfection and arguably had the stand out voice of the night. She was very watchable and interacted well even when the focus was not on her. Her comedic timing was razor sharp with the most memorable scene being when Cherubino was dressed up as a woman by The Countess and Susanna.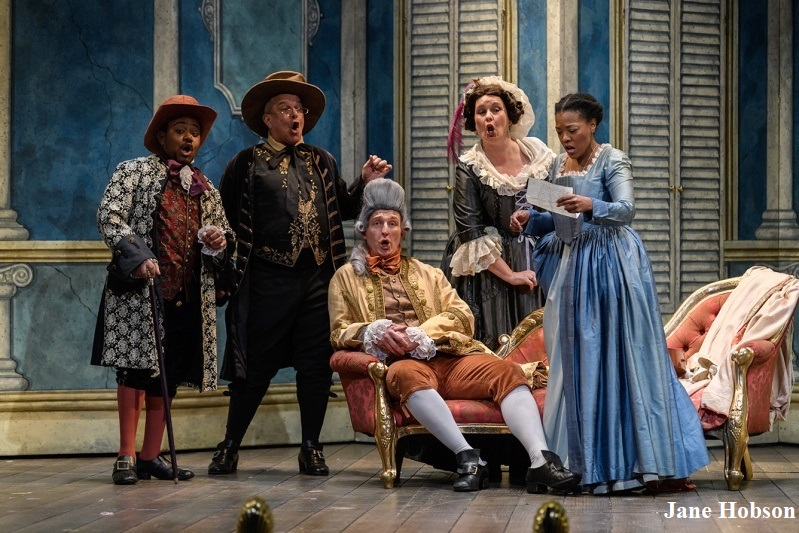 Hilariously trying to walk in heels followed by then jumping out of the window to hide from the Count was entertaining to watch.
Directed by Blanche McIntyre, The Marriage of Figaro is essentially a comedy where the two main characters, Figaro and Susanna overcome many challenges before they can wed. This particular production was fresh, lively and dynamic and McIntyre must be congratulated for this. The whole production held the audience's attention as there was so much to see and hear.
With singing in English and subtitles at either side of the stage clarifying the text that was sung, the ensemble pieces especially were exquisite. Christopher Stark was remarkable as conductor and the orchestra were quite simply a joy to listen to. If by any rare chance you didn't get anything from the opera itself the orchestra playing to Mozart's finest, would certainly please all.
The set was basic but could possibly have contained more detail. The backdrop essentially did not change other than the forest scene being added on. This did not detract from the opera at all, however may have made it more opulent and of its time if there were more detail.
In summary, if you have ever considered opera yet feel a little apprehensive I would highly recommend the ETO's The Marriage of Figaro as the perfect introduction to opera. Newcomers will absolutely not be disappointed. You may even want to see another.
Reviewer: Angela Kelly
Reviewed: 4th June 2018
North West End Rating: ★★★★