This family favourite comes to Birmingham for 3 weeks of the summer holidays to entertain both adults and children.
Annie follows the story of a little girl in a New York orphanage in the early 1930's. The orphanage is run by a jaded drunk (Miss Hannigan) who resents the girls in her care. When a billionaire (Oliver Warbucks) decides to have a child stay with him over Christmas Annie is chosen, much to the disgust of Miss Hannigan. Will the billionaire and Annie get along? Will Annie find her parents who left her as a baby with a promise to return? You will have to see the show to find out.
Based on the comic strip "Little Orphan Annie" the musical first hit the stage in 1977 and was put onto the big screen in 1982. A further film version was released in 2014 bringing the story to a new generation. This production is the same as that seen in the West End in 2017 and a previous tour in 2015/16.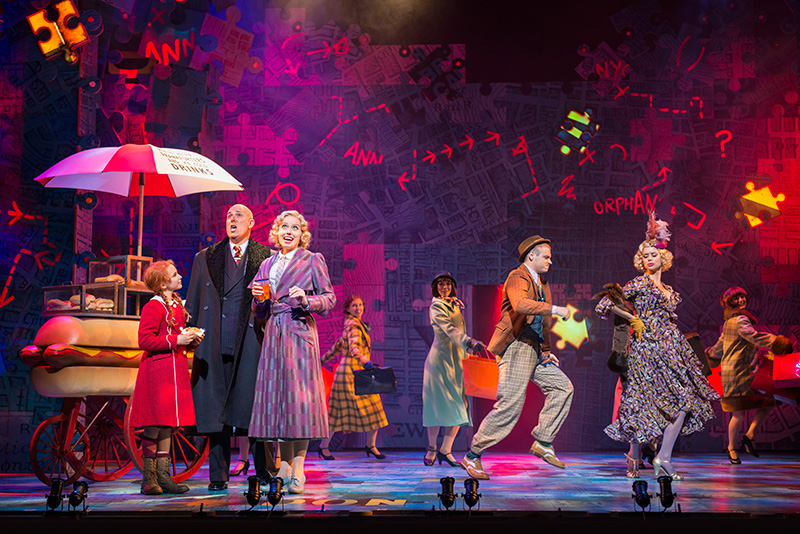 As you walk in you are greeted by the set designed by Colin Richmond, a stage adorned with a bright blue map of New York as a Jigsaw, it is reminiscent of the set of Matilda. This remains the backdrop with openings appearing in the back and lighting effects setting the mood. In addition to this are large symbolic pieces of set which fly in as a representation of the location. The Warbucks mansion is shown by a grand golden "W" forming a door, Miss Hannigan's office by a battered doorway a cluttered desk and a safe full of gin. The pared down set keeps the scene changes quick, slick and almost unnoticeable.
The orphans open the show with 2 numbers, the sweet and gentle "Maybe" and one of the most well-known songs in the show, "Hard Knock Life". The girl's energy and enthusiasm are boundless as they execute Nick Winston's choreography with precision. Annie, played by Freya Yates at this performance, was a lovely mix of feisty and vulnerability, she gave as good as she got with Miss Hannigan but showed a deep level of feeling when talking about her parents.
Jodie Prenger's portrayal of Miss Hannigan started off quite sinister and terrifying but soon mellowed to a resentful drunk who seemed happy to use the children but not really hurt them. She was a joy to watch with wonderful facial expressions. The solo "Little Girls" allowed Prenger to show more of the character while showcasing her vocal talents. "Easy Street" and its reprise were one of the highlights for me with well observed era appropriate choreography, danced with vigour by Richard Meek (Rooster), Jenny Gayner (Lily) and Prenger and some well-designed and timed lighting by Ben Cracknell.
Central to the story of course is Oliver Warbucks. Alex Bourne did a superb performance showing the strong, no nonsense businessman and the more insecure, gentle side. His nerves were palpable as he asked Annie a significant question while his joy of being her father figure was infectious.
The ensemble made the musical numbers shine with some beautiful flowing dancing and equally wonderful vocals.
This show is so much more than a show for kids, there are more toe tapping songs than the one or two well-known songs. Although the audience had many children in, they seemed to be entranced and focused on the action on stage. Treat yourself to this traditional stage spectacular this summer and leave with a smile on your face. https://www.birminghamhippodrome.com/calendar/annie-2/
Reviewer: Annette Nuttall
Reviewed: 23rd July 2019
North West End Rating: ★★★★