Dada Masilo's radical interpretation of ballet classic Giselle is ballet, but not like you've ever seen it before! Traditionally Giselle falls in love, dies of a broken heart, and then forgives her lover Albrecht from beyond the grave, saving him from the wrath of the Wilis (a group of supernatural women who dance men to death) whilst frothing about the stage on pointe.
This is a timeless tale of a fragile girl who finds the strength to forgive, and the final moment is Albrecht's as he realises how Giselle's selfless love has saved him (sound familiar?). Not so in Masilo's bold revision. Here Giselle (played by Masilo herself) is fresh, playful and fierce, without a pointe shoe in sight. Masilo's choreography is a medley of things from her extensive toolbox, predominantly fusing contemporary and African dance traditions.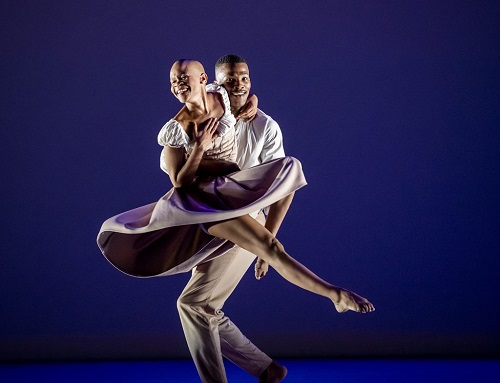 The stage buzzes with the strength and energy of the dancers and the spectacle is impressive to say the least. Most striking is her execution of the Wilis. Usually these supernatural spurned sisters are resplendent in white, symbolising their ethereal qualities. Not so for Masilo and company. Her androgynous spirits, led by a Sangoma (a traditional healer), arrestingly danced by Llewellyn Mnguni, are dressed in blood red. These creatures have all been wronged by Albrecht so the moment of revenge is all the more poignant. Masilo was drawn to Giselle as she wanted to explore how far she could go to find the violence, power and danger of the Wilis, to release their potential to scare the audience.
The forgiveness free ending, beautifully framed by Suzette Le Sueur's evocative lighting design, is striking considered in relation to contemporary issues - though as Masilo is quick to point out she started working on this project eighteen months before the #MeToo movement began. This is Masilo's first time working with a composer on a project. South Afican artist Phillip Miller matches Masilo's bricolage meshing the original ballet score by Adolphe Adams with traditional South African rhythms and electronic discordance. His musical fusion is not as successful as Masilo's choreographic one and the absence of live musicians is keenly felt in the presence of such live energy from the dancers. Some of the casts vocal outbursts perfectly capture the power and veracity of this production, other moments played for laughs (such as a scene with Giselle's mother played by the engaging Sinazo Bokolo) momentarily dilute the feel of the work.
Overall though this is a wonderful piece of theatre and a refreshing interpretation of a classic work. Continues tonight https://www.birminghamhippodrome.com/calendar/co-dada-masilo-giselle/
Reviewer: Clare Chandler
Reviewed: 15th October 2019
North West End UK Rating: ★★★★