You think you know the story of Ursula, the sea witch in The Little Mermaid, but after this you will think again.
Fat Rascal Theatre, who have won awards for their shows, have produced the perfect antidote to the Disney perfect Princess Story. Everyone thinks Ursula met a watery end in the Little Mermaid, but this is not the case. Ursula takes us back to the beginning, where she meets Triton before his coronation as King of the Sea. Sadly, their love is forbidden. 20 years later, he seeks her out to help him with his daughter Ariel.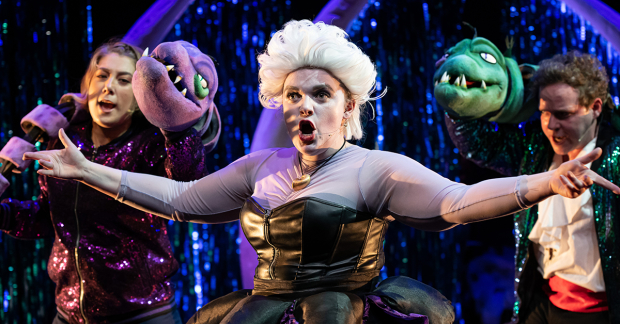 Robyn Grant is entrancing as Ursula, attitude pouring out of every tentacle while her voice soars. The rest of the cast play multiple characters, each as unique as the other, some in the form of glove puppets. With 80 minutes of non-stop action the cast work hard, with quick changes of costume and accent. All of the cast of 5 are strong singers, actors and dancers.
Most of the laughs come from the songs, parodying the Disney genre and the songs of The Little Mermaid. When you have fish singing about being too ugly for Disney and Ariel vocalising her desire to be on land in an adult way, you know you will never see the animated film in the same way again.
The costumes, simple set, sound and light all combine to bring the show to life. This is a studio production but only in scale, this is a high quality, laugh a minute adult night out.
This is definitely not a show for kids. It is a show for those with an open mind and a cheeky sense of humour. It is a riot but still has a message, just like any good fairy story. You need to be quick to catch this hilarious fishy tale, tickets are limited and it ends its run on Sunday. https://www.birminghamhippodrome.com/calendar/unfortunate-the-untold-story/
Reviewer: Annette Nuttall
Reviewed: 17th December 2019
North West End UK Rating: ★★★★★