The 20th anniversary production of RENT had their first press night of the tour at the stunning Theatr Clwyd this evening with the packed audience leaping to their feet at the conclusion of this emotional roller coaster of a show.
I have to admit this is the first production of RENT I have seen in its entirety having only seen concert versions since being introduced to the show by a dear friend a number of years ago and falling in love with the music. RENT is a rock musical with music and lyrics by Jonathan Larson loosely based on Giacomo Puccini's opera La Bohème. It tells the story of a group of impoverished young artists struggling to survive and create a life in New York City's East Village in the thriving days of Bohemian Alphabet City, under the shadow of HIV/AIDS.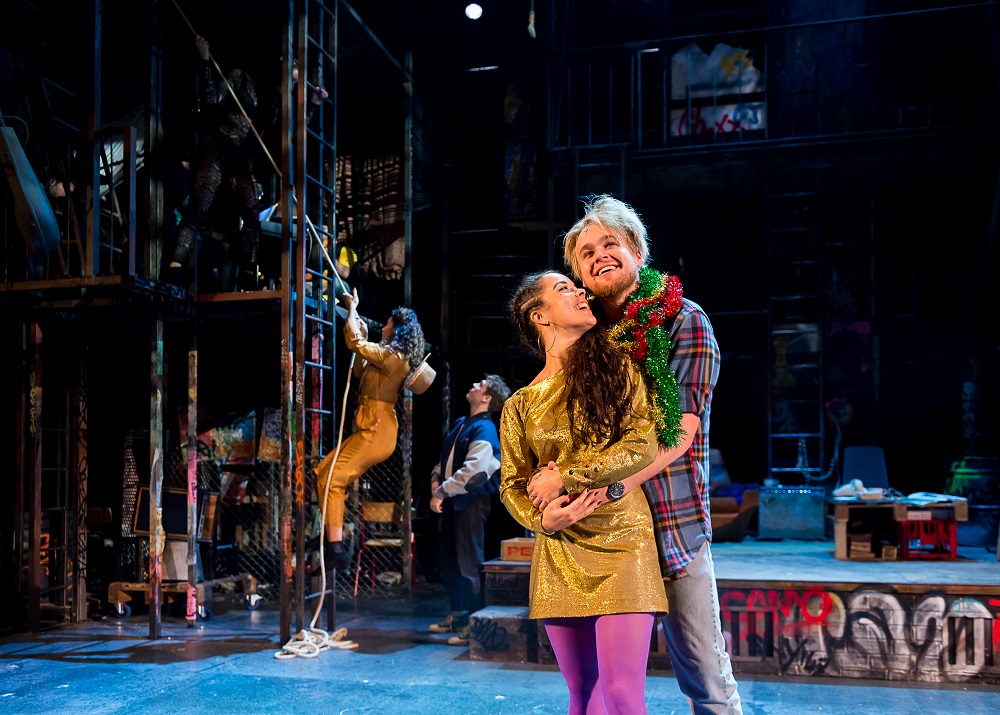 Director Bruce Guthrie has amassed an incredibly talented cast. Roommates Mark (Billy Cullum) and Roger (Ross Hunter) are struggling to survive in New York and pay the rent. Their friend Tom (Ryan O'Gorman) gets attacked on his way to their apartment and meets cross dressing street drummer Angel (Layton Williams) and they strike up a relationship.
The female cast members include Mimi (Philippa Stefani) a club dancer and drug addict who is in a relationship with Roger. Lucie Jones plays Maureen, ex girlfriend of Mark and now in a lesbian relationship with Joanne (Shanay Holmes).
There was not a weak link within this cast however Stefani as Mimi stood out for me as the star of this show. Her journey throughout was played perfectly and her chemistry with Hunter as Roger was a joy to watch. Despite not appearing on stage until just before the interval Jones as Maureen also made a lasting impression, who couldn't resist moo-ing along with her?
Phil Cornwell directs a superb 4 piece band hidden within the industrial set from Anna Fleischle and choreography by Lee Proud is at times mesmerising, leaves you out of breath just watching it.
Musically apart from the two best known songs from this show which straddle the interval I have to mention "Tango: Maureen" performed by Holmes and Cullum, "Without You" from Hunter and Stefani as well as "What You Own" where Cullum and Hunter really shone.
Everything about this show is just spot on. The cast, the set, the music. Devastatingly Jonathan Larson never got to see his work performed in front of an audience as he passed away on the morning of the first off Broadway preview from an undiagnosed aortic aneurysm. I am certain he was looking down on this production tonight with a smile on his face as his work continues to enthral all that see it.
RENT continues on a full UK tour travelling across the country including a residency in the West End with dates well into 2017. Full details can be found at http://www.rentonstage.co.uk/
Reviewer: Paul Downham
Reviewed: 26th October 2016
North West End Rating: ★★★★★