Priscilla Queen Of The Desert is possibly one of the most complicated musicals for any company to stage, be they professional or amateur. With over 300 costumes and the small matter of having a moving bus on stage Tip Top Productions tonight under the direction of Peter Swingler OBE at Theatr Clwyd made it look relatively easy.
For those unaware of the story it is based on the Oscar-winning film, Priscilla is the hilarious adventure of three friends who hop aboard a battered old bus bound for Alice Springs to put on the show of a lifetime. Their epic journey is a heart-warming story of self-discovery, brashness and acceptance.
Leading the cast are trio Tick, Bernadette and Adam. Josh Hankey as Tick plays this role just perfectly and resists the temptation to 'camp' it up too much as I have seen in other productions. In saying that his performance of MacArthur Park was just perfect in every way and the highlight of the night. Credit must also go to choreographer Rob Stevens here too. The final scene where Tick reads his son, Benji (Ethan Roberts), a bedtime story was simply heart-warming.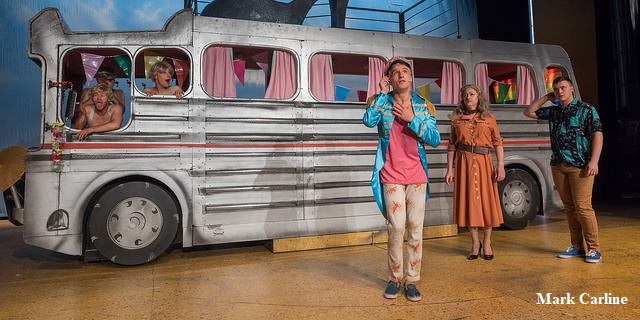 Mike Jenkinson-Deakin as Bernadette for me could not have been cast better. Playing the elder of the three female impersonators his delivery of the exquisitely written script and its copious amount of one liners was as good as I have ever seen. The blossoming relationship with mechanic Bob (Andy Jordan) was a delight to watch with just the right amount of awkwardness.
Loose cannon Adam played by Jack Fletcher didn't miss an opportunity to display his endless flamboyance with the highlight for me being his rendition of Sempre libera (from La traviata) dressed head to toe in silver sat astride a huge high heeled shoe on top of the bus!
The ensemble in this piece play a huge role with endless quick costume changes, some of which form part of the versatile set which tonight the stage crew manipulated in silence and in good time. I have to mention Charades Theatrical Costume Hire for supplying the breath-taking wardrobe including dancing paint brushes and cupcakes.
The supporting cast were also superb tonight from the flamboyant Miss Understanding (Alex Aram) to the hilarious Shirley (Caireen Candlin). Amy Robinson as Cynthia gave an eye popping performance and Lyndsey Hardwick played Tick's ex-wife Marion with ease.
The three Divas who help narrate this piece shone bright tonight. Natalie Brett, Rebecca Roberts and Lauren Roberts certainly made an entrance in the opening number flying down from the roof of the stage whilst powerfully delivering the opening number "It's Raining Men".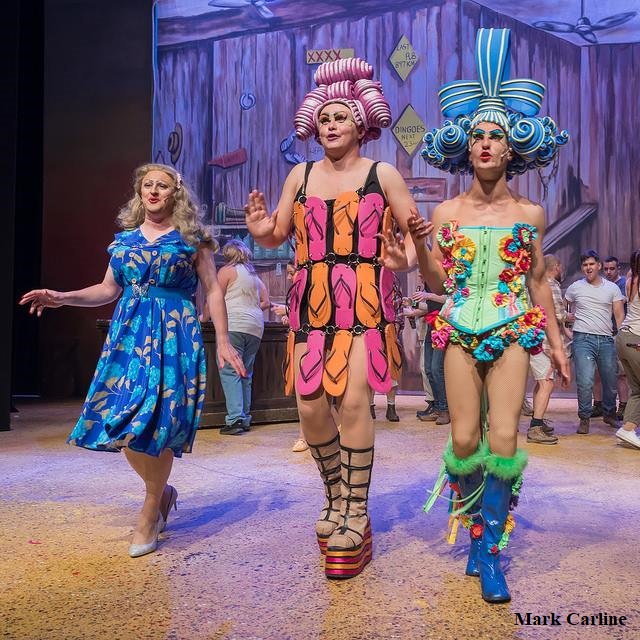 I can't not mention the star of the show, Priscilla herself! Spanning almost the entire width of the impressive stage at Theatr Clwyd and turning to reveal its interior as well as having a giant high heeled shoe upon its roof, Priscilla is a real show stealer.
Sadly tonight, despite the huge talent on the stage and lavishness of the production, for me a couple of things stopped this being a fine 5-star show. Firstly the technical side of the performance was far from perfect. Lighting cues were missed or late and the sound department had a nightmare with microphones cutting out or not coming on at all. I am fully aware of the time constraints companies have to tech a show like this but it did spoil my enjoyment of the overall piece.
And finally, my biggest disappointment of the evening. The whole production was performed to a backing track with no live orchestra. Musical director Tim Jones has done an amazing job with the cast and they sounded stunning throughout however to not have a live orchestra is, for me, criminal.
Despite my technical grumbles Priscilla is a hilarious and colourful joy of a show with some of the most amazing songs performed along the way. A standing ovation before the curtain call from the capacity audience is testament to the hard work and dedication this cast have done to make the show a huge success. If you can grab a ticket before Priscilla drives out of Mold on Saturday evening, then do so. You won't regret it. https://www.theatrclwyd.com/en/whats-on/priscilla-queen-of-the-desert/
Reviewer: Paul Downham
Reviewed: 6th June 2018
North West End Rating: ★★★★