"One bad decision could change your whole life."
Writer Simon Longman has written a deep, funny yet thought provoking play about teenage life, friendship and decisions, whether they be right or wrong.
Kate, Sam and Pete are three teenagers who love spending time together, drinking on the park and telling each other silly stories but they all have their issues to deal with. Kate just wants to get out of this town that they are stuck in, with nothing to do and no prospects. There must be more to life than this. Sam wants to keep her little sister safe and Pete just wants to show his love and care for someone.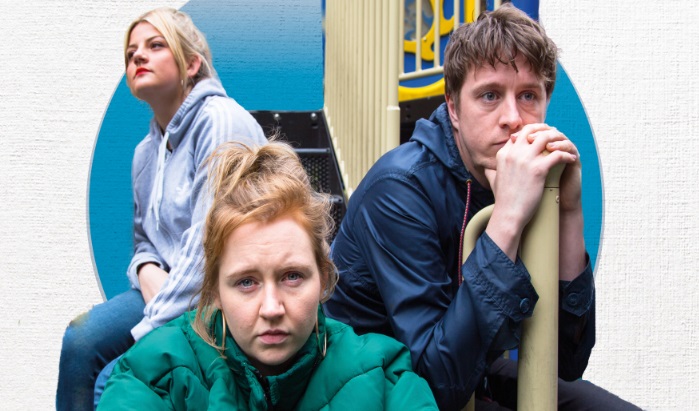 Charlotte O'Leary, Katherine Pearce and Jack Wilkinson are at it again bringing Sam, Kate and Pete to life. This trio are an absolute joy to watch and work so well together. Pearce is perfect as an angry teenager, full of rage and needing to get the anger out any way she can, commanding the space from the second you walk in. The expressions on her face really tell a story and can make you feel all sorts of emotions with a look. O'Leary throws herself into the role completely and you can see a complete character change from fun loving teenager to one with a troubled home life. Wilkinson stole the show for me. His characterisation of Pete was perfect for a teenage boy. Getting overly excited over the smallest things, wanting to find love and doing all he can to get the girl.
Stef O'Driscoll's direction and Pete Small's lighting brings this story to life incredibly well in such a small space. Without any set or props a story can be difficult to tell but with the use of the clever lighting and movement around the space, you can completely visualise every scene and part of the story.
The story keeps you gripped right until the end and leaves you feeling full of emotion and realisation that this sort of thing happens every day all round the world.
Think about what you are about to do and how it will impact not just you but the people around you.
Reviewer: Damian Riverol
Reviewed: 26th June 2018
North West End Rating: ★★★★★