Lerner and Loewe's My Fair Lady is based on the 1913 George Bernard Shaw play, Pygmalion. It tells the story of Eliza Doolittle, a poor cockney flower seller, and Henry Higgins, an arrogant phonetics professor who bets he can teach Eliza to speak proper English, making her more presentable to the high society in London.
Tip Top Productions are back at Theatr Clwyd with this classic show and with the hard work of the production team and cast, we are transported to the streets of early 1900 London.
The set was intentionally quite simplistic, a base piece that is transformed using furniture and props creating a smooth transition between scenes without the use of lengthy black outs and cloth changes. Cast members were choreographed to move set pieces in the background while the end of the previous scene was happening meaning the next scene could continue without hesitation.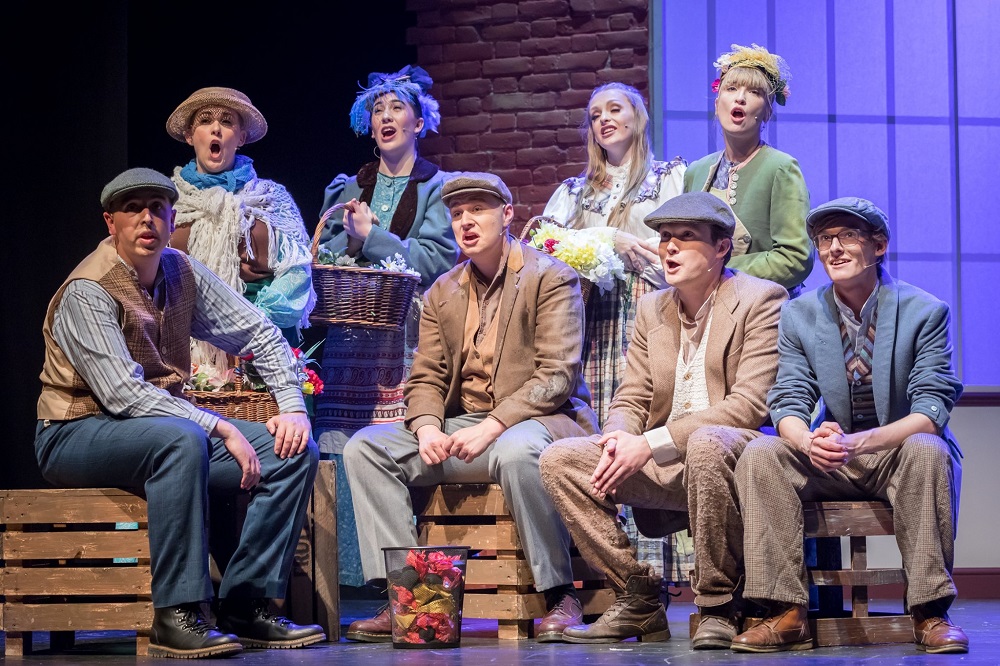 This production has a very strong cast, led by Hannah Thomas as Eliza and Mark Shenton as Henry Higgins. Thomas's portrayal of Eliza was breath-taking to witness. From screeching street girl to elegant lady, Thomas takes us on a full journey of emotion, with perfect comic timing and stunning vocals. Shenton plays a very commanding Higgins, full of arrogance and dismissal, he makes a strong character that you love to hate.
Freddy Eynsford-Hill (Robert Lyon) is a character who I wish had a bigger part written for him. He is a wonderful character and I feel is totally underused. Lyon delivered a most stunning performance of 'On the street where you live.' Bill Robertson delivered a wonderful Colonel Pickering and Rob Tolfree a cheeky but loveable Alfred P Doolittle. Tolfree along with his two sidekicks Harry (Finn Hibbert) and Jamie (Robin Crowley) injected a lot of humour and energy to the show, especially in their numbers 'With a little bit of luck' and the very well known 'Get me to the Church on time', a number which had the audience clapping along. Another notable character that stood out for me was Zoltan Karpathy, also played by Robin Crowley, was full of humour and comedy.
The large ensemble played a huge part in the show, from street sellers, to high class Ascot goers as well as moving the set pieces to keep the show flowing.
Choreography by Rhian Lyon was very inventive and full of energy, delivered to a high standard by the company. The 13-piece orchestra, led by Musical Director Simon Phillips, sounded stunning. It is not very often you see the pit open at the Anthony Hopkins theatre so to see it filled with an orchestra playing stunning music makes the experience extra special.
Director Phil Cross's vision for this show was perfect, the attention to detail was top notch and it made for a high class, smooth show.
Lighting by Neil Queripel was used extremely well to capture the mood and pick out areas and certain set pieces. Sound by Daniel McAllister for most parts was fantastic. A good balance throughout but there were when a microphone issue meant you were unable to hear a character very well, especially when the orchestra played but the issue seemed to be fixed quickly.
My Fair Lady is quite a wordy show, for some characters especially, and unfortunately there were a few occasions when words were mixed up or forgotten but the recovery from these issues were commendable.
Costumes were perfect for the era and props and set pieces really added the finishing touches to make this a strong, stunning piece that was enjoyed very much by a pretty much sold out audience.
Reviewer: Damian Riverol
Reviewed: 4th September 2019
North West End Rating: ★★★★