Originally a TV comedy series starting in 1980 called Yes Minister, after three series it returned in 1986 as Yes, Prime Minister. Written by Antony Jay and Jonathan Lynn, after 38 episodes they called it a day but were persuaded to write a stage version in 2010.
Yes, Prime Minister tells the story of current Prime Minister, Jim Hacker, and how it is behind closed doors at Chequers. It shows how most of his decisions are made by other people. In this play it is Permanent Secretary, Sir Humphrey Appleby, Principle Private Secretary Bernard Wooley and special advisor Claire Sutton who put most of the Prime Minister's words into his mouth, dictating his decisions, how things are said and to who.
Although the original series was set in the 80s, a lot of the content of the play echoed what is happening in the government now. Problems with the EU, disagreements with other countries and other leaders wanting to be in power.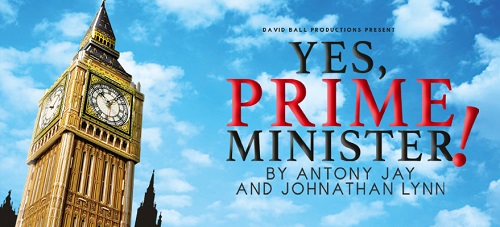 One thing that was noticeable was the amount of dialogue that this group of actors had to remember, it was very wordy, sometimes confusingly so, but they did amazingly well at delivering most of the dialogue. There were occasions when some words were fell over or came out wrong but generally they did fantastic. I personally felt that I struggled to hear all the dialogue fully, this could be the fact I was sat almost at the back of the theatre, mixed with there being no microphones, sometimes lines were a struggle to hear. The opening music was loud and clear then when the dialogue came in, the level was completely different.
I personally do not remember the television series and I wonder if that maybe hindered my enjoyment of the play as I found on many occasions I was not fully engaged as either the dialogue was rather lengthy, or the scenes were quite static. It all took place in one room therefore there was not much that could be done about this but there were only a few occasions there was some physical comedy that lightened the scenes up. I found that most of the audience were from the era of the TV series so they were enjoying many of the scenes immensely, with plenty of laughter which I can only assume were from what they remembered from the on the TV.
Paul Bradley as Jim Hacker was very good in the role, adding the physical comedy. Peter Forbes as Sir Humphrey Appleby plays the role extremely well, using confusing dialogue to get his own way with the Prime Minister. Bernard Woolley was brought to life by Daniel Casey and was personally my favourite character in it. Played with a good heart but a slight goofy personality, I thoroughly enjoyed watching him.
Sarah Earnshaw as special advisor Claire Sutton was like a breath of fresh air, helping bring a more current feel to what could be quite an old-style play.
The set by Stewart J Charlesworth was quite impressive, a huge oak panel lined room with wall lights, a chandelier in the centre, a couple of doors and a window. It was simple but very effective but for a two-hour play that is set in just one room, I did find myself occasionally counting the lights or pictures rather than concentrating on the play.
Lighting deigned by Matt Leventhall was very simple but effective, it was one room after all so there wasn't much that could be done lighting wise.
The cast did a fantastic job delivering the story but overall, I felt it was a bit lost. As I mentioned before, it could be because I haven't seen the TV programme but as a play that I have no prior knowledge of, I feel like it could have done a lot more to keep me involved and engaged.
Reviewer: Damian Riverol
Reviewed: 5th November 2019
North West End UK Rating: ★★★