It's not often you get pulled into the heart of a story and live it minute by minute as it unfolds before your eyes, but this adaptation of Mary Shelley's Frankenstein by Rona Munro does just that. Rona Munro has adapted and written this story in a way I have never seen before.
As you enter the auditorium, you immediately get the eerie feeling with strange noises and a dark, smoky atmosphere.
Shelley is on stage writing her book, trying to overcome obstacles and demons along the way, but at the same time you are watching what she is writing being played out. Shelley is narrator to what is happening so the cast and her don't interact. That is except for the monster that has been created, Shelley interacts with him as it seems that he is in her nightmare and the demons in her head coming to life.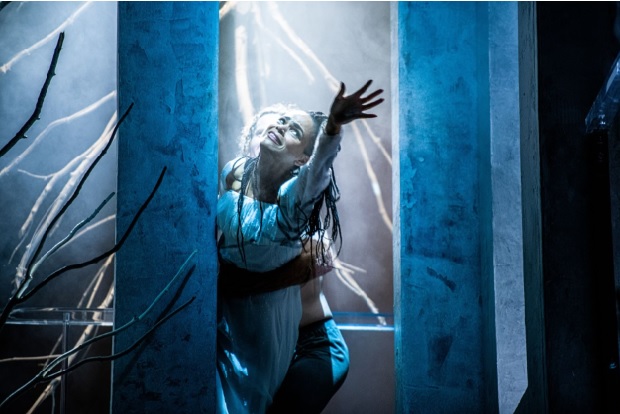 Shelley is played by Eilidh Loan and has you drawn in within the first couple of minutes, speaking her thoughts to the audience. Shelley was able to interact with the audience whereas the rest of the cast acting out her book stayed behind the fourth wall. Loan for most of the play stayed on stage, narrating or observing. She was the puppet master, physically moving the cast at times to interact differently or change them into other characters with a coat change or even a mention of a new character. She was naturally funny in her acting and yet menacing when she needed to be, especially with the final line in act one "Are you all sitting comfortably out there in your seats, well now we're about to change that" and also her final line of the show, one I will not give away, you need to witness that yourself.
The small cast play numerous roles to fill out all the characters in the story and change from one character to another with such ease. They all work so hard and add so much to the story.
Apart from Shelley, only two other cast members play just one character and they are Ben Castle Gibb as Frankenstein and Michael Moreland as The Monster. Castle Gibb is fantastic in the role of Frankenstein, giving his all as he works hard to complete his creation then his utter torment as he realises, he has created a Monster who will completely ruin him. Moreland as the Monster is strong and commanding, causing grief and mayhem, yet you see a softer side to him when you realise, he just wants to be loved as all he knows is anger.
The set they have created is perfection, with many levels and depths, textures and surprises that you don't know where to look, making it, as Shelley wants you to believe, a horror. The set and costume were designed by Becky Minto and had you believe you were there, in the era, living the story with them.
Lighting designed by Grant Anderson was amazing. Adding drama and intensity to the piece and picking out exactly what they wanted you to see and yet keep other things hidden in the shadows, adding to the suspense. Sound by Simon Slater complimented the piece so well, again adding drama and suspense to keep you entertained.
Director Patricia Benecke has worked wonders to make this piece come across so strong, telling the story from two perspectives yet keeping it flow as if it was happening for real.
I was fully immersed from beginning to end and found it interesting that many of the subjects covered in this piece, set in the 1800s, are happening today.
Enthralling, dramatic and dark, you will be on the edge of your seat. This will be in my mind for along time and completely changed the way theatre can be delivered. https://www.theatrclwyd.com/en/whats-on/frankenstein/
Reviewed: Damian Riverol
Reviewed: 27th January 2020
North West End UK Rating: ★★★★★