"See the story behind the scandal"
D.H Lawrence's controversial classic was first published privately in 1928 in Italy and in 1929 in France and Australia. An unexpurgated edition was not published openly in the UK until 1960, and became a banned book when it was the subject of a watershed obscenity trail against the publisher Penguin Books. Penguin won the case, and quickly sold three million copies.
The book soon became notorious for its explicit descriptions of sex and the use of the then unprintable words. The story is allegedly based on Lawrence's own unhappy domestic life, and he took inspiration for the settings of the book Eastwood, Nottingham, where he grew up.
This dazzling new adaptation, with nothing left out, brings Lawrence's powerful tale of sexual awakening and class conflict to the stage. Director Philip Breen brings this bold adaptation to Sheffield's Crucible Theatre until Saturday 15th October; this adaptation rediscovers that tenderness of the romance between Connie Chatterley and Oliver Mellors.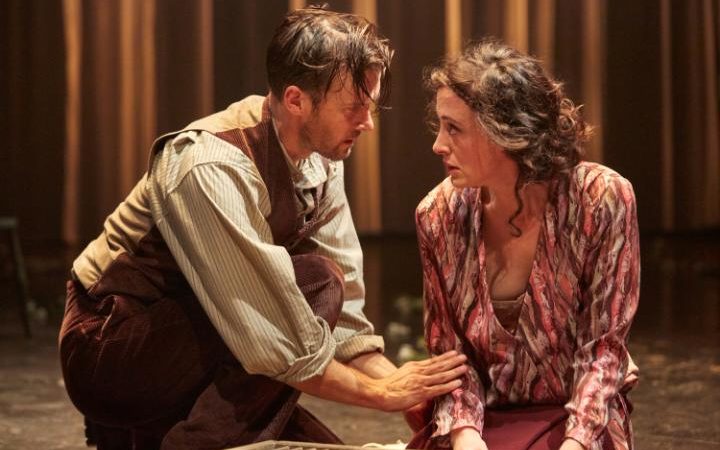 In the aftermath of the Great War, Lady Chatterley finds herself growing ever more distant from her husband Clifford. Feeling isolated and neglected, she embarks on a passionate affair with gamekeeper Oliver Mellors.
Other topics covered (it's not all about the sexual context - honest!) include the class difference between the couple, a subject highlighted in the novel which is the unfair dominance of intellectuals over the working class. Connie is frustrated both mentally and sexually since her husband Clifford's war injury left him wheelchair bound and she craves the touch of a man.
I wasn't sure what to expect from this adaptation as the only other version I have watched is the BBC adaptation from 2015 which not only stripped back (no pun intended) the strong language and nudity. I was half expecting the same from this production however the performance mirrored the book, and although I am far from being prudish at first this stunned me slightly as I honestly wasn't expecting it! The audience were deadly silent as if they were anticipating what was to come and this just added to drama of the performance. At one points I was almost too scared to take a breath in as I feared everyone would hear me and heads would turn as you could literally hear a pin drop during the build up to the first nude scene. By Act Two the audience was somewhat more relaxed and after a while the naked scenes seemed barely noticeable and the audience were more engrossed in the storyline at this point.
With a cast of just eight - three of which play multiple parts, all work wonderfully well together and cover the storyline of the novel with ease, however I did feel in parts it was rather slow in tempo and rather sluggish for the average theatre goer and certainly did not run for the suggested 2hours and 36 minutes as advertised, running at least ten minutes over that time.
I loved Eugene O'Hare as Sir Clifford Chatterley, a man full of self-pity and loathing. Hedydd Dylan as Lady Chatterley and Jonah Russell as her lover Oliver Mellors are both perfectly cast. Mellors as Northern working class Gamekeeper Mellors, with his trusted sidekick John Thomas, and Dylan as the middle class woman longing to fulfil her sexual needs.
Lady Chatterley's Lover runs at the Sheffield Crucible until 15th October before touring to Oxford, York, Malvern, Salisbury, Brighton and Cambridge. The performance contains nudity, scenes of a sexual nature and strong language throughout.
Reviewer: Lottie Davis-Browne
Reviewed: 26th September 2016
North West End Rating: ★★★