When The Mousetrap first opened in 1952 in London's West End nobody, not even Agatha Christie herself, would have predicted it would still be running over 60 years later. With over 26000 performances and counting, the play has cemented itself as part of the "must do" list when in London alongside Madame Tussauds and the Tower of London. This 60th anniversary tour allows local audiences to see what all the fuss is about and, indeed, it is a joy to see a packed house at Theatre Royal Wakefield enjoying this first class production.
When the curtain at the Theatre Royal rises it reveals a striking set of the Monkswell Manor guesthouse. This is the stuff of classic murder mystery, with its Oak-panelled walls, classic furnishings, roaring fires and plenty of doorways, stairways and back packages for its characters to get lost behind in order that you never truly know where anyone is or where they have been. We are soon introduced to the guesthouse owners Mollie and Giles Ralston, who try to personify confidence in this, their first time receiving guests. Sarah Whitlock is delightful as the pompous old Mrs Boyle, Amy Downham gives us a mysterious, tough Miss Casewell and Major Metcalf is played perfectly by Tony Boncza. Oliver Gully's suitably odd, yet somehow not too camp, Christopher Wren completes the line up of expected guests but it is not long before Gregory Cox's intriguing Mr Paravicini descends on the house, when he is forced to abandon his car due to the severe snow storm that now sees all the guests trapped together in the house cut off from the rest of the town.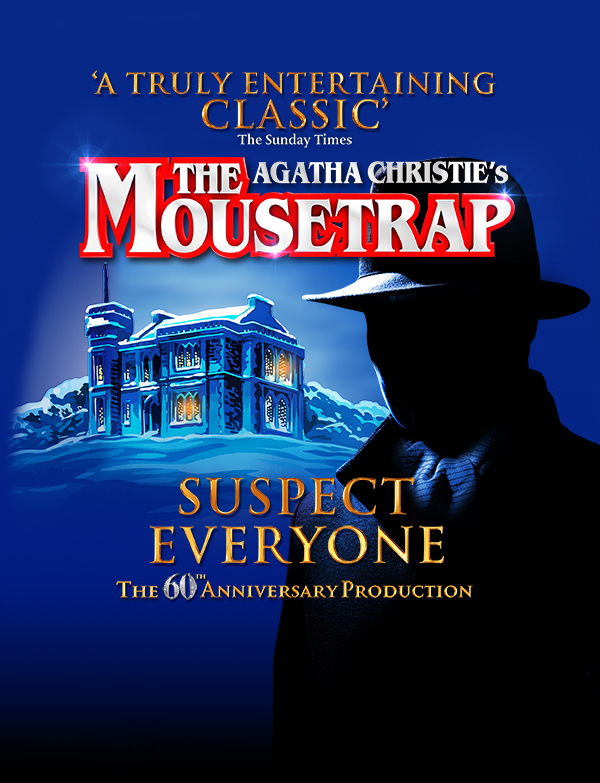 Of course, the guests are all strangers and in true Christie style each is introduced to us with their own hint of mystery as characters and plot unravel slowly before us, with many a twist and turn taking us up to the final reveal. You see, as the play opens we hear a report on the wireless that a woman has been murdered and that police are seeking information. It is not long after all the guests have arrived that the Ralston's receive a phone call to tell them that Sergeant Trotter (Lewis Collier) is on his way (on skis) as they fear the murderer could very well be connected in some way to this guesthouse – now everyone is a suspect and very possibly a potential victim.
The action of the play is played to perfection by this strong ensemble cast and Ian Watt-Smith's direction is superb, moving his actors around a well crafted set such as a chess player, with Christie's dialogue performed with suitable dramatic tone, wit and pace. It is Collier as Sgt Trotter and Anna Andresen's Mollie who impress the most, capturing perfectly fear, suspicion and strength in both of their respective roles.
Of course, to say much more would be a crime itself as one of the reasons the play has endured such a long history is surely due to the well kept secret of "who done it" and indeed the actors urge the audience at curtain call to keep the secret "in their hearts", so who am I to go against that wish? The greatest mystery overall, however, has to be why this play has endured so well; There is truly nothing remarkable or particularly special about it. When all is done, The Mousetrap is quintessentially English, beautifully crafted, well executed and is truly something that anyone can go to the theatre to enjoy. Perhaps it's no mystery after all.
Agatha Christie's 'The Mousetrap' runs at Theatre Royal Wakefield until Saturday 8th October.
Reviewer: Ashley Price
Reviewed: Monday 3rd October 2016
North West End Rating: ★★★★