Yeeha! Saddle up Sheffield and gallop on down to the Crucible Theatre to meet the Sharpest Shooter in the West - the world-famous Frank Butler, who is about to meet his toughest competition yet, in the form of Annie Oakley, a pistol packing Mama who can handle a rifle as well as any man.
Annie Get Your Gun is a musical full of pure and utter joy! With an unforgettable score, including the two most famous numbers - "Anything You Can Do" and "There's No Business Like Show Business" and dazzling choreography, the show is a toe tapping, swash buckling magical performance which leaves you wanting more.
Frank Butler (Ben Lewis), is a womanising heart throb and the main star of the travelling attraction "Buffalo Bill's Wild West Show", who will challenge anyone in town to a shooting match. Whilst touring in Cincinnati, Ohio, local hotel owner Foster Wilson does not share the towns love of the Wild West Show, especially since it's performers are literally taking over his hotel! Wilson decides to place a side bet with Frank of one hundred dollars on his next match. As Annie Oakley (Anna-Jane Casey) approaches the hotel, she shoots a bird off Dolly Tate's hat and explains her simple backwoods ways to Wilson with the help of her younger siblings ("Doin' What Comes Natr'lly"). When Wilson sees what a fantastic shot Annie is, he enters her into the shooting match against Frank Butler. When Annie meets Frank Butler whilst waiting for the match to start, she is instantly smitten with him, completely unaware that he is intact her opponent, she takes great joy in telling him she is waiting to meet her opponent whom is a "big swollen headed stiff". Annie, still unaware of Frank's identity begins to ask him what kind of woman he is attracted to, to which he replies that the girl he wants will "wear satin…and smell of cologne" and have "polished nails". Naive and rough around the edges Annie laments that "You Can't Get a Man with a Gun".
At the shooting match, Annie is shocked to learn that Frank is intact the "swollen-headed stiff" that she is to be competing against. After winning the contest Annie is offered a part in the Wild West Show and she admits that she has little knowledge about Show Business ("There's No Business Like Show Business")
Annie and her siblings travel along with the Wild West Show and everyday becomes more smitten with Frank. However, Annie is hiding a secret from Frank and is determined to not only keep this from him but to seek help from her siblings. Wanting to impress Frank, Annie plans a surprise act as part of the Wild West Show, but will Frank be impressed and be won over? Along the travels of the Wild West Show, Annie strives to become more like the woman that Frank wishes to marry and change her backward ways.
With a strong lead cast and ensemble, Annie Get Your Gun is the perfect festive holiday treat suitable for the entire family. Anna-Jane Casey returns to Sheffield's Crucible Theatre after the success of "Flowers For Mrs. Harris" earlier this year, and proves once again what a well-loved household name she is in the entertainment sector, from West End roles to solo concerts, Casey owns the stage and is a huge hit with Sheffield audiences. Casey oozes energy and charm, her comical mannerisms and goofy childlike ways when we first meet Annie are a joy to watch, and her transformation into an elegant silk and lace wearing, polished nailed, well heeled woman is breath taking to witness.
Ben Lewis is charming as the womanising Frank Butler and the pair give a convincing performance in their comical argumentative and competitive ways ("Anything You Can Do") to eventually realising that together they can be seen as equals on stage as part of the Wild West Show and can become a huge success if they work with each other instead of competing against each other. It is not the first time Lewis and Casey have shared a stage together and not the first time I have seen them on stage together, so I was rather excited to see the pair reunited once more. Both have a wonderful comical personality that really shines through on stage and the pairs humour bounces off each other.
The ensemble also features other recognisable faces, from the UK tour of The Bodyguard, to the West End stage of Wicked at the Apollo Victoria, making it a stellar cast and well worth several visits to see this wonderful show! This is simply the most heartwarming show and performance that will start off the festive holidays perfectly!
The lighting design (Natasha Chivers) has to be one of the best I have seen in recent years, with an equally impressive stage design and toe tapping choreography (Alistair David), Annie Get Your Gun is THE hottest ticket in South Yorkshire right now and should be on everyone's list to Santa!
Extended due to popular demand, there is still time to add tickets to the Wildest, Sharpest Shooting show in Sheffield to your Christmas wish list. Tickets are still available via the Box Office on: 01142 49 6000.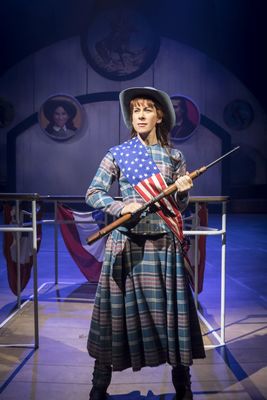 Director: Paul Foster
Reviewer: Lottie Davis-Browne
Reviewed: 14th December 2016
North West End Rating: ★★★★★
Photo: Johan Persson