Following on from last year's performance of "The Nutcracker", Saint Petersburg Classic Ballet returns with Tchaikovsky's "Swan Lake", a ballet in three acts.
Act One opens to the backdrop of a castle in the distance and we meet Prince Siegfried and his friends celebrating his coming of age. The young ladies of the Court dream of conquering his heart, but the carefree young Prince is indifferent to them and has yet to fall in love. The Prince receives a gift in the form of a crossbow and decides to head out hunting. Deep within the forest as night falls, swans are swimming on the lake. They are maidens who have been turned into swans by the evil magician Rothbart. Only at night do they regain their human form. Siegfried approaches the swans with his crossbow to kill a bird when a swan wearing a crown on its head catches his eye. As he draws his bow to shoot, the swan transforms into a beautiful woman - Odette, Queen of the swan-maidens. Enchanted by her beauty, the Prince is smitten and swears eternal love for her. Odette's heart responds to Siegfried's sincerity. She believes that his faithful love can save her and the other maidens and set them free from the spell of the evil magician.
In Act two, Siegfried must choose his bride at his coming of age ball at the Queen's castle but is fooled into choosing the wrong bride - Odile, after being dazzled by her beauty and resemblance to Odette. However, he soon realises he has been fooled and flees the ball to return to the lake in the hope that he is not too late to save his true love from an evil curse.
With stunning scenery, a youthful cast and a well loved musical score, the performance oozes appeal to both old and young. However, at times the production felt somewhat lethargic with several pauses or curtain drops throughout as one number had ended and the stage was reset. At times, some of the dancers were out of sync, at first I thought I had imagined this but when my father, who has never taken a ballet class in his life but seen countless companies perform made the same comment as soon as the interval started. In places the performance felt fresh and modern to the point where one would think this was a brand new ballet, whereas at other times the performance felt lethargic and long drawn.
Overall the production was enjoyable and the leads, particularly Odette/Odille (Natalya Romanova) and Rothbart (Dmitry Popov) retrospectively were well cast for their roles and brought the whole performance together, with Natalya's highlight of the performance being in Act Two, when the Black Swan performs an impressive thirty-two fouettés - a 360 degree spin on one leg; one of the most difficult steps in classical ballet requiring speed and accuracy.
My favourite performer however was Mikhail Bogomazov as the Jester who just adds the light hearted fun touch throughout the performance whilst demonstrating a flawless dance performance.
At over two and a half hours long, although a performance worth watching, it was just a tad too long for me personally. The one thing I really do love about this particular dance company, is how they make ballet that has been performed for many decades feel so fresh. Artistic Director Marina Medvetskaya has a way of making a classic feel brand new, and although Swan Lake is not one of my favourite ballets, this performance is certainly worth a look at.
Swan Lake is enjoyable for the whole family and is the perfect way to end the Christmas festivities and plays until Saturday 14th January.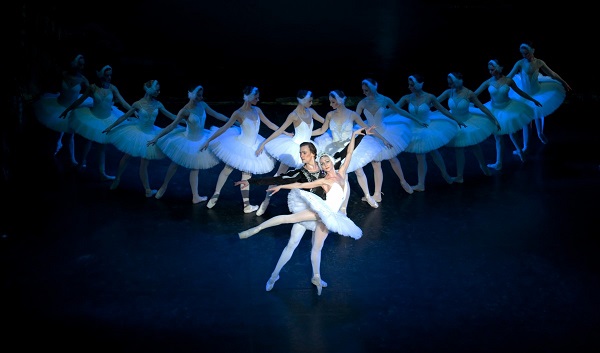 Reviewer: Charlotte Browne
Reviewed: 10th January 2017
North West End Rating: ★★★