"Did you hear the story of the Johnstone twins, as like each other as two new pins. Of one womb born on the self-same day, how one was kept and one given away"
Blood Brothers was originally developed as a school play, revolving around fraternal twins Mickey and Eddie, who were separated at birth and raised at opposite ends of the social spectrum; Mickey in a poverty stricken single parent family, with siblings regularly having run-ins with the Law, and Eddie in a wealthy two parent, only child family having a privileged up bringing. Mickey finds himself unemployed and in trouble with the Police, whilst Eddie becomes a successful Councillor. When the brothers fall for the same girl, childhood friend Linda, their friendship is put to the challenge leading to a tragic result.
With music, book and lyrics by Willy Russell, the story is a contemporary nature versus nurture plot. With an original West End transfer in 1983, the musical went on to win the Laurence Olivier Award for Best New Musical, and has played more than 10,000 performances in the West End, becoming the third longest running musical.
This was my first instalment of this long running musical, so despite already having some knowledge of the storyline and some of the musical numbers, I was not sure what to expect. However, from start to finish the show is filled with emotion and had me on the edge of my seat. From humour when we see Mickey and Eddie as young "seven but nearly eight" year old children, riding imaginary horses and seeing how far they can spit, to feeling every emotion along with Mrs. Lyons (Sarah Jane Buckley) as she slowly starts to slip into a mixture of depression and insanity as she lives in fear of Eddie finding out the truth, convincing herself that Mrs. Johnstone is stalking her, to the bittersweet ending.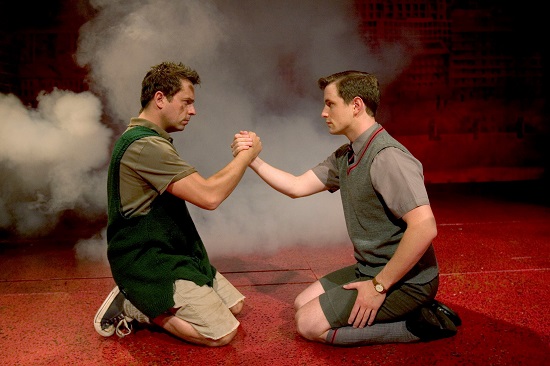 The whole cast member plays their roles to perfection, from the eerie Narrator (Dean Chisnall), to Linda (Danielle Corlass), the link in the brothers' love triangle, whom we first meet as a loud mouthed child who then grows up with the brothers, and unlike Mickey, she realises she wants more out of life and is ready to grow up and live in the adult world and seeks solace in Eddie. The two brothers - Mickey (Sean Jones) is a loud, foul mouthed and badly behaved seven year old but you still can't help feeling sorry for him and his siblings underprivileged upbringing, and wish he could be more like brother Eddie (Mark Hutchinson), well mannered, groomed and educated. As Mickey grows up he tries to earn an honest living in a factory but he is still drawn into a life of crime by his older brother Sammy (Adam Search). Eddie is a privileged but easily swayed into wrong doings, mild mannered kind of boy that every mother dreams of parenting. Although he is drawn into Mickey's world at times, he knows right from wrong and chooses the right paths in life. The mannerisms portrayed in each role and their transition into adulthood is mastered with sheer perfection.
However, the most outstanding performance of the evening came from Lyn Paul in the role of Mrs Johnstone. I thought Lyn's voice was sensational with every note she sang, and it is clear to see why she is the "definitive" Mrs. Johnstone. Her performance had me in bits!
Blood Brothers runs until the 4th February at Sheffield's Lyceum Theatre. The story is sensational and Lyn Paul's vocals alone make it a worthwhile ticket purchase.
Reviewer: Charlotte Browne
Reviewed: 23rd January 2017
North West End Rating: ★★★★★