As a twenty something that has 'flown the nest' I was very interested to find out what it was really like for the parents who raised me when I made the big move. After my initial research into The Empty Nesters Club I knew that it would be a perfect play to take my mother to, as I had no doubt she would be able to relate to all the anecdotes discussed on stage, and I was right! It seemed like plenty of other people had the same assumption as the audience was full of parents and grandparents who have watched their children grow up and move on, accepting their life choices with a supportive (and sometimes forced) grin on their face.
The Empty Nesters Club is John Godber's new comedy full of familiar characters and situations we have all lived through. His talent of engaging the audience with relatable problems and conversations never fails to impress me. The play begins by meeting the friendly Vicky Barret (Jane Hogarth) in one of her famous The Empty Nester's Club meetings. The narrative then follows her family's personal experience of raising their much loved daughter (Josie Morley) just to watch her leave them behind at home to start her exciting new life and journey of 'self-discovery'. What Godber has achieved in this brilliant play is the sympathy we feel for the devoted parents left behind, and the question they are ultimately left with; 'is this it?'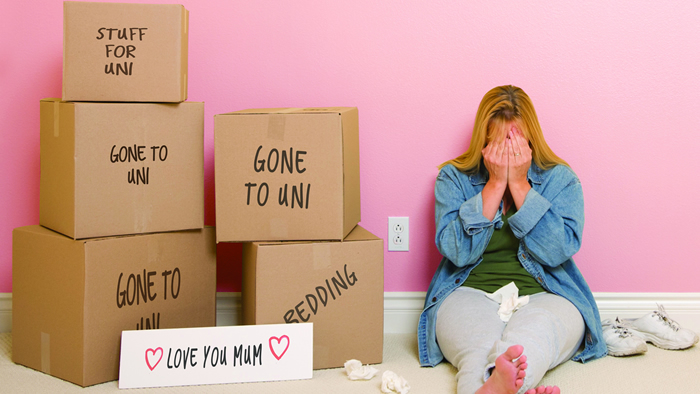 The role of the loving but interfering father was played by Robert Angell and he perfectly displayed the feeling of uselessness as his baby girl no-longer needed his advice and guidance. His demeanour and his defeated physical portrayal of the role triggered laughs from the audience the minute he walked on stage. The frustration was clear in his tone of voice, with his numerous attempts to please both his wife and his daughter during this delicate time for the family. Angell's characterisation really spoke to me as an audience member as I recognised his exhausted facial expressions and reasoning from my own experience, and the audience showed compassion for these parents. Although this might sound like a melancholy plot for a play, it was far from it! The actors provided comedy relief in these tense family moments, with Angell delivering fantastic one-line responses to the fussing and nagging of his family.
Morley was a perfect supporting role in this story of her parents' life without her, and Godber created this clever representation of all contemporary teenagers, who of course think they are individuals. Morley's spoken word moments with her precious bass guitar provided humorous moments of narration and context for the audience. Morley and Hogarth worked as a fantastic team throughout the play, communicating the delicate but priceless relationship of a teenage girl and her mother. Whether it was the cringe inducing selfies before the prom, or tearful moments during goodbyes, both actresses portrayed the turbulent relationship and their energy was an intelligent juxtaposition to the dry natured performance of Robert Angell.
Even though I couldn't always find the joke in some of the moments between the parents, I fully accept this is due to my ignorance of the process these parents go through. As expected my mother loved the performance and related to everything that was portrayed on stage. I know this because I was frequently receiving nudges and smirks from her direction. John Godber and his cast have definitely opened my eyes to the impact teenagers can have when they finally get their chance to 'flee the nest'.
Reviewer: Christine-Jane Parkes
Reviewed: 25th January 2017
North West End Rating: ★★★★