"Out of the darkness, into the spotlight, a teenage sensation is coming"
Who is Jamie and why are people talking about him you ask? I've been intrigued for months about the new upcoming musical – another premiere for Sheffield's Crucible theatre following the huge success of last years new musical "Flowers For Mrs Harris", after seeing the poster some few months ago.
Jamie New is a sixteen-year-old boy living in Sheffield, studying for his GCSEs and he has a secret….
Not quite fitting in at school, a dad that has left him, his best friend Pritti, a studious strict Muslim girl who dreams of becoming a Doctor, and the support of his mum, will Jamie pluck up the courage to stand up for who he really wants to be?
The story is based on the true story how in 2011 a teenager from County Durham fought to attend his school prom in drag. The story was then turned into a television documentary for the BBC, entitled "Jamie: Drag Queen at 16".
Noughties band The Feeling front man Dan Gillespie Sells, along with writer Tom Mac, say that this new musical is about figuring out "what it means to be masculine". The musical has an upbeat, modern score, written to work as a series of stand-alone pop songs which Gillespe Sells states that he hope it will appeal to a wider audience. The musical numbers were recorded as a concept album before the show opened and this recording is available to buy at Sheffield Theatres and is highly addictive after just one song! The opening number to the story "(And You) Don't Even Know It" is catchy and upbeat and makes you want to get on your feet and dance before the story even starts. The choreography is young, modern and keeping with the present times.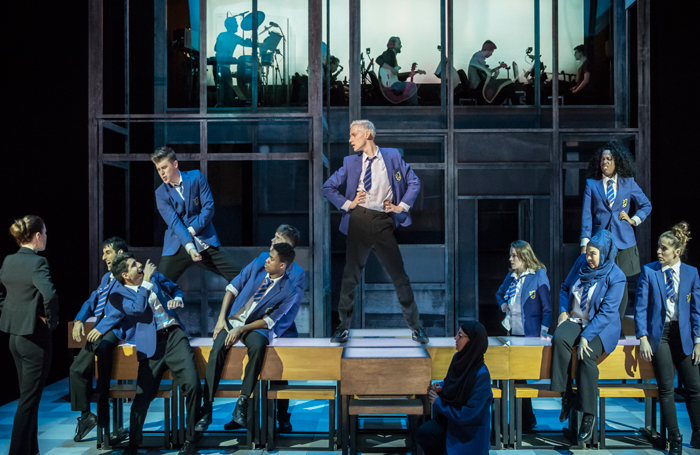 Throughout the story we meet Jamie's school friends, best friend Pritti, (Lucie Shorthouse), unsupportive teacher, Miss Hedge (Tamsin Carroll), Mother (Josie Walker) and her outrageous friend Lee (Mina Anwar) as he learns to stand up to the bullies and show the world he isn't afraid of being different.
With an addictive musical score, sensational choreography and a heart-warming story, Everybody's Talking About Jamie is the freshest, hippest musical to grace the stage in decades. What started out as a news story will live on for generations to come, in the form of this utterly sensational new and upcoming musical.
The star of the show is without a doubt the diva that is John McCrea playing the title role as Jamie New. His humour and wit, (along with a pair of legs to make any woman envious), and is over the top and typically camp manner make you fall in love with him from the word go. Vocally it was Lucie Shorthouse as best friend Pritti Pasha in her solo "It Means Beautiful" that was the vocal highlight of the night; the audience most definitely agreed with me given their response!
This musical deserves a tour to get the recognition it deserves. I for one am already desperate to get my hands on more tickets and cannot get the music out of my head!
Needless to say the audience response was phenomenal with a full standing ovation at the end along with huge cheers after most musical numbers from start to finish.
The production runs until Saturday 25th February; tickets are still available via the Box Office. I have a feeling I need to act fast and book more tickets before it sells out!
Reviewer: Charlotte Browne
Reviewed: 13th February 2017
North West End Rating: ★★★★★
Photo: Johan Persson