Romeo and Juliet is a classic Shakespearian tale that we have all come to know; two star crossed lovers divided by conflict and family feud. The play is possibly Shakespeare's most widely taught tragedy and I was interested to see if West Yorkshire Playhouse could portray this harrowing tale in a new light. As soon as the audience entered the theatre they were already engaged in the simplistic set they saw before them, a variety of scaffolding and platforms designed (by Hayley Grindle) to mirror a contemporary recreational area that we can all recognise from local urban surroundings.
The director Amy Leach has quoted "all this hate […] which people might have assumed had disappeared has erupted again" and has stated that the current turbulent state of Britain was her primary motivation to set the play in the world now. This was clear from the landscape designed to look run down and battered from years of feuds and this provided a perfect backdrop for this modern interpretation.
Leach's direction saw many creative risks in the performance and it was my assumption these were all with the desire to bring this out-dated tale to a new perspective for the audience. In this adaptation two powerful male roles were cast female; the protective Reverend was taken on by Olwen May whilst the boisterous Mercutio was played by Elexi Walker. This provided interesting interpretations of these roles; I have often over looked the Reverend as a supporting role who is written into the text purely to serve a purpose. However, May's take on this role opened my eyes to the complexities of religion and the concept of 'right and wrong' as the Reverend was motivated more by her desire to see her congregation happy and at peace rather than the scriptures so many are taught to obey without question.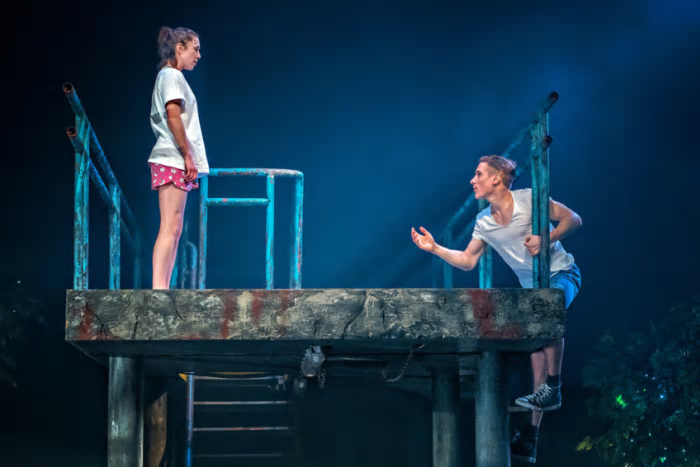 Throughout the performance I was incredibly intrigued by Tessa Par's representation of Juliet, as often this role is seen to be fair, innocent, and meek in her demeanour. Parr made an impression on the audience from Juliet's first scene; her role was full of passion and grit I had never seen before in this character. Parr's infectious vitality aided her in forming a connection with the audience, speaking Juliet's honest thoughts and opinions not with a shy tone as often depicted instead with power and confidence in her beliefs and decisions. Dan Parr also took me by surprise in his performance of the hopeless romantic Romeo. One of his strongest moments was definitely the playful 'cat and mouse' pursuit of Juliet. Parr's energy highlighted to me more than ever the age of these lovers, it was apparent from the moment they met pulling faces at the Capulet's party that this was youthful, innocent love.
It is impossible to recognise all of the triumphs witnessed on stage last night, as the full range of theatrical elements were pulled together to transport us from each individual setting and achieve the desired atmosphere for this narrative. Grindle's set design was especially memorable in the design of the Capulet Boxing Gym. This intense environment flooded in red really amplified the Capulet's desire for blood and revenge. By involving the Playhouse Youth Theatre within the production Leach succeeded in adding depth and authenticity to the contemporary interpretation. The company showed full commitment and engagement in this frightful tale, and provided thoughtful narration which prompted the audience to sit back and reflect our current society, and consider does it really differ to the society of 400 years go?
Reviewer: Christine-Jane Parkes
Reviewed: 8th March 2017
North West End Rating: ★★★★★