A show with two men running around in their undercrackers banging on about our messed up attitudes to death may not seem that attractive a proposition, but this warm, human two hander somehow makes death, if not fun, then a damn sight less scary,
Benjamin Franklin famously observed that only two things are certain after you are born – taxes and death. That clown Donald Trump might be trying to avoid paying his dues, but like all us he can't dodge the Grim Reaper. It is that stark reality that Unlimited Theatre Artistic Director Jon Spooner and company co-founder Chris Thorpe are tackling in their usual brutally honest but amusing fashion.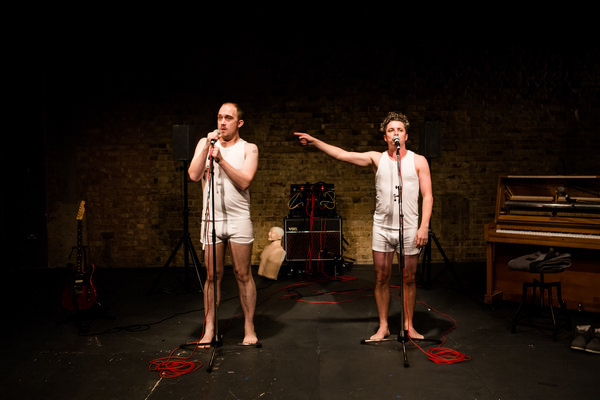 Once Thorpe has recovered from an unfortunate underpants malfunction the pair weave two stories about kicking the bucket and near death into a compelling narrative about how we think about dying and - more pertinently - our own demise.
The pair's long-time working relationship makes the complex to and fro between two coppers at a gruesome incident seem easy when it is anything but. Their languid description of a child's accident and the aftermath is tastefully done leaving the audience on edge of their seats as they wait for the outcome.
Some of Thorpe's more recent work has been around the random nature of things and there is nothing more unpredictable than the myriad of ways people shuffle off this mortal coil.
Apparently, hundreds of people die of heart attacks in the street prompting a useful CPR demonstration from the technical stage manager Simon Perkins, set to the Archers theme, and the audience happily added their backing vocals
After a slightly undercooked detour into what the future of dying might look like it all ended with rather jolly singalong led by Spooner as Thorpe tickled the ivories, which might sound wildly inappropriate, but was anything because as by that point the duo had made sure everyone was merrily sticking two fingers up to the Angel of Death.
Am I Dead Yet? Is on mini-tour of Leeds at Seven Arts 31st March, Trouble at Mill 1st April, HUB Leeds April 2nd and then Birmingham Rep May 11th 13th. For more information about how to book go to www.unlimited.org.uk
Reviewer: Paul Clarke
Reviewed: 30th March 2017
North West End Rating: ★★★★