The rise of authors writing books that don't insult children's intelligence has been welcome to all parents who want their offspring to understand the light and shade in the real world.
Michael Morpurgo has been one of the leading lights in that movement understanding that children can take in tough subjects because their lives are like that, and Samuel Adamson's smart adaptation of his novel Running Wild is true to his vision.
Morpurgo was inspired an event during the Boxing Day tsunami - which devastated the shores of Sri Lanka, Indonesia and India - where a English boy was carried off to safety by an elephant he was riding who sensed the impending disaster.
Nine year old Lilly is on a trip to her mum's native Indonesia as they mourn her dad's death in Iraq – Morpurgo is always pushing children's ability to absorb difficult subjects – and a beach elephant Oona carries Lilly off the beach into the jungle as the devastating wave hits.
The big selling point of this show is that Oona is a huge and incredibly life like puppet, manipulated by four skilled puppeteers, as this odd couple try to survive deep in the jungle as Lilly struggles to make a way back to her mum.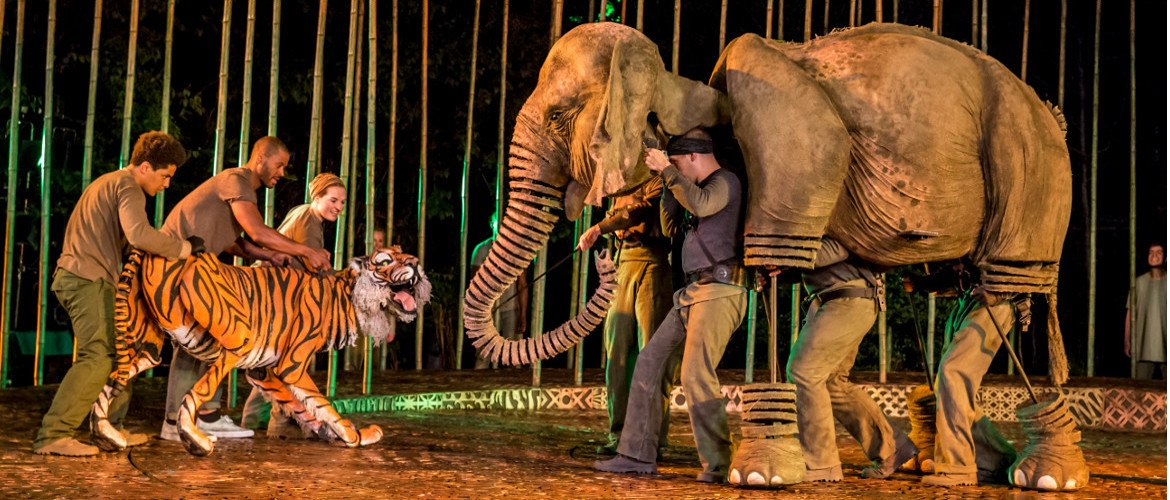 Along the way they meet other animals manipulated by the puppeteers who aren't quite as impressive as Oona - including a pretty lame tiger - but the orang-utans have a genuine ginger charm. Puppetry designers Finn Caldwell and Toby Olle worked on the smash hit War Horse, and they have brought those high production values to this show as you soon forget the puppeteers are constantly onstage.
Lilly's odyssey through the jungle also brings her into contact with the worst kind of animal – humans – who drive home the real cost of our endless need for luxury products without ever thinking about what the cost might be to the natural world.
Annika Whiston is one of the three Lillys alternating the role on this tour and she is remarkably assured for a 12 year old playing a spirited girl who has lost everything except her loyal elephant friend. Kids TV veteran Liz Crowther brings heart to the determined gran looking for Lily and Stephen Hoo doubles up convincingly as Oona's owner and a poacher who does the right thing.
All the puppeteers operating the noble Oona work hard all night, but special mention goes to Elisa de Grey deftly whipping Oona's trunk around the characters.
If you are the sort of parent who thinks children are delicate flowers to be shielded from reality then Running Wild is not for you, but if your kids can take a measured dose of realism offered in an unusual way then this is the perfect half term treat.
Running Wild is at West Yorkshire Playhouse until Saturday 15th April. To book go online www.wyp.org.uk or 0113 2137700
Reviewer: Paul Clarke
Reviewed: 11th April 2017
North West End Rating: ★★★★