It's certainly an unusual experience sitting in a totally dark theatre as two actors go at it deep in the gloom forcing us to really listen to their verbal battle set a little way into the future where the lights keep going off and chaos reigns.
The premise is handily explained in the title, but from the moment Steph strides in we're locked into a volatile battle of wills where the girl spars with an older woman Bell working in a dive that Trainspotting's Begbie would regard as a bit low rent.
The girl is in search of her friend who she knows has been in the bar, but like many others has disappeared in the midst of the mysterious blackouts, and she needs to get home before the darkness returns. Getting to experience that darkness is not quite as scary or disorientating as the producers might think, but it does sharpen your other senses as Bell and Steph tell wild stories playing out their own version of events.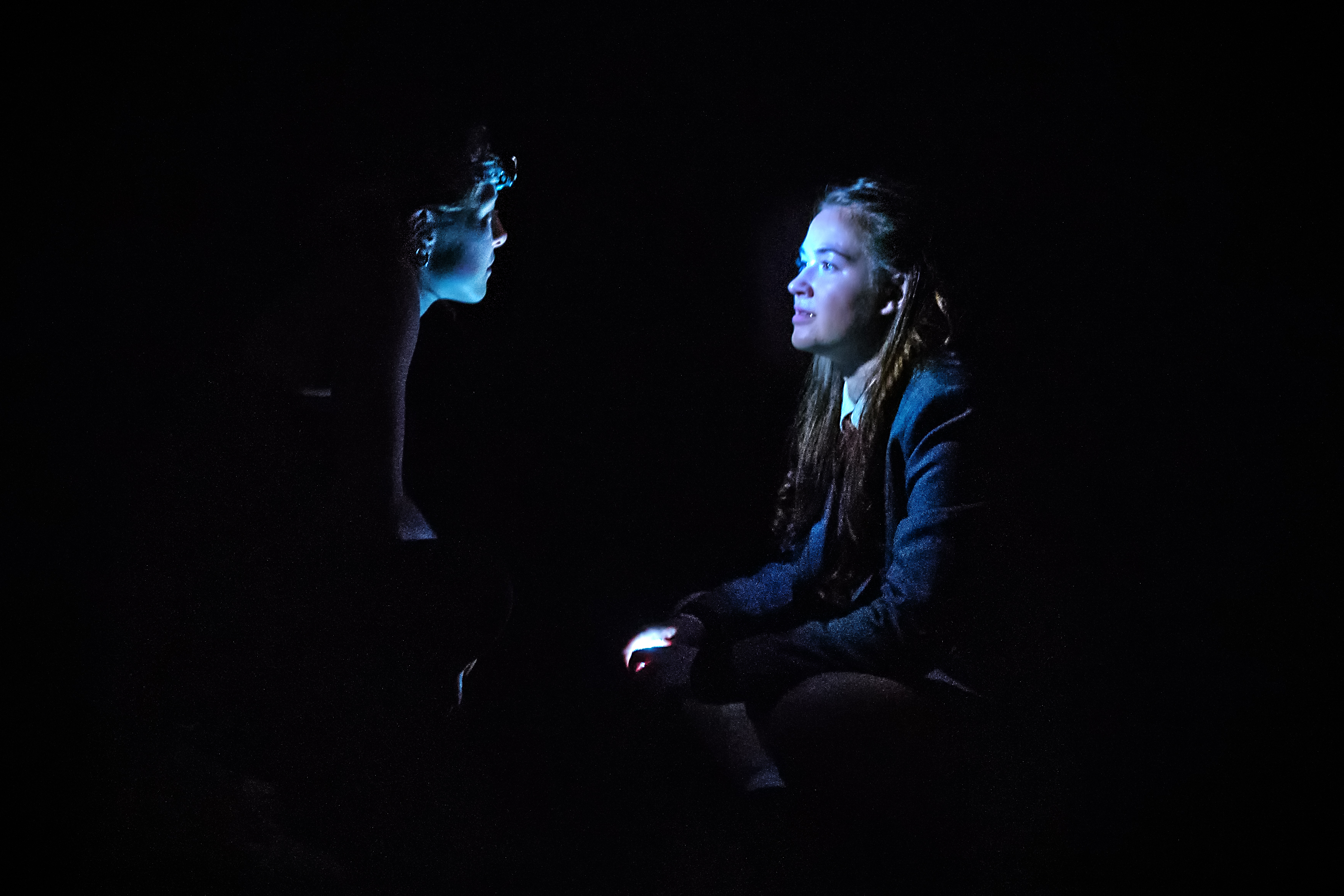 Is the girl's friend dead? What is the girl's relationship to the tough barmaid? Do we believe a word either of them say? Do they? Does it matter?
Lulu Raczka is departing from her earlier work, which tended to be more introspective, as here she is opening out her worldview looking at how the order of things can quickly disintegrate leaving individuals scared and confused as they work with snippets of information
Sitting in the dark it is hard not to think Raczka is offering us a vision of a world without order or truth. It is like fake news and the current trend towards a 1930s style police states have suddenly come to life as the pair swap personas searching for something that might make sense.
Barrel Organ regular Bryony Davies cleverly switches from scared schoolgirl to manipulator in her search for truth making the most of Raczka's truthful words, and Emma D'Arcy is wonderfully surly throughout angrily turning any vestige of truth to her own ends.
When the house lights finally come back up we are left blinking at a dark and nihilistic world that may well be just round the corner.
A Girl In School Uniform (Walks Into A Bar) is at West Yorkshire Playhouse until Saturday April 15th To book online www.wyp/org.uk or 0113 2137700
Reviewer: Paul Clarke
Reviewed: 12th April 2017
North West End Rating: ★★★★
Photo: Anthony Robling