Brighton based touring theatre company 'Talking Scarlet' kicked off their 2017 tour at Wakefields' Theatre Royal of a new musical adaptation (by Stephen Kingsbury and Ben Sleep) of E. Nesbit's classic story "The Railway Children".
The story concerns a family who move from London to Yorkshire and a house near a railway, after their father, who works at the Foreign Office, is imprisoned after being falsely accused of spying. Whilst adapting to a simpler life in Yorkshire, the children – Bobbie (Roberta), Peter and Phyllis befriend an old gentleman who regularly takes the 9:15 train near their home ('The Three Chimneys") and take care of a Russian exile, Mr Szczepansky, who is searching for his family.
Described as "capturing all the excitement and emotion of Edith Nesbit's much loved story" and aiming to bring the delights of this literary classic to yet another generation, sadly for me it lacked the steam power to boil a kettle let alone a steam train!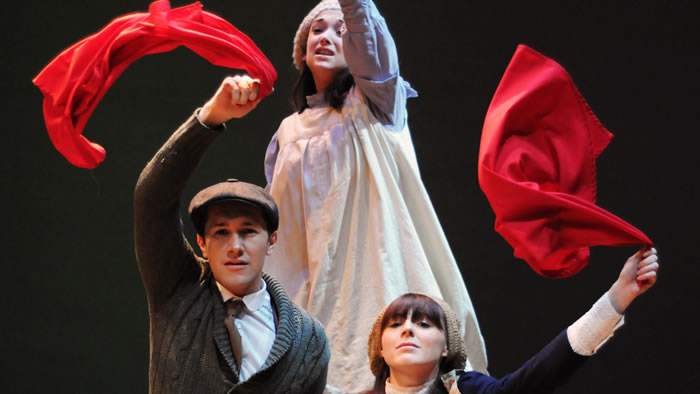 What I particularly couldn't get my head round, after various successful film adaptations and a television series, was the fact that instead of using child actors to play the role of the three children, they instead opted for adults instead. I found their mimicking of childhood behaviour and characteristics both distracting and irritating. I am sure there are enough talented young actors out there to play these roles. I feel that if younger cast members were used for these roles then it may have appealed more to the several young audience members who instead also appeared confused by the characters and had pretty much switched off by the end of Act One.
Whilst I couldn't particularly fault any cast members acting skills, I did not feel the three "children" suited their characters and could not warm to them. From what I could understand from the musical numbers, the score worked well with the original storyline, however the songs seemed rushed through to the point it became impossible to understand what they were singing about. One singing voice that stood out for all the wrong reasons was that of the children's Mother.
The stage set was the bare minimum with a projector background showing various relevant scenes – from the train platform, the very bare dark wall and fire surround of their home, to the magnificent steam train. However these were often poor quality and unclear images. At various parts of the performance there was ongoing issues with microphones and loud feedback, or microphones not picking the sound up in part of someone's line. Spotlights were delayed a couple of times, usually on the train platform where cast members would be talking but in darkness before the light eventually caught up!
For me it all felt a little too put together at the last minute or as if several cast members had gone off sick at the last second and unrehearsed extras been called in at short notice. There was no literature for this evening's performance, or information on Talking Scarlet's website, so I was unable to see the names of the cast, however the one cast member that brought some warmth to the performance was that of the Railway worker the children took gifts to on his birthday.
The Railway Children is a much-loved classic that will continue to be popular for decades to come. As a musical it has such wonderful potential, with recent success at London's Kings Cross Theatre. As I know the story inside out I was still able to follow this particular productions storyline but had gone in expecting something First Class but was left with Economy.
Reviewer: Charlotte Browne
Reviewed: 13th April 2017
North West End Rating: ★★