As I spotted the classic 80s car taking prime position centre stage, I got the impression that tonight's production of Rita, Sue and Bob Too was going to be far from subtle! From the packed theatre I could tell that Andrea Dunbar's play and film adaptation had a huge following. I started to grow concerned as I could not relate to the numerous articles and anecdotes about life in the 1980s in the programme, as interesting as they were, I wasn't born until 1989! However, reading the directors welcome article I was interested to hear that the play involved many themes that still resonate today, such as: abuse, sex, unemployment and cuts. Diva Productions are still a very new company in the larger scale so I was looking forward to seeing their take on such a gritty but well-loved tale.
The play follows two school girls Rita (Anna Potton) and Sue (Polly Lovegrove) as they both fall for a slimy, older married man, Bob (Dale Vaughan). In present day this would be inexcusable, but in this setting it was simply the village's gossip! Initially these two girls find the whole situation with Bob and his 'boring' wife Michelle (Charlotte Spowage) a fun game, but as we all know feelings start to grow and it becomes extremely stressful for everyone involved, especially Bob!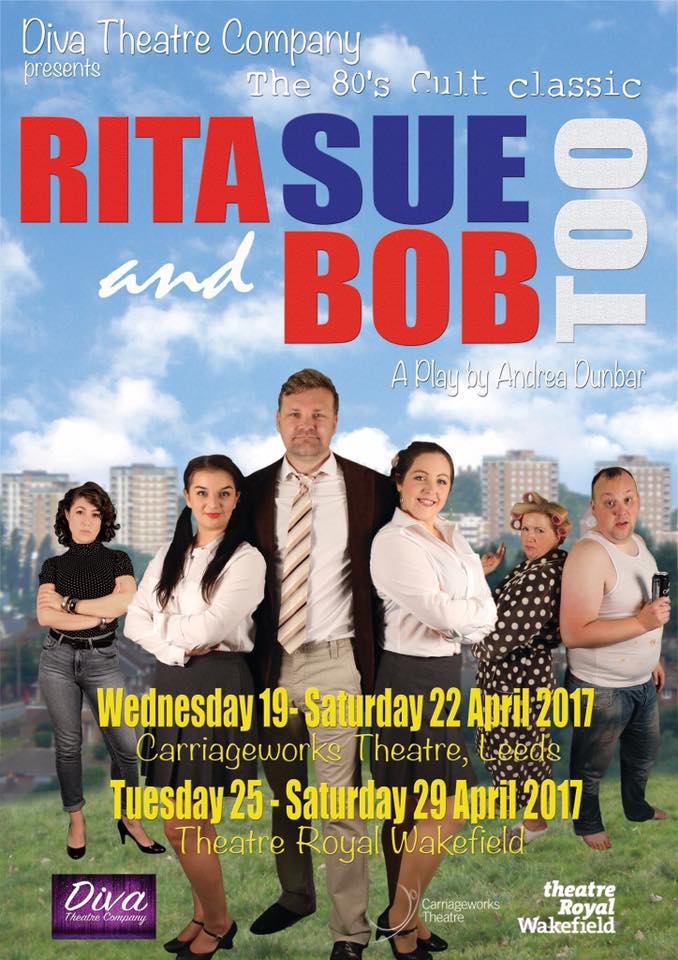 It was a small cast of 7 in the play, but each role held their own and received a number of laughs and cheers from the audience. Whether it was Sam (Dean Booth)'s ignorant chants about the IRA or Michelle's sassy comebacks insults towards Bob, the audience lapped up every punch line and the actors often had to hesitate for some of the longest laughter pauses I have witnessed. The dynamics between Lovegrove, Potton and Vaughan complemented the internal dilemma each role faced in this awkward love triangle. Lovegrove especially managed to keep the audience on her side displaying Sue's hopeless naivety and, and this is a hard task for a role who is involved in breaking up a marriage! However, the standout comedic performance was the brilliant double act of Sue's hopeless parents played by Alison Gibson and Andy Ashley (who also directed and produced the play). They regularly had me laughing out loud in my seat with their comedic timing and constant arguing. Ashley played the role of drunken layabout flawlessly with complete commitment to role with Gibson providing the perfect sarcastic counterpart, often receiving howls of laughter from her bolshie portrayal. I always enjoy watching actors discard any personal vanity for the success of their role. Tonight I had tears in my eyes as Gibson straddled a bar stool in her skin tight, silver leggings, never quite getting the elegant angle she was hoping for, a truly genius physical performance.
Although I haven't seen the 1980s personally, the technical arrangement this evening gave me a whirlwind tour, providing clever time fillers between scene changes with videos of adverts, music and film clips from the era. Although these did seem to go on for an overly long time, it was lovely to hear the small mummers and mutters of reminiscence from the audience around me. The performance began with a warning announcement that the play included very strong language and scenes of an adult nature, and they weren't wrong! Within the first 10 minutes I was witness to a bare bottom(!), but it was these moments that provided hilarious comedy relief from an otherwise dreary Tuesday evening. Well done to all involved, I haven't laughed quite that much as an audience member in a long time!
Reviewer: Christine-Jane Parkes
Reviewed: 25th April 2017
North West End Rating: ★★★★★