Wayne's dad's taxi is a magical place. It's no ordinary taxi. When, at 11am on Saturday morning, Wayne's dad, Steve, politely opened the car door for my sister, Christine, and I, to step inside, we did so not knowing what to expect.
What we got was a local history lesson, a theatrical performance, original music composed by a Skirlaugh-born Oscar and Bafta winner, a photograph display, storytelling and so much more … oh, and a taxi ride, of course, in Wayne's dad's taxi.
Let me introduce the principal characters. Wayne Steven Jackson is a Hull-born "performance practitioner and lecturer". Currently a PhD candidate at London South Bank University, an informative leaflet placed on the back seat of Wayne's dad's taxi, reveals Wayne is "researching the performative process of autobiographical remembering in relation to Hull and its status as City of Culture".
Equally important to this unique event is Wayne's dad, Steve Jackson. His gleaming taxi, with himself at the wheel, transported us through Hull, through history and - my sister and I being Hull-born and bred – through our own memory banks, all the while imagining Hull through Wayne's own recollections of the city. More of that later.
We'd been advised to meet at the Horse Wash (known as 'oss Wash to locals), on Victoria Pier, Nelson Street, in Hull. I acted like a visitor to the city while awaiting our transport, taking photographs of statues, the Deep, and Hull Minster in the distance. I'm usually still in my pyjamas at 11am on a Saturday, so had to make the most of my pre-adventure time.
And what an adventure, with dad Steve at the wheel, son Wayne in the front passenger seat and my sister and I in the back. Reversing away from 'oss Wash, Wayne asked us to clear our minds and imagine a boy walking down Nelson Street. Dressed in black and white checked shirt, black braces and black trousers, the boy appears to be lost. Nothing looks familiar to him.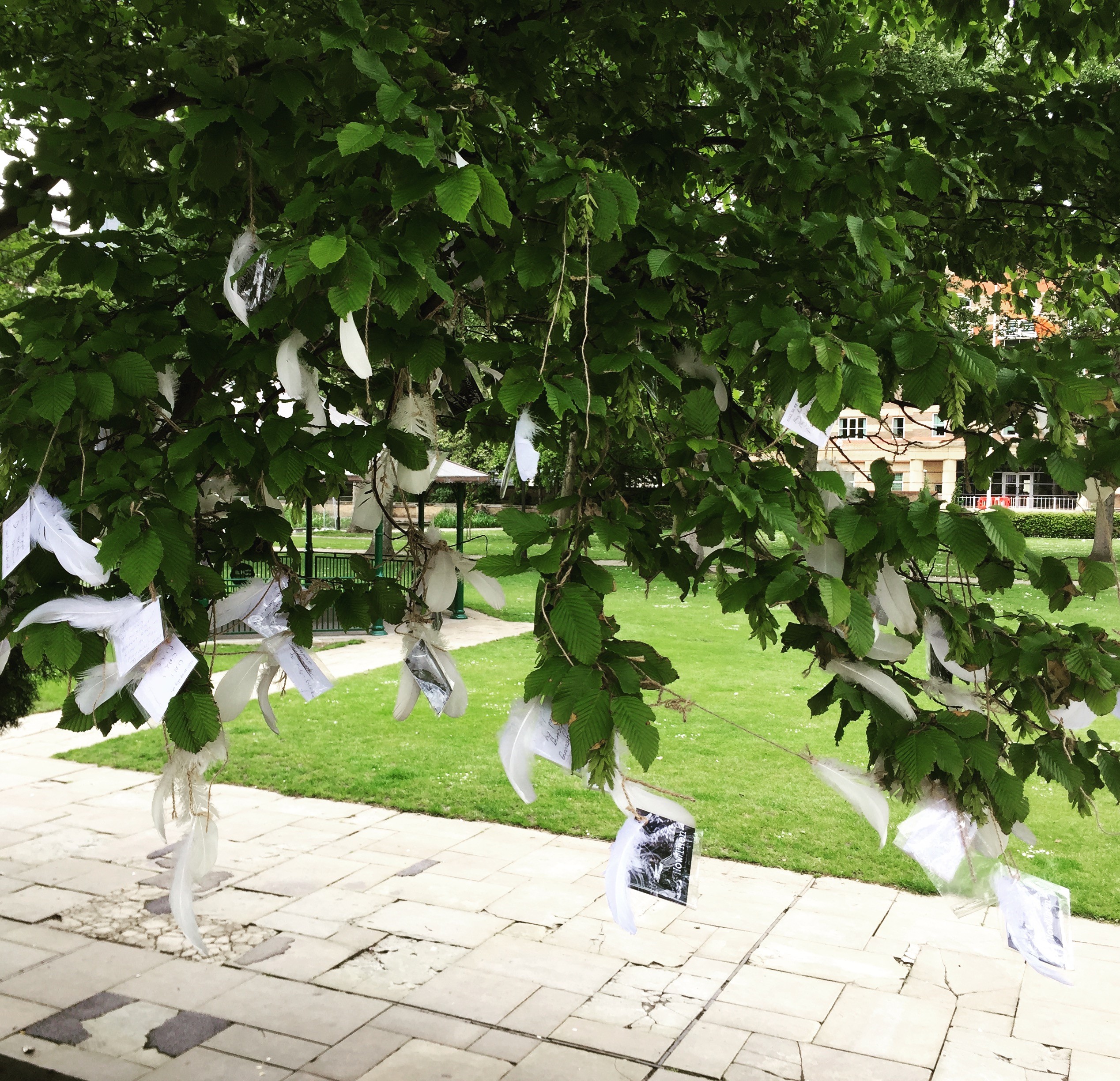 Wayne begins to remember things from years gone by – the number 43 bus (I used to catch this to school), fairy dolls on sticks from Hull Fair (yeah, we had one every year), dockers (my dad was one), chudding (not guilty, m'lud), dolly tubs, monkey nuts, ice pops, Needlers sweet factory. In his clear voice, the memories came thick and fast for Wayne – and for us, too.
Wayne's live dialogue was helped along by a CD he had recorded - "Dad, when it's safe to do so, can you turn on the CD?" - with original music by Christopher Benstead, the aforementioned award winner from Skirlaugh.
We drove down High Street, stopping outside of slave abolitionist William Wilberforce's house, before moving on in our ride back through time - Wayne recalling the green tiles in Southcoates Lane school (my brother went there), building sandcastles on Withernsea beach (our annual hol destination), the narrow metal steps of East Park's Splash Boat (one old penny a go, we got soaked every time) and his granddad's garage, Moss and Wilson, at the bottom of Myton Bridge.
Periodically, Wayne turned around to face us, pegging photographs of Hull on a mini washing line. But the focus was always on the young boy in the black and white checked shirt; a boy with fond memories of being ferried around as a child in "Dad's taxi".
Nearing the end of Wayne's recollections, the boy looks up, the sky opens and millions of white feathers come tumbling down – covering everything in the city. While we're imagining this, Wayne breaks our reverie by pointing to the big white feathers attached to pieces of string and cards that had been placed near our seats. We were asked to write on the cards (pens thoughtfully provided), what Hull means to us and invited to tie them to a tree overlooking our next stop, Queens Gardens. Many such cards were hung there already.
Back in Steve's taxi, we were in for a surprise. Wayne, wearing a white T-shirt at the start of our ride, was now dressed in a black and white checked shirt, black braces and black trousers. It was his way of saying: "I was that lost little boy, but now I'm a man and I have come full circle – still in my Dad's taxi".
Then it was back to 'oss Wash and the present day, our memory banks re-stocked thanks to Wayne, Steve, Steve's taxi and the unique city of Hull, well-deserving of its City of Culture 2017 status.
Reviewer: Jackie Foottit
Reviewed: 20th May 2017
North West End Rating: ★★★★
Devised and performed by: Wayne Steven Jackson
Original score composed by: Christopher Benstead
Private hire by: Steve's Cars of Thorngumbald, near Hull
Supported by: London South Bank University, The Manchester College, Arden School of Theatre
Running until: June 30th, 2017, the performance can be enjoyed with a soundtrack alone, or with a live performer and can be booked on www.hull2017.co.uk/thestory/the-seasons
Tickets: From £4 to £20