Dirty Dancing is arguably on of the most iconic movies of the 1980s. Set in the summer of 1963, it tells the story of seventeen year old Frances "Baby" Houseman, the youngest daughter of affluent couple Jake (a Doctor) and Marjorie Houseman, whom whilst enjoying a final summer of freedom before heading off to College, at Kellerman's – a resort in the Catskill Mountains meets and develops a crush on the resort's dance instructor, Johnny Castle.
However, Johnny is from a working class background and therefore Baby, knowing just how strict her father is, hides their friendship from her family, until she realises she is falling in love with him.
When Baby spots Johnny's cousin Billy on a walk through the resorts impressive grounds, she helps him carry a watermelon to the Staff Quarters. Here she discovers that the staff holds secret after-hours parties within their quarters and is surprised to see them engaging in what her parents would see as "dirty dancing". When Johnny's usual dance partner is ill following an illegal abortion, Baby jumps at the chance to take her place, after all – Johnny can teach anybody to dance! As he starts giving Baby private dance lessons their romance begins to blossom.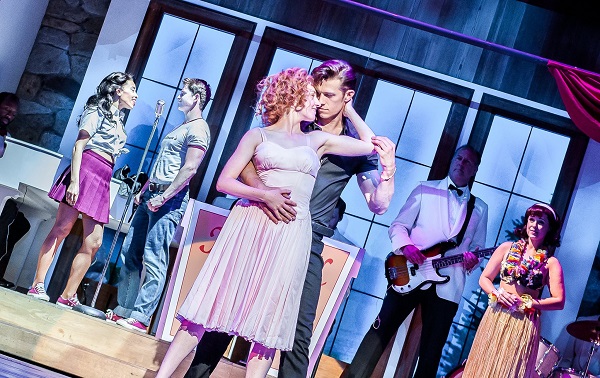 The show features all the classic memorable movements from the movie including THAT lift and not forgetting the scene in the water, which on stage was one of the highlights of the performance for me. The way it was done made it so believable whilst featuring some humour.
Katie Eccles certainly lived up to her character name as Baby – not only is Eccles a petite well "baby faced" she looked so much like the movies original star Jennifer Grey that I had to squint occasionally to un-see it and enjoy Eccles in her own rights. Robert Colvin as heart throb Johnny Castle, really got the (mostly female) audience going crazy, particularly when we literally got to see some bare flesh! This got hearts racing so much I hoped that the theatre staff were up to date with their resuscitation skills! The pair worked wonderfully together and the chemistry between the two was believable. Eccles' transition from sweet shy Baby to the sexy, confident dancer was done to perfection.
The wow factor came from Lizzie Ottley as Baby's older sister Lisa, playing the nauseating ultra naive typical middle-class American teen to perfection, her purposely painful hula girl karaoke raised laughs and plenty.
I will be totally honest and admit that I never saw the appeal in the movie and always thought it was somewhat mediocre so had butterflies as to what tonight's performance was going to be like. I need not have had my doubts as the whole thing from start to finish was so addictive that I know it won't be too long before I return for a little bit more "dirty dancing" (and bare bottoms of course!) Quite possibly the best girls night out EVER! Go see for yourself, and you too will have the time of your life.
Reviewer: Charlotte Browne
Reviewed: 5th June 2017
North West End Rating: ★★★★