I'm one the 10 million or so people who saw Mamma Mia! during its record breaking West End run and the good news it still delivers high quality, light hearted fun on its first UK tour.
In these strange times we live in Mamma Mia! is the perfect chance to put all that nonsense behind us, and just wallow in relentless good vibes from the original jukebox musical soundtracked by some of greatest pop songs ever written.
Unless you have been living in a cave then you will know that producer Judy Craymer hit on the simple idea that you could tell a story through the songs of ABBA, and it worked becoming a global hit because everyone loves Benny and Bjorn's songs. And, I mean everyone - no matter how old they are.
To the delight of the sell-out audience the smash hits keep coming all night including Thank You For The Music, Money, Money, Money, Dancing Queen and SOS. As the house band under Musical Director Richard Weeden's baton bash out the music you can't help but reflect that Stockholm's biggest export were also surprisingly good lyricists too switching from upbeat to downbeat with consummate ease.
Catherine Johnson's book keeps it really, really simple. Donna Sheridan owns a taverna on a Greek island where the action takes place and her daughter Sophie is getting married, but doesn't know who her dad is. She reads Donna's diaries finding out there are three candidates to walk her down the aisle so she invites all of them to the nuptials, and much hilarity ensures.
The utterly risible film version of this show had made me forget there are actually plenty of laughs in what is now a classic musical, and not a little cheeky seaside humour too. If you are expecting high art here then you'd be advised to walk on by.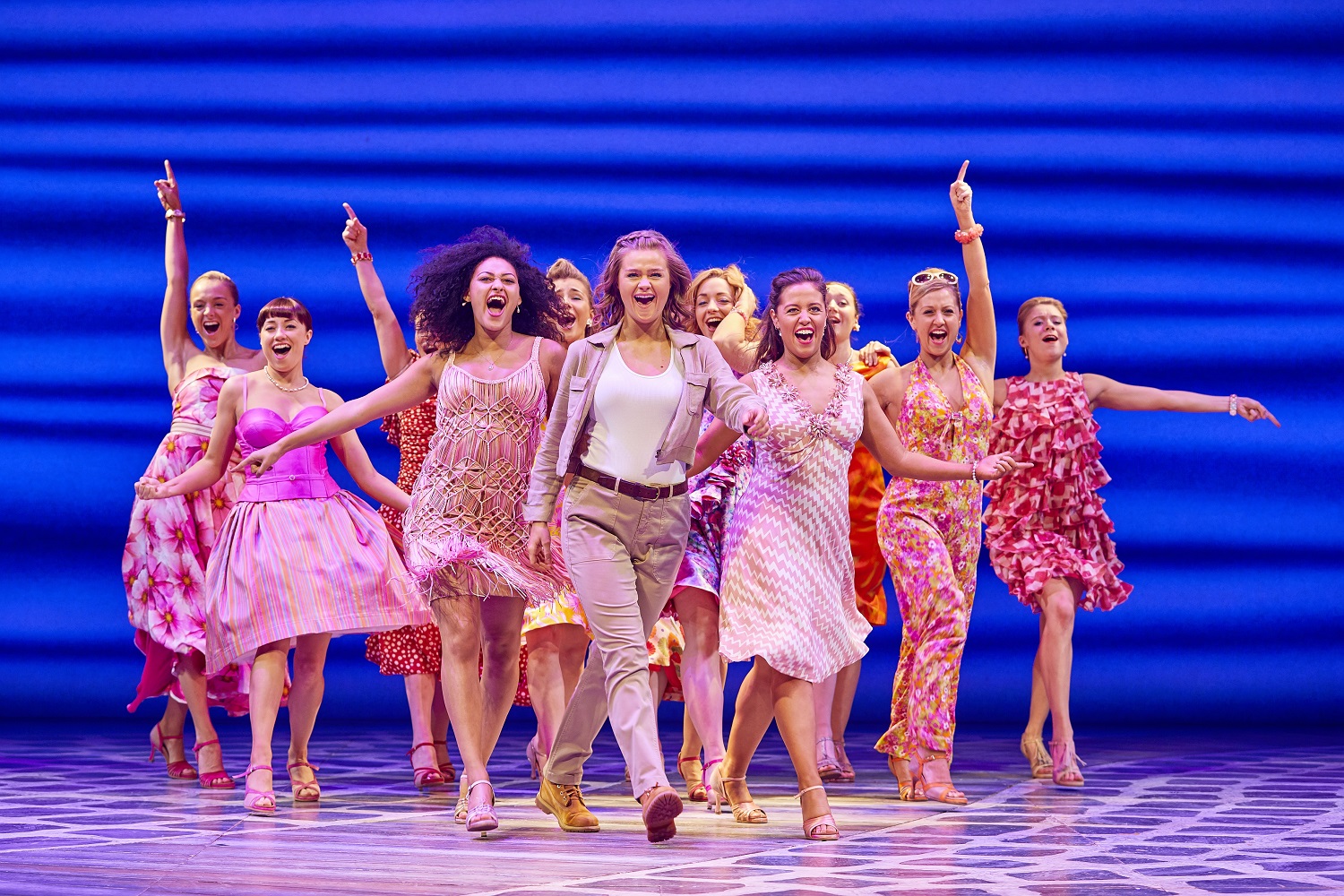 But there is no point bringing a show out of the West End if cast are not of the same standard, and from the off we are in safe hands. Helen Hobson as Donna is simply sensational in the only semi-serious role deftly combining the angst of a mum giving away her beloved daughter, and the nightmare of three ghosts for her past turning up. Her heartbroken rendition of The Winner Takes It All to true love Sam is a genuine showstopper.
Lucy May Barker's perky Sophie is a touch underpowered vocally, but she does have a genuine chemistry with the ripped Philip Ryan as her fiancée Sky. Jamie Hogarth, Christopher Hollis and Jon Boydon are all uniformly charming as the three dads each bringing some different to the roles.
A neat touch is the inclusion of Donna's best mates who used to be in an ABBA tribute band with her, and Gillian Hardie is comedy gold as the independent Rosie in a role runed by Julie Walters in the movie. Her hilarious rendition of Take A Chance On Me as she chases one of the dads Bill round the stage is worth the ticket price alone. As is Emma Clifford's regal Tanya who uses Does Your Mother Know to playfully put down the cheeky Pepper charmingly played by Louis Stockil.
When this trio of middle aged women who have all lived a life come on in their original seventies lycra jumpsuits performing Super Trouper you can see it striking a chord with the manly female audience as they gleefully stick two fingers up to growing older.
The supporting are are all great fun especially during the complicated routine to Voulez-Vous which closes act two adding some knockout backing vocals throughout the show.
When Donna marches back on with her mates in lycra and platform boots to deliver the traditional end of show encore of Mamma Mia, Dancing Queen and Waterloo, the audience leap to their feet in a spontaneous standing ovation for every member of the big cast who have washed all their woes away for a couple of hours.
Mamma Mia! runs at Leeds Grand Theatre until Saturday 8th July. To book go to www.leedsgrandtheatre.com or 0844 8482700.
Reviewer: Paul Clarke
Reviewed: 13th June 2017
North West End Rating: ★★★★★
Photo: Brinkhoff Mgenburg.