Ray Cooney's 1990 comedy - an Olivier Award winner (1991 for Best Comedy) starring Eastenders actor Shaun Williamson is currently touring the UK, and although I knew in advance it referenced a topic I usually avoid - politics - I went along to the opening night at Sheffield's Lyceum theatre feeling intrigued.
Set in Suite 640 of The Westminster Hotel, London, we meet Junior UK Minister Richard Willey who appears to be on an average all expenses paid "business trip". Shortly after settling into the suite we soon learn that he's brought along a secretary, Jane Worthington who appears from the bedroom wearing nothing but black lacy underwear and stockings, and suggests that he also slips into "something more comfortable". As Richard starts to follow her instructions she heads towards the suits window and opens the curtains, only to reveal a seemingly dead body slumped through the half closed sash window. In a panic Richard decides to hide the body and the laughs from the audience (myself included) are pretty much none stop from start to finish after this point as the plot continues to revolve around "the body" and the identity of the body is revealed.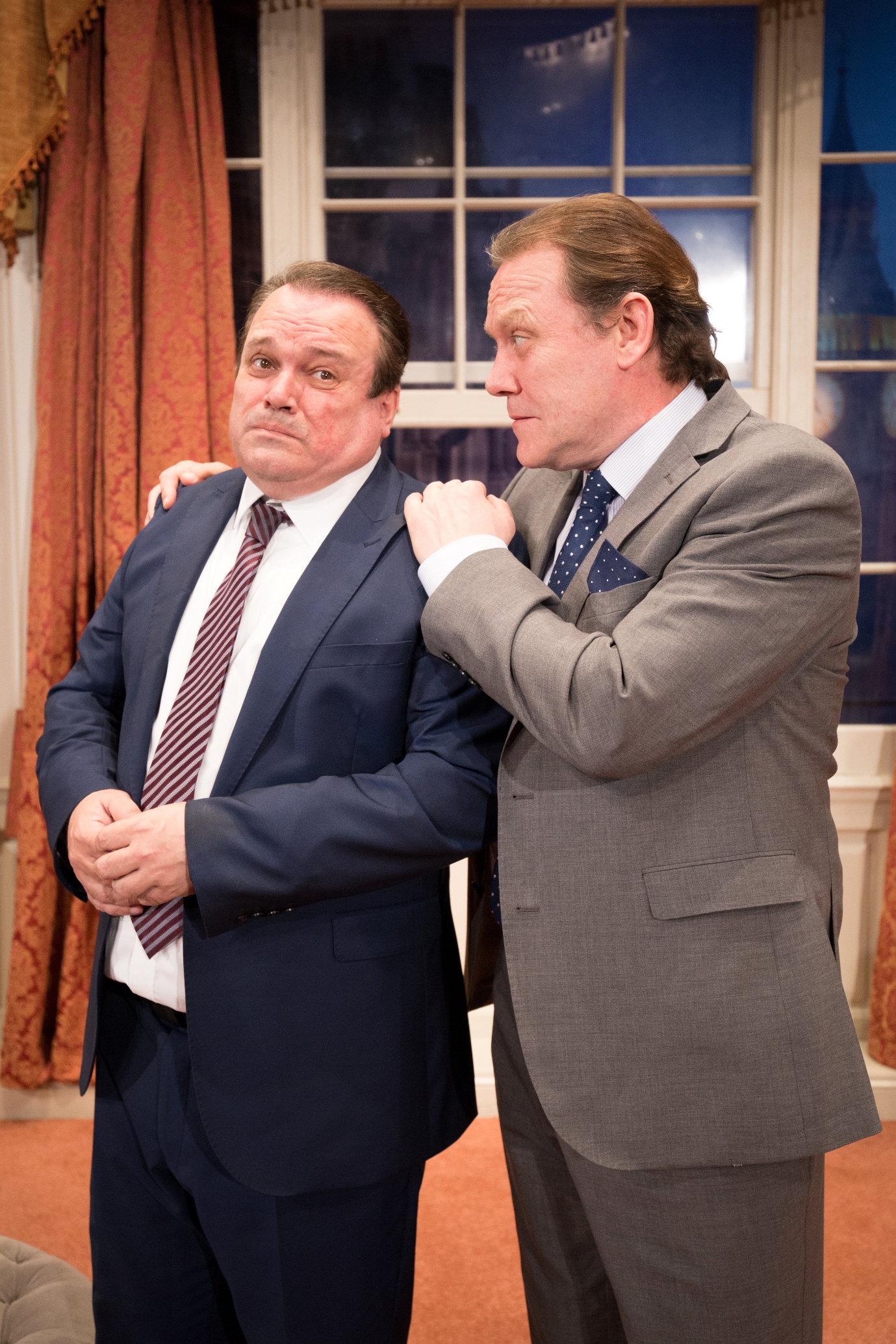 Although there are plenty of political jokes and references to UKIP and Brexit, the play is more focused on the gags surrounding the cover up story Richard and his colleague George Pigden and the web of lies they weave whilst inventing various pseudonyms for each other as they try and remove the body, dodge the suspicious hotel staff and Jane's jealous husband Ronnie.
Throughout the performance, as the plot thickens we gradually meet more and more characters, including Richard's wife (Sue Holderness) and George's mothers Nurse Gladys Foster (Elizabeth Elvin), and there's various twists and turns, plus unexpected romantic moments between the most unlikely of people, along with some rather enjoyable nudity!
Although I felt it a little slow to start with, I was soon finding it hard to stop laughing and became deeply engrossed in the plot. Shaun Williamson is hilarious and loveable as the much put upon Pigden, with the rest of the cast all being equally outstanding in their own right. I can't help feeling a sense of Deja Vu however, and found that it felt like a slightly dated version of The Play That Goes Wrong. However I still loved every second of the performance and left wanting more.
Following the most recent General Election, having read the plot theme in advance, really didn't think I would enjoy it but I was soon left eating humble pie as I had one of the best laughs I've had in months, and, as the saying goes, in times of unease and uncertainty, laughter really is the best medicine. Out of Order plays at Sheffield's Lyceum until Saturday 17th June and is by far one of the funniest nights out imaginable.
Reviewer: Charlotte Browne
Reviewed: 14th June 2017
North West End Rating: ★★★★