Set in the 1980s when it was "all about the green" (i.e. money), wannabe Rock Star Robert J Hart fantasies about making it big with his wedding band, "Simply Wed". Robbie is accustomed to being at weddings, but only as the bands' lead singer, so with his own wedding literally around the corner, to the love of his life Linda, he is somewhat nervous. Although on paper Robbie might "only" be a Wedding Singer, living in his grandma's basement, he's a sweet and caring guy with a heart of gold, and ungrateful girlfriend Linda takes poor Robbie for granted.
As Robbie nervously prepares himself on the big day, he has no clue that he's about to be jilted at the alter. Robbie is soon sent into deep despair, writing songs of hate and aggression towards his ex, Linda. However, he soon finds a distraction in kind hearted Julia, a waitress whom works alongside him at weddings. It isn't too long before the pair start to fall for each other. However, Julia has recently become engaged to her boyfriend, Glen. Glen has it all - the looks, top job, the car (and the huge car phone to boot!), but this leads him to have an arrogant attitude and thinking nothing of cancelling dinner plans on his and Julia's anniversary to go to the Knicks game with his friends.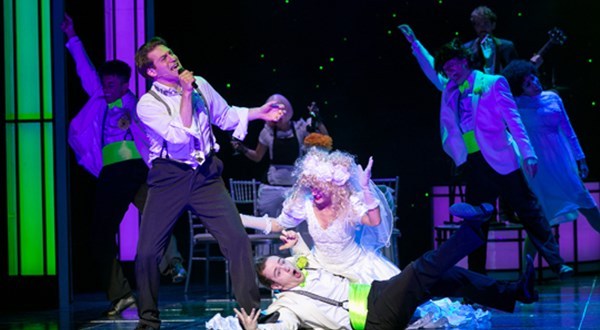 Although the movie is packed with well-loved eighties tunes, the majority of the musical soundtrack is mainly new tracks, but despite being set in the 80s and the musical itself being a few years old, the songs and lyrics are fresh, catchy and rather addictive! I admit tonight's performance wasn't my first visit to the tour (I'm a huge fan of the movie and all things 1980s - in my opinion THE best decade yet, as without it I would cease to exist, as would most of the lead cast members!). Numbers to listen out to include "Saturday Night In The City" (Full Company) at the end of Act One, and "Single" (Act Two) - when Robbie and his band mates Sammy, George and co get drunk and drink to being well - single!
Although I've seen several people in the role of Hollie during this tour, tonight was a breath of fresh air with the newly appointed Lucie Jones (Eurovision 2017, X Factor 2009, Les Misérables, and Elle Woods in Legally Blonde - a role she returns with later this year) who took over the role following the unexpected departure of Roxanne Pallet. Lucie brought a much needed sense and well X Factor to the role, it was clear to see she is loving every second of the tour, and the audience, myself included, adored her. Her vocals are utterly flawless. I'm now bursting with excitement to see her in the starring role of Legally Blonde from October, Sheffield Lyceum.
Jon Robyns' is every bit as adorable as Adam Sandler in the original movie, as the down on his luck Wedding Singer. What Robyn's lacks in big 80s hair, he makes up for in the energy and the sheer enthusiasm he gives at every performance. However last night's Sheffield opening night may have been opening night in the West End, as every cast member gave 110%. By far the best performance I've seen of this current tour, and I'm no stranger to this current tour!
Robyn's vocals on both the belters and ballads had the entire audience under some sort of mesmerised spell - you could pretty much hear a pin drop when he sang, not to mention the goosebumps caused! Maybe it's the whole wedding theme and the hot summer night but I certainly was ready to say "I do!" by the end of the show! Leading Cassie Compton gave an equally outstanding performance and the pair really set the romantic storylines in motion.
Ruth Madoc brings the laughs in by the dozen as Robbie's loveable Grandma, Rosie. Will Robbie and Julia finally declare their love for each other before it's too late, or is he destined to spend the life "Single" and living in Rosie's basement forever?
Reviewer: Charlotte Browne
Reviewed: 18th July 2017
North West End Rating: ★★★★