Following on from last year's Sheffield People's Theatres performance of "A Dream" by Chris Bush, his fourth instalment, "What We Wished For" once again brings together a huge cast of local amateur performers in what results in seeing some familiar faces plus several new local talents.
"What We Wished For" is a play set in a fusion of traditional fairy tale and contemporary society. In a retirement castle just outside the city, a group of interesting residents including Sleeping Beauty and Belle, the senior citizens await rescue - not from the Police, Army nor the Fire Service, but from their grand-children, who promised they would visit today. If they don't make it, well they might just have to take matters into their own hands.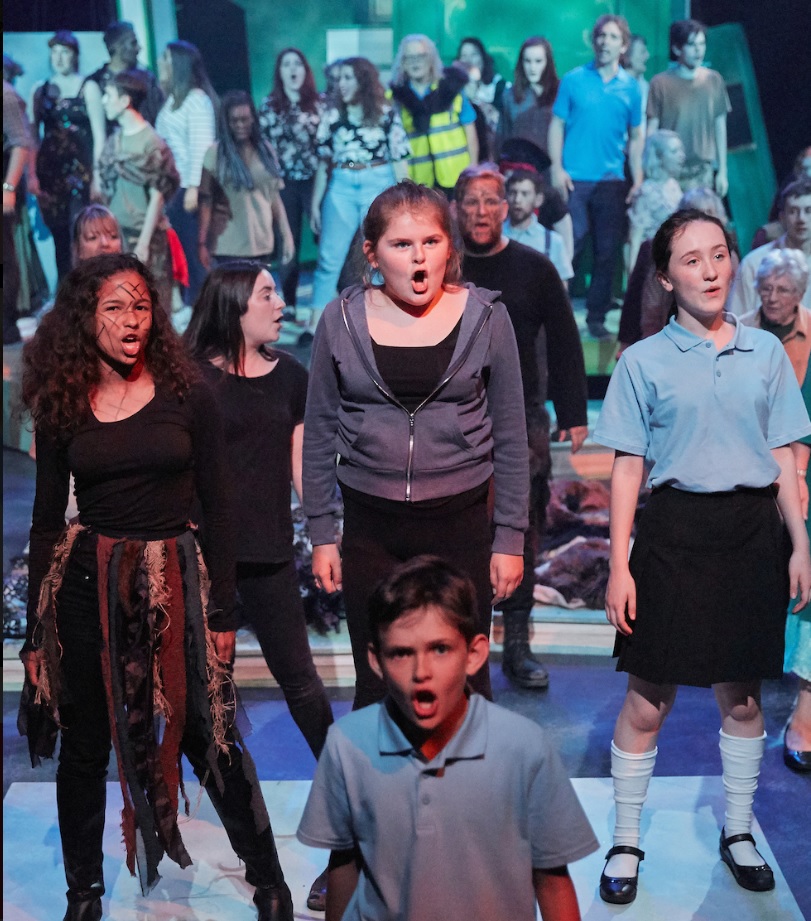 "Red's" (or Scarlett Benson to be precise) Grandma (Little Red Riding Hood) describes her grand-daughter as "an angel" and day dreams about her perfect little granddaughter meeting the Queen, but Red is far from being an Angel, with her rebellious teenage ways. When the city is issued with a warning about Wolves - ("they say this town's gone to the dogs. No, it's gone to the wolves round here" (or "Howls" as they are known as) with various sightings taking place and poor Grandma recently being injured by one, Red jokes with her friends and paints graffiti round the school referencing the Wolves.
Filled with darkness, myth, magic and mayhem, "What We Wished For" is a fairytale like no other. This brand new story about the lessons each generation pass on to the next is full of well-loved fairytale characters - but not as we know them. They've grown up now and life has taken them on different paths - from experimental "special recipe" Brownie baker and yoga enthusiast Marian (Maid Marion) and her partner in crime Robin (Hood) to irresponsible Scout Leaders Hansel and Gretel, retirement home cleaner Cindy (Cinderella) to work apprentice Woody (Pinocchio), the performance is filled with laugh out loud humour, unexpected twists and turns, stunning vocals and new songs, and is anything but amateur!
With such a huge cast, impressive stage set and stunning costumes (particularly "Roma's" costumes - played by Bronwen Ebdon whose performance was simply outstanding and worth the ticket price alone, "What We Wished For" is a wonderfully deliciously gothic new spin on old favourite fairy tales and delivers the important message to be careful what you wished for, that not all is what it may first seem and that there's wolves among us all.
Other noteworthy performances came from Isa Wood (as Red), the loveable duo Marion (Michele Gardner) and Robin (Rav Sanghera). However with such a large cast it was so hard not to want to mention every single person involved both on stage and behind the scenes. I'll admit I haven't been blown away by previous performances by Sheffield People's Theatre and was filled with doubt before the band had struck up the intro, however within the first ten minutes I was completely engrossed and mesmerised by such a powerful thought provoking performance.
If you love Sondheim's "Into The Woods" then you'll adore this even more, although not suitable for younger children due to the darker scenes which will leave even the bravest of adults checking under the bed for monsters before they go to bed!
Playing until Saturday 22nd July at The Crucible Theatre, Sheffield, I urge you to book now or live to regret it.
Reviewer: Charlotte Browne
Reviewed: 20th July 2017
North West End Rating: ★★★★★