Moving to a new town and school can be tough on any teen, but when your new home town has made dancing and rock and roll illegal it's even tougher, especially when you're totally unaware of these crazy laws and end up breaking so many in your first few days!
This is what happened to poor Ren McCormack (Joshua Dowen) who along with his mother Ethel (Lindsay Goodhand), after Ren's father walks out on them without explanation, making Ethel opt to leave Chicago and move to the one town nobody has heard of - a small Midwestern town by the name of Bomont - where only a few years earlier tragedy struck when following a school dance, four teenagers were killed in a car accident whilst under the influence of drink and drugs.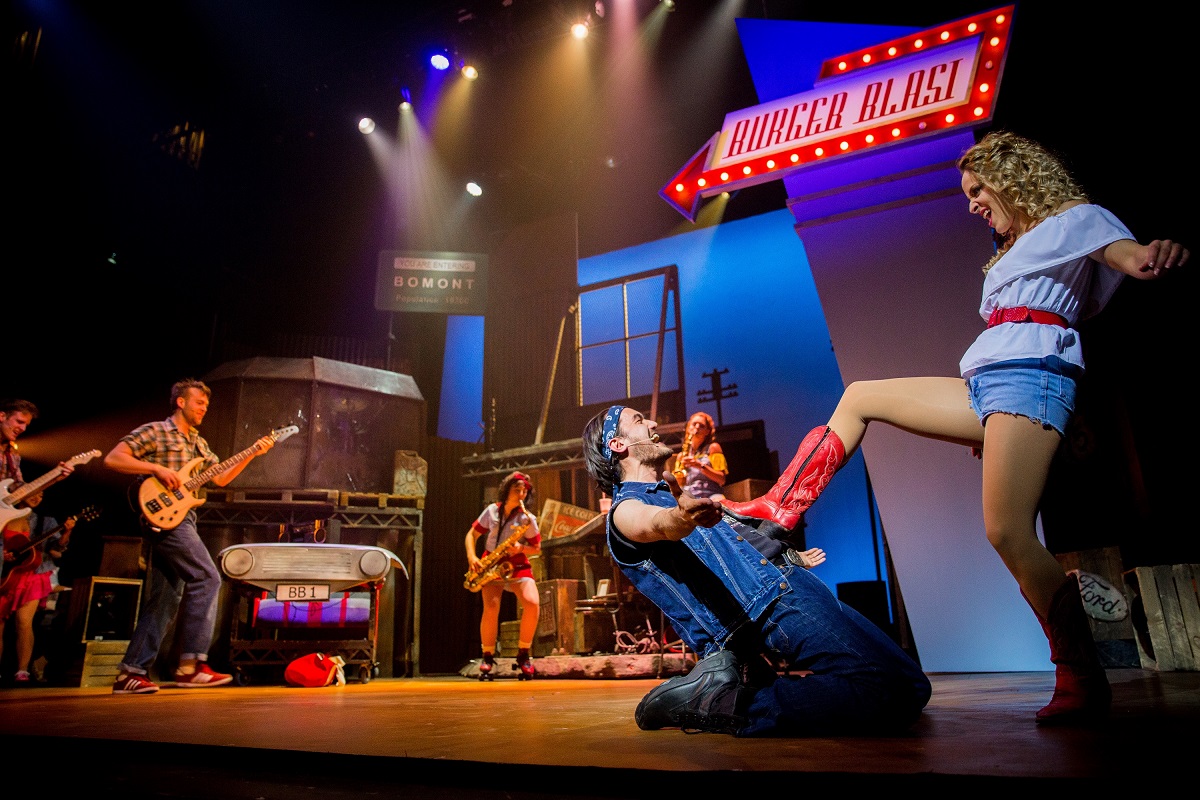 As Ren struggles to fit in with his new peers he finds friendship along in Willard, (Dominic Gee Burch), a gawky and dim witted typical western farmer type guy, who tells Ren that he doesn't know how to dance (or how to be around girls). Ren decides to embrace the uphill battle to change things in the restricted and conservative town, but his biggest challenge in convincing Reverend Shaw Moore (Reuven Gershon) who's defiant daughter Arial (Hannah Price) has also caught Ren's eye.
Filled with classic eighties hits including "Holding Out For A Hero", "Let's Hear it For The Boy" and of course, "Footloose", the musical is high energy, toe tapping feel good fun from start to finish, with an impressive stage set by Sara Perks, which works fantastically well to create everything from a Church to a Roller Diner ("Burger Blast") with a railway track and Bridge inbetween (which Arial uses as a respite place when she needs to vent her anger). Although the show has few costume changes, apart from Lindsay Goodhand who flits from Ethel to Betty - an elderly comical waitress at the roller diner to Coach Dunbar at Bomont High, the costumes still fit the typical 80s midwestern fashion well. Having been a huge fan of lead star Joshua Dowen since his role of Louis DiMucci in Cool Rider Live at The Duchess Theatre (London) and later as Stevens in Dogfight (Southwark Playhouse, London), this had made me determined to catch the tour, although admittedly I'm not particularly keen on the original movie, however as much as Dowen excelled in the leading role as expected, it was Dominic Gee Burch as Willard that had me smiling the most throughout the show. His over goofy and comical portrayal as simple Willard was for me, what made the show worth watching. It was also lovely how the role of Vi Moore (Maureen Nolan) had been expanded somewhat and it was great to witness her sing live on stage once more. Nolan certainly proved that she is still "in the mood for dancing" when she got to join in the grans finale of the reprise of the title track, Footloose.
Although I am still not overly fussed on the storyline, Footloose worked wonderfully as a musical and it was obvious that fellow audience members were thoroughly enjoying kicking off their "Sunday shoes" in order to "cutloose" for a memorable couple of hours. Playing at Sheffield's Lyceum until Saturday 2nd September, Footloose is a high energy fun filled night suitable for all the family. https://www.sheffieldtheatres.co.uk/whats-on/footloose
Reviewer: Charlotte Browne
Reviewed: 29th August 2017
North West End Rating: ★★★★