The big question about this fun revival of Crazy For You was could Love Island presenter Caroline Flack cut it as she makes her musical theatre debut and to her credit she delivered a confident turn as the feisty Irene.
In fairness Flack did train in musical theatre, and had clearly put in the hard graft to earn her place in a top-quality cast, as she really belted out her big number Naughty Baby.
Crazy for You is an oddity because although it hit Broadway in 1992, and is packed with classic Gershwin numbers, it's actually a show based on George and Ira's early musical Crazy Girl. Ken Ludwig's witty book threads together songs from different points of their stellar career so it was arguably the first jukebox musical. Frankly, who cares when the songs are so beautifully written from a golden era when every note and word was carefully placed in the service of the show.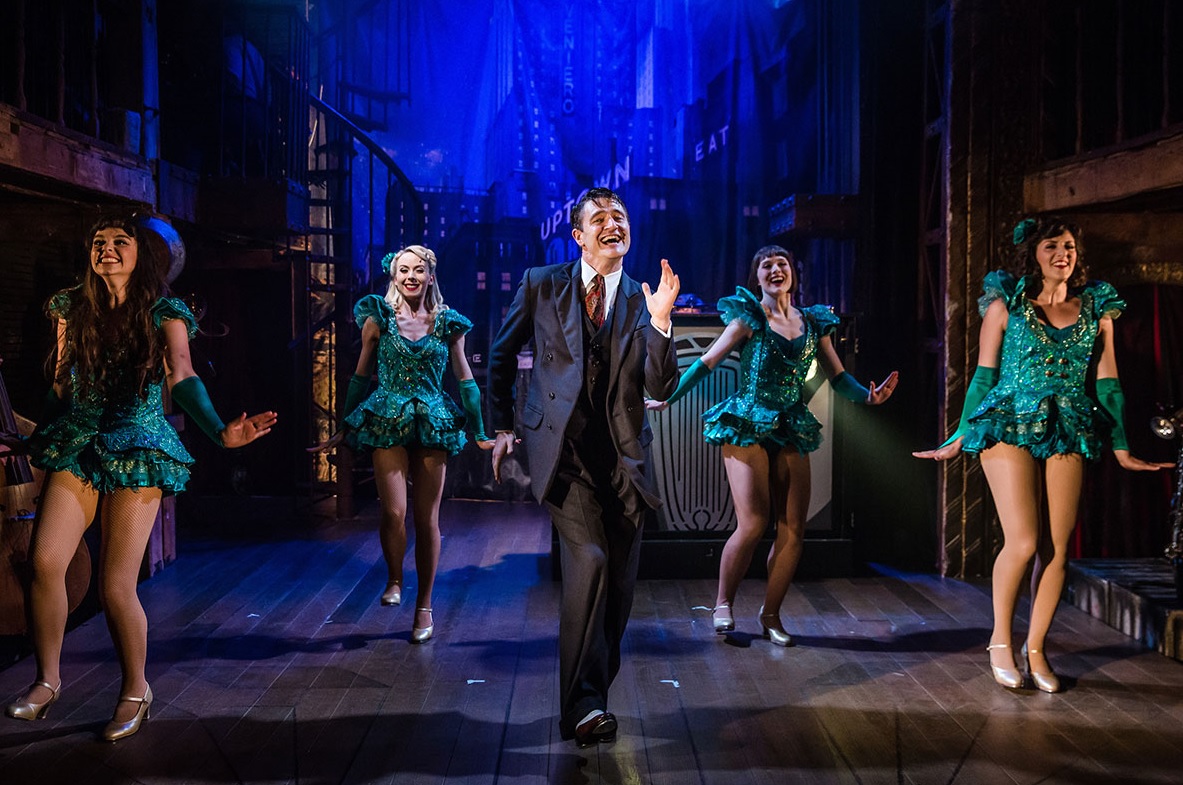 The story is utterly bonkers as New York banker and wannabe hoofer Bobby Child is dispatched to Deadrock in Nevada to reprocess a run-down theatre belonging to the family of Polly Baker who naturally he falls in love with. Ludwig throws in every cliché in the book from mistaken identity as Bobby has to pretend to be Broadway impresario Bela Zangler to win Polly's heart to a glorious 'let's do the show right here' moment as the lightweight but funny plot careers round in the style of a classic screwball comedy.
The undoubted star of this show is Strictly Come Dancing winner Tom Chambers and there isn't a better leading man plying his trade in the UK at the moment. He has it all – we know Chambers can dance which he does with precision all night, he's a handsome devil but has an unexpected gift for comedy playing daft Bobby just on the cusp of over the top and he's a decent singer especially on a wistful They Can't Take That Away From Me. Anyone who saw Chambers in Top Hat at this theatre knew he had potential but now he is the finished article.
Matching him step for step and note for note is Charlotte Wakefield who takes Polly from a sub Annie Oakley tomboy to an elegant and confident woman in love. Wakefield has been around a while, but Crazy For You is her breakthrough role, and her sure footed duet with a Glitterball winner on Embraceable You had a genuine chemistry. She also has a golden voice that filled this massive theatre in a way other leads have failed to do. Someone To Watch Over Me is a classic song that seems in the wrong place in this all action show, but Wakefield still invested it with a genuine poignancy.
As so often these days the talented ensemble were expected to play instruments live on stage as well as sing and dance their hearts out. There is not a weak link in this cast as every one of them is a high-quality performer who seem to be having as much fun as the rest of us especially during a thrilling and percussion driven version of I Got Rhythm.
Crazy For You may be a hybrid show, but thanks to two high quality leads having great fun, a talented company and some of the best show tunes ever written it remains a hugely entertaining night out albeit not a very challenging one.
Crazy For You is at Leeds Grand Theatre until Saturday 2nd September and then touring. To book www.leedsgrandtheatre.com or 0844 8482700.
Reviewer: Paul Clarke
Reviewed: 30th August 2017
North West End Rating: ★★★★