This was an oddity as the Quarry Theatre has been converted into an ad hoc radio studio for a live action version of Nick Ahad's Partition, first broadcast on the anniversary of the day that created independent states India and Pakistan seventy years ago.
This live action version, complete with live Foley, is the result of the first collaboration between West Yorkshire Playhouse and BBC Radio Leeds, so the four cast members move around the sparsely lit stage playing multiple roles reading from a script in hand as they would in the studio.
The actors are focused on the long term impact of Britain's decision to divide India on faith lines in 1947 resulting in the Hindu and Muslim communities, who had previously lived peacefully together, indulging in a mutual insane slaughter that left more than two million dead.
Ahad has cleverly set his play in today's Britain where Muslim Saima and Sikh Ranjit are outside Leeds Town Hall waiting to get married, while their families who are living with memories of the communal hatred of seven decades previously agonise whether they will celebrate the nuptials.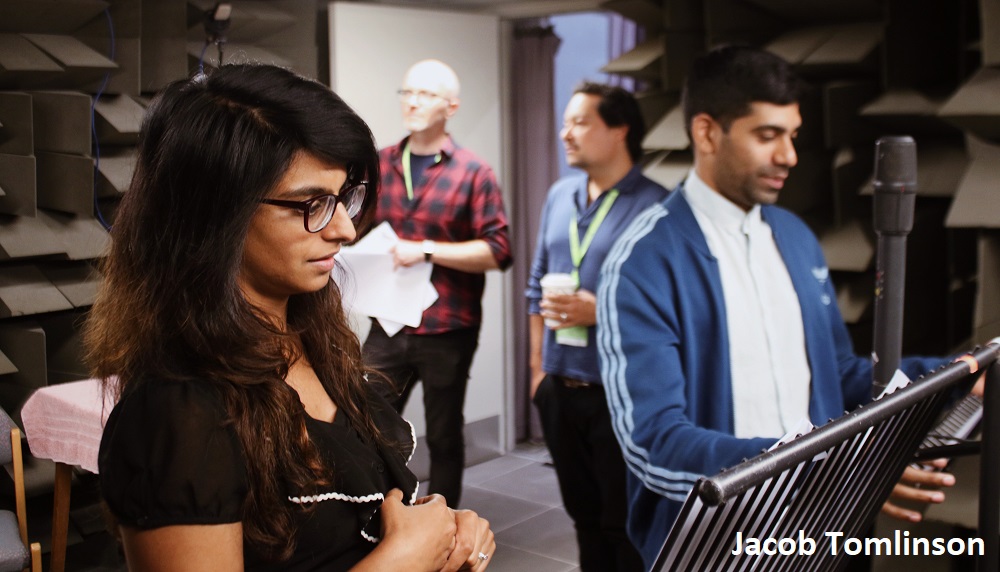 As the story of Saima and Ranjit's forbidden love develops, Ahad subtly brings in the power of memories of the horrors to warp today's perceptions, and exactly what those atrocities were. It would have been easy for Ahad in his extensive research for this play to give too much emphasis to the murderous acts which he is right to resist.
As Ahad has said he finds misery fests boring so deploys lots of humour that serves to amplify the horror when it comes as well as why both families are struggling to overcome their ghosts to wish the happy couple well.
The casting here is spot on as Darren Kuppan is great fun as the optimistic Ranjit convinced the families will come to their senses, and then wonderfully changes pace to play his eighty-year-old granddad Rajpal who is haunted by surviving the horrors of Partition. He has a real chemistry with Bollywood star Mez Galaria who confidently handles the complex emotions of a decent young woman torn between love for her man and respecting her family history.
The hugely experienced Balvinder Sopal is convincing as Saima's widowed mum wrestling with the love she has for her only daughter, her faith and the family's own buried memories of Partition. She is also comedy gold as the nervous first-time marriage registrar Mandy, and even funnier as hard faced café worker Denise.
Playhouse regular Dominic Gately is his ever reliable and funny self as the sympathetic security guard Bob who manages to persuade Rajpal to do the right thing despite revealing for the very first time his deeply buried pain.
Ahad also benefits from the technical expertise of the Playhouse team who really recreate the intimate magic of a radio studio in this much bigger space and manage the complex sound challenges with their customary professionalism even though it is an unusual ask for them.
Occasionally Ahad does lapses into cliché but in telling a story that needs to be told as widely as possible Partition is by some distance his best work. He's on a creative roll at the moment so if the Playhouse bosses have any sense they will offer him the chance to deliver a full-length drama in this space.
Reviewer: Paul Clarke
Reviewed: 8th September 2017