Can it really be 170 years since Charlotte Brontë's tale of a little orphan hit the bookshelves?
The story of Jane Eyre, the orphan in question, was given 21st-century touches in parts, by the National Theatre and the Bristol Old Vic, in the first touring production to grace the stage of Hull New Theatre, after its £16m revamp.
As the packed audience settled into their brand new seats, on the opening night on Monday, the lights dimmed revealing a stark stage whose only enhancement was a structure connected by varying ladders and steps. This simple, yet very clever, arrangement formed the basis of the whole production and very effective it was, too.
The story began with Jane's birth, a joyous occasion with shouts of "it's a girl!" ringing out. Happy days, but not for long.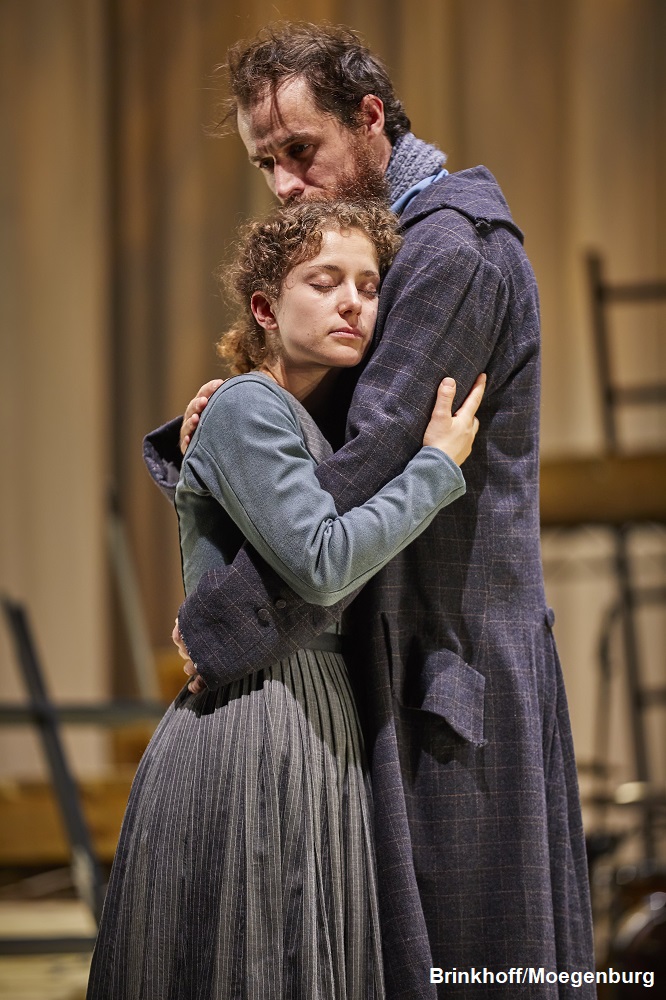 As a young girl, Jane (Nadia Clifford) finds herself having to live in the care of her Aunt Reed (Lynda Rooke), who treats Jane abominably in comparison to her own daughters. The young girl is soon packed off to Lowood institution, a school run by the dour Mr Brocklehurst (Paul Mundell). It's here Jane's character is formed as she witnesses, and is the victim of, injustices and cruelty. As the years pass and Jane grows up, her spirit yearns to be free and it's in this frame of mind she advertises for a position as a governess – soon receiving a reply from a Mrs Fairfax (another role for the aforementioned Lynda Rooke), housekeeper at Thornfield Hall.
The journey there provided laughs galore for us in the audience – the carriage ride was very cleverly done, but it was the toilet break that made us laugh the loudest.
Being dropped off some way from the hall, Jane finds herself in the path of a speeding horse, whose rider is dismounted, shouting the F word as he lands in the mud. I don't recall reading that word in my old Jane Eyre book, but it was just one of the modern touches in this adaptation. Noël Coward's Mad About The Boy and Crazy, by Gnarls Barkley, (both beautifully sung by Melanie Marshall) also seamlessly linked the past and present.
The foul-mouthed horseman turns out to be Edward Fairfax Rochester (Tim Delap) the owner of Thornfield Hall and Jane's employer. Her charge is his ward, the French-speaking Adele (Hannah Bristow).
For Jane, life at Thornfield is both wonderful and scary. I'm not giving the game away (surely everyone knows the story by now) by mentioning there's a mad woman in the attic who causes untold pain to both Jane and Mr Rochester.
The pair go through hell before the happy ending they both deserve –with shouts of "it's a girl" ringing out once again.
Apart from a marvellous cast, the stage setting, lighting and live music (courtesy of the talented Matthew Churcher, Alex Heane and David Ridley), along with the costumes and the sound effects, all added to a very authentic atmosphere – whatever the action taking place.
Nadia Clifford as Jane was on stage from start to finish, almost three hours – what a trouper. But animal lover that I am, my favourite was Pilot, Mr Rochester's "dog" (the aforementioned Paul Mundell). He "barked", jumped, lolled and was petted so convincingly, I could hear "aw's" all around me whenever he was on stage.
This modern-ish take on a classic tale was a tad too long in my book, but that's a minor grumble. It was different, it was brave, it was enjoyable. Enough said.
Reviewer: Jackie Foottit
Reviewed: 18th September 2017
North West End Rating: ★★★