I am thrilled when a piece of theatre truly re-ignites my passion for the arts and the joy they can bring to an audience. Graeae Theatre certainly achieved this last night in their lively and passionate performance of Reasons to be Cheerful at the West Yorkshire Playhouse. This was my first experience of Graeae Theatre's innovative approach to theatre but I will definitely be following their future projects as I left the theatre last night inspired by what I saw on stage.
Graeae Theatre (led by Jenny Sealey MBE) have achieved a perfect integration of sign language, audio description and captioning within their performances whilst championing accessibility for all within their cast and crew. Graeae make it their personal mission to advocate inclusion and diversity within the performing industry, showcasing the outstanding talent of D/deaf and disabled artists within their performances.
Now, it is only fair to admit to the fact that before last night's performance of Reasons to be Cheerful I had no knowledge of Ian Dury and the Blockheads, or the impact this punk rock band made on both the music industry and disabled communities. The musical follows a community of Blockhead fans, living in 1979 and working through their anger of the new conservative government. Ian Dury and the Blockheads were an inspiration for this young generation portrayed on stage, and gave everyone (young and old) a chance to vent their frustration through the punk music they idolised so much.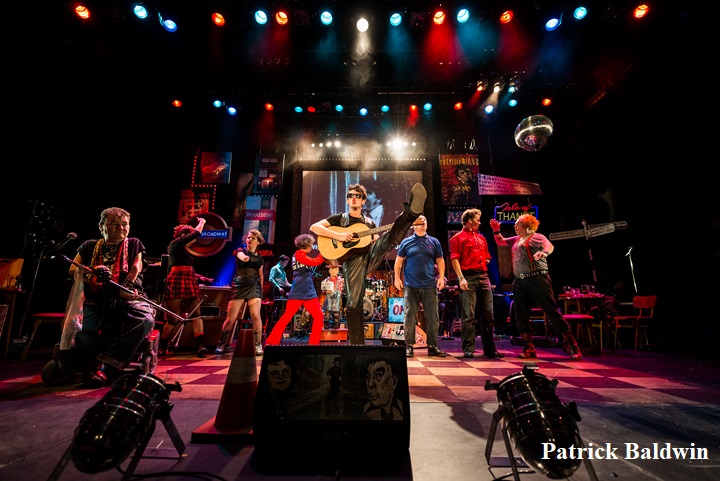 The only problem I encountered of this performance when considering this review was the cast; it is impossible to praise individual performers as the entire cast were so engaging my attention was constantly diverted by new hilarious moments and stand out performances! I have never witnessed an ensemble cast with so much passion and commitment to a performance. Each performer on the stage brought life and energy to their role, from the leading role of Vinnie (Stephen Lloyd), his hilarious best friend Colin (Stephen Collins) all the way to the engaging musicians providing the live music in the background. I can safely say I have never seen an artist playing two saxophones simultaneously, but this is just one example of how my eyes were truly opened last night to the vast array of talent this country has to offer.
As we followed the journey of this working class community there were a number of production elements that supported the warming narrative. The set was designed to resemble a typical, local pub in 1981 and transported the audience back to this era with familiar signs, snacks and of course, the music of Ian Dury and the Blockheads! I also enjoyed the projection design by Duncan McLean as this assisted novices like myself enjoy the upbeat music even more and allowed us to sing along to the controversial lyrics!
Overall, my absolute favourite element of Graeae's performance of Reasons to be Cheerful was the electric atmosphere that was created by everyone involved. I may not have been born when the musical was set, or had any prior knowledge of the Blockhead's musical hits but I couldn't help but smile when I looked around the theatre to see audience members of all different ages and backgrounds up on their feet singing, dancing, and even thrusting along to the music! I can safely say every single person left the theatre with a clear reason to be cheerful last night, well done to all involved! http://graeae.org/our-work/rtbc/
Reviewer: Christine-Jane Parkes
Reviewed: 10th October 2017
North West End Rating: ★★★★★