I often think it is beneficial to see plays that have been adapted from another source without having any prior knowledge of its original incarnation. In this case I hadn't read the best-selling novel by Khaled Hosseni or seen the film adaptation of The Kite Runner, but had mainly heard positive things. The first thing that struck me was the stage – what appears to be wooden boards upstage of a large sloping which flows cross the stage and raises on the left to right, offering a sense of symmetry and possible entrances/exits.
As well as this is the Tabla for a live percussionist positioned stage right. I get a feeling we are going to transported into a world far from Sheffield and, to some extent, that was indeed true.
The Kite Runner is told by and from the point of view of Amir (David Ahmad) who transitions seamlessly between storyteller and character. Amir, is introduced to us as a young boy from Kabul, Afghanistan, whose closest friend is Hassan (Jo Ben Ayed), his father's young Hazara servant. Theirs is a turbulent story which stretches the limits of their trust for one another and Amir faces his own demons as he slowly realises he could have been a much better friend. The story spans days, weeks and decades and whilst also being an intimate story of friendship and betrayal, also gives us an insight into history from the fall of Afghanistan's monarchy through the Soviet invasion, the exodus of refugees to Pakistan and the United States, and as well as bringing to the forefront of our attention the rise of the Taliban regime.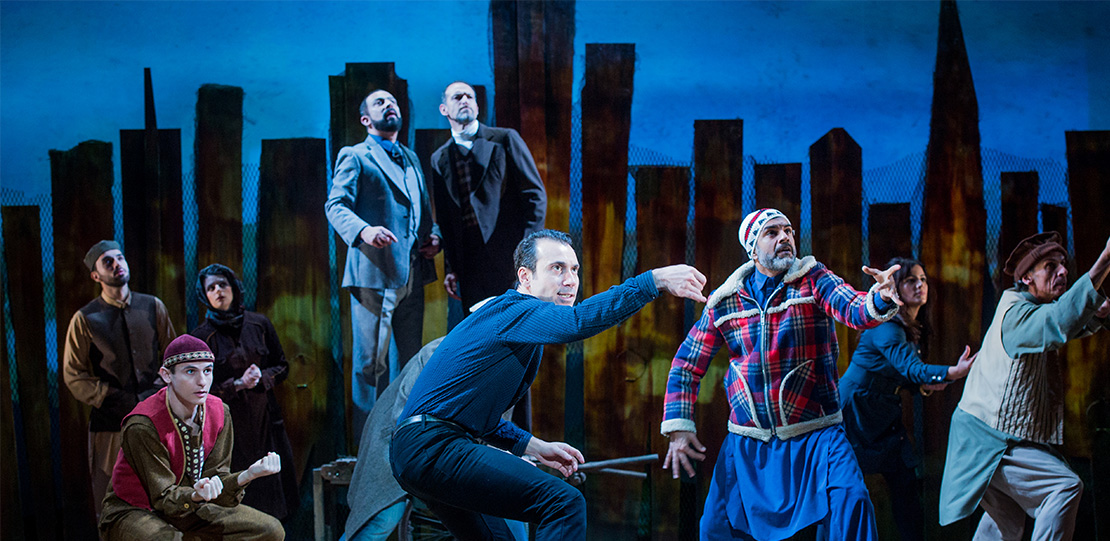 The company entrusted to tell this story is simply excellent, each bringing total believability to their roles as well as adding to the total sense of ensemble. In particular though our "lead roles" stand out, if you will. Ayed's Hassan is sensitive, endearing and powerful within the simplest of gestures, portraying the sensitive you man totally dedicated to his best friend Amir. Bhavin Bhatt's Assef is strong and menacing, but still remains a sense of his humanity beneath his horrific actions. Amir's father, Baba, is brought brilliantly to life by Emilio Doorgasingh in a strong and commanding performance. It is however David Ahmad who truly impresses with an intelligent portrayal of Amir, who effortlessly switches from front person to narrator with total control and the subtlest of changes that make this truly excellent story-telling.
The production is helped along with a haunting live soundtrack played by musician Hanif Khan and joined by members of the ensemble to capture some very poignant or spine-tingling moments. Charles Banfour's lighting design creates the perfect atmosphere throughout and works wonderfully with the subtle but effective artistry in the video projection, combined with a minimalistic set.
At times this evening the play makes for uncomfortable viewing as we see Amir confront the ghosts of his past and question his family's future; This is balanced with some intimate, beautiful and timely moments too, which truly capture the power of true friendship and loyalty. Religion, race, class, status, power and what it means to be a man are themes which are writ large in this production, but what truly resonates is the enduring spirt of humanity contrasted with the horror of how we, as humans, inflict unimaginable horrors on each other and ultimately how we torment ourselves.
Reviewer: Andrew Ashley
Reviewed: 17th October 2017
North West End Rating: ★★★★★