The surreal sight of uniformed German Nazi officers pirouetting across the stage at Hull New Theatre on Wednesday night, plunged the packed audience straight into the well-documented horrors of the Holocaust during the Second World War.
I'm sure I'm not the only one whose hackles rose just at the sight of those uniforms, but they were a necessary part of this gruesome tale.
The year is 1942. Nine-year-old Bruno, son of a Nazi officer, lives a life of fun and innocence, never knowing an unhappy day.
His dad's promotion takes the family to the back of beyond, from Berlin to Poland, where Bruno's only enemy is boredom.
Exploring his surroundings, Bruno (Matthew Koon) discovers a wire fence, behind which are inmates of a concentration camp (the notorious Auschwitz). One such inmate, a boy called Schmuel (Hull lad, Ashley Dixon), catches Bruno's eye and the pair form some kind of boyish bond.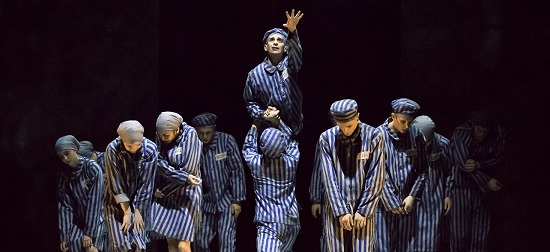 The young Bruno is blissfully unaware of the goings on in the camp. His joie de vivre is evident in his every movement and the live music of the Northern Ballet Sinfonia, conducted by John Pryce Jones, cleverly showcases this; the melodies turning darker to reflect Schmuel's laboured movements whenever he takes centre stage.
As Bruno becomes more sprightly, poor Schmuel becomes weaker – only brightening up when the boys have short-lived fun with a football.
The atmospheric stage setting needed little change to keep our imaginations alive – veering from food-laden tables at an officers' dinner party, to a wire fence behind which untold horrors were carried out on the striped pyjama-clad inmates.
Bruno and Schmuel's friendship continues in secret, but events are about to change their lives forever when Schmuel asks Bruno for help in finding his father.
The unwitting Bruno agrees to help and finds himself caught up in Schmuel's terrifying world – from which there is no return. And I'm not ashamed to say that I wanted to punch the air, shouting "Yes!" at the sight of Bruno's distraught father upon discovering what happened to his son (I won't spoil it for those who have bought tickets).
I have to applaud Northern Ballet for daring to bring such a grim topic to the stage; a topic they didn't try to whitewash. In fact, so engrossed was I in the drama unfolding on stage, I had to remind myself that many of this talented bunch were en pointe much of the time, with all displaying a grace, energy and strength breathtaking to witness.
Being new to the story, my main focus was on the two boys, and if one or two other characters had been absent, talented as they were, I wouldn't have missed them.
This dark and thought-provoking tale drew rapturous applause from the attentive audience and probably a collective feeling that, however the Holocaust is presented, it should never be forgotten.
Running until Saturday, October 21, 2017, 7.30pm nightly, with 2.30pm matinees on Thursday, October 19 and Saturday, October 21. Tickets from £10 http://www.hulltheatres.co.uk/
Reviewer: Jackie Foottit
Reviewed: 18th October 2017
North West End Rating: ★★★★