The first open air market on the historic Kirkgate Market site in Leeds city centre opened in 1822 just a few years before Charles Dickens penned Oliver Twist so what better place to watch a new version of that timeless classic.
Front Room Productions have created a site specific promenade using the history that has seeped into the very fabric of this beautiful old building as an extra performer in artistic director Olivia Race's pacey adaption that stays true to Dickens' sublimely written array of misfits.
Oliver Twist has fled from the orphanage to London after asking for more gruel falling into the hands of the creepy thief Fagin, and his sidekick the Artful Dodger, before being drawn into a robbery being carried out by the brutal Bill Sikes. Oliver's only ally in this hellish underworld is the intelligent, but damaged, Nancy who is in thrall to Sikes.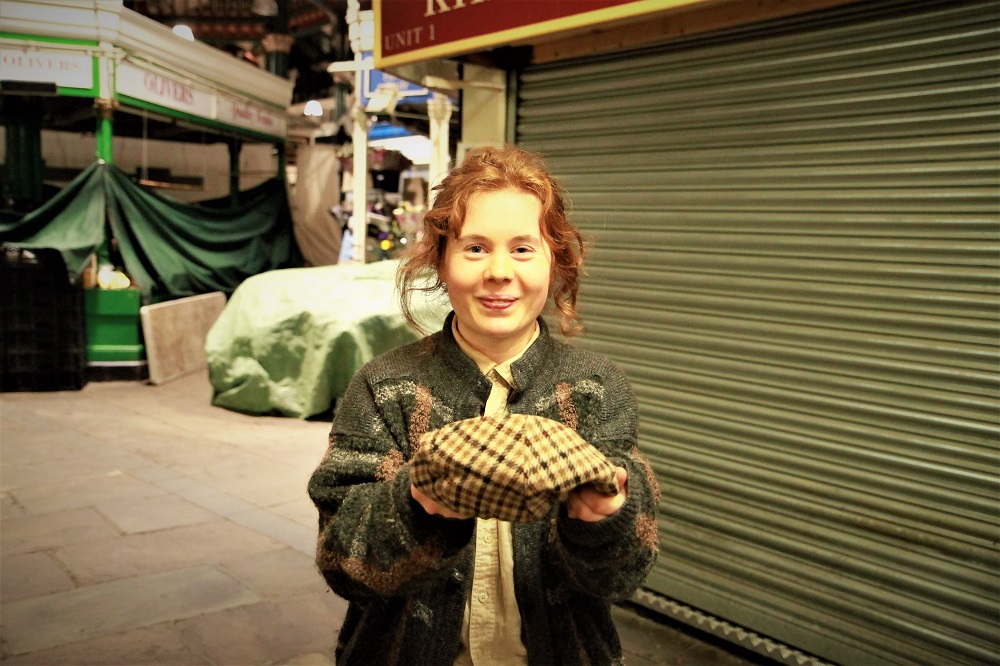 The perky Georgina Franklin as Oliver pops up from behind a market stall taking us up to Fagin's lair, accompanied by a three piece group of wandering musicians playing Claire-Marie Seddon's subtle score helping the audience wander around the slightly ghostly stalls under the grandiose roof.
The company seem to be taking their cue from classic British theatre traditions playing with gender as Riana Duce is a lively Artful Dodger. The only really experienced hand Leslie Davidoff is a mass of physical ticks rightly making Fagin less of a rogue than a ruthless child abuser taking their innocence for his own twisted gratification and profit.
Literally no expense has been spared on the basic props and sets scattered around this cavernous echoing space so the actors have to be on their game, and James Barrett brings a touch of Tom Hardy to the psychotic Sikes sparring with the multi-tasking Olivia Race, who as well as directing, is also a noble Nancy. It's surprising Olivia wasn't doing the security too, but such is the lot of running a young company.
Clocking in at an economic hour this is about as far away for the classic movie as you can get which, frankly, is a good thing as the company give Dickens the respect the master deserves. This well-judged revival is a timely reminder of the corrupting power of unchecked poverty in a land where a million people are now using foodbanks and others are being sanctioned for the crime of being poor.
Oliver is at Leeds Kirkgate Market until Saturday 28th October. Tickets are available from www.frontroomproductions.co.uk
Reviewer: Paul Clarke
Reviewed: 23rd October 2017