First performed in 1960 Gore Vidal's political drama The Best Man has been revived with an all star cast and currently tours the UK. Vidal is well known for dealing with politics and morality in his plays; at the time of writing it was clear he was holding up a mirror to the administrations of John F Kennedy and Richard Nixon, possibly with good authority as his Mother was the daughter of Democratic Senator and his Father worked with Franklin Roosevelt.
This production keeps the play set in the sixties in two hotel suites in Philadelphia during a Presidential nomination convention. The action moves between two campaigns, the frontrunner William Russell (Martin Shaw) and the younger, more controversial Joseph Cantwell (Jeff Fahey). It is not long before dirty tricks start to play a part in the campaigns, with both sides considering whether to use rumour and alleged skeletons lurking in cupboards.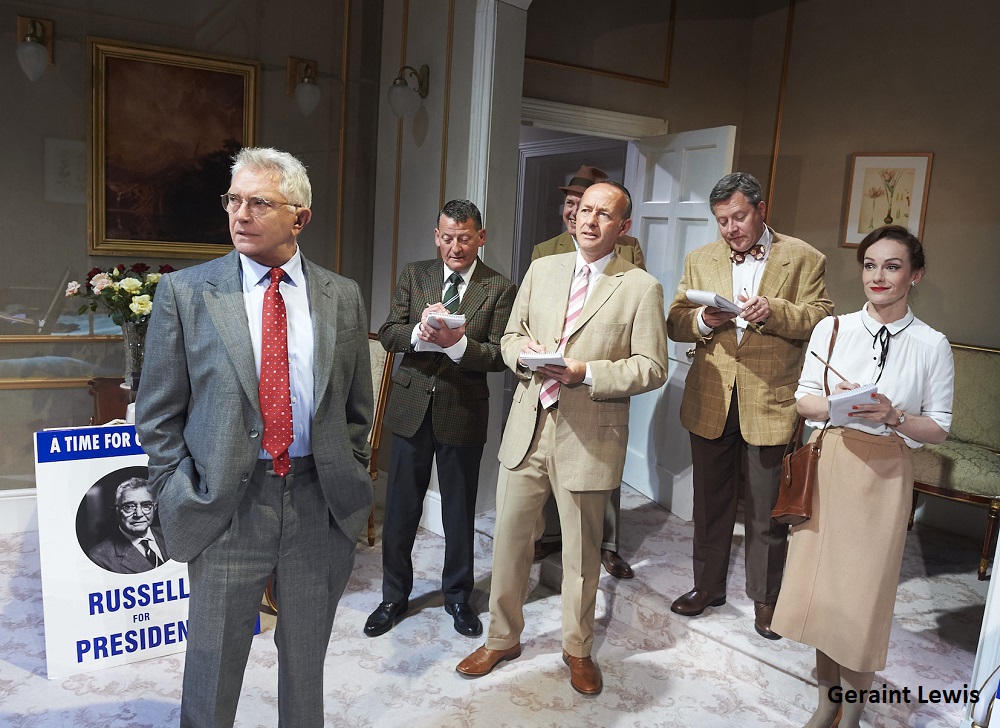 The set for the play was well detailed, with a gauze wall allowing us to see into the "bedroom" section of the hotel suites, adding a sense of depth. Slick and simple scene changes aided the flow of the production with a change in cushion colour and campaign posters marking the differences. A little amiss for me were the large campaign posters suspended above the set – for me they were positioned just too high and appeared so symmetrical that I couldn't help but think they had just not been flown out properly and that I wasn't meant to see them; I spent most of my time thinking whether they were going to fly them in during a scene change, which never happened, so I am afraid this aspect of the set design just didn't work for me.
The cast are without doubt the strength of this production and there is many a familiar face from the world of British Television. Not least of all Martin Shaw who is excellent as former Secretary of State Russell. He embodies the role convincingly throughout, especially as we see the strain of the campaign developing in act two. Jeff Fahey as Cantwell gives us just the right amount of sleaze and swagger in a fairly complex role in which he never falters. The rest of the cast are equally as impressive with perhaps one exception being Jack Shepherd as Ex-President Hockstader who struggled with his diction and was at times simply inaudible. A real shame as he gave a good physical performance and was otherwise very credible in his role. I cannot help but feel very cynical about the casting of many household names, I of course understand the reasons, but I am pretty sure that the majority of people in this nearly full audience tonight were attracted to the production due to likes of Martin Shaw rather than the themes of an American 1960s political drama. I must also wonder what they thought of the production – certainly on my exit general mutterings of "well that was different" or such like, hardly suggest a strong sense of resonance with the themes.
Of course, whilst a lot has changed in the world of American politics unfortunately corruption and deception has not, making this play in some ways still relevant. Issues and debates around the woman's vote, infidelity and homosexuality unfortunately all remain in politics (on both side of the pond) but the writing does not really go far enough to explore these issues to make it really relevant for a modern audience. Whilst this excellent cast portray their roles almost faultlessly it is ultimately the dialogue, which is at times tired, with overly long speeches that rarely make their point, which fails to sustain the interest. Politics and morality motivate a number of works in our popular culture today from the silver screen to our theatres, not to mention right at home on our televisions – the fact is there are more relevant and thought provoking works out there at present and The Best Man unfortunately falls short of all of them.
Reviewer: Andrew Ashley
Reviewed: 23rd October 2017
North West End Rating: ★★★