Based on the 1930's Gershwin musical "Girl Crazy", "Crazy for You" is a musical romantic comedy incorporating songs from several other Gershwin productions. With lyrics by Ira Gershwin and music by George Gershwin, Crazy For You is a magical step back in time to New York 1930s Jazz and Cabaret era.
The story opens backstage in a 1930s theatre, "The Zangler Theater", where the Zangler Follies, a group of female performers have just performed their last concert. Theatre owner Bela Zangler, a married man, has eyes for Dance Captain Tess, but she dodges his advances. Meanwhile, Bobby Child, the wealthy son of a banking family awaits back stage in the hope of gaining an audition with Mr. Zangler. Bobby performs "K-ra-zy For You" but fails to impress, particularly as his routine ends badly with him crushing Mr. Zangler's foot!
Mortified, Bobby meets up with his long term fiancé (engaged to for five years but no plans for a wedding are on the horizon!) Irene, and his pushy mother, Lottie Child's, who orders Bobby to head out to Deadrock to foreclose a rundown theatre. Reluctant Bobby then fantasies about performing with the Follies Girls ("I Can't Be Bothered Now") before being brought back to reality where he decides that maybe escaping his fiancé and mother for a while wouldn't be such a bad thing after all.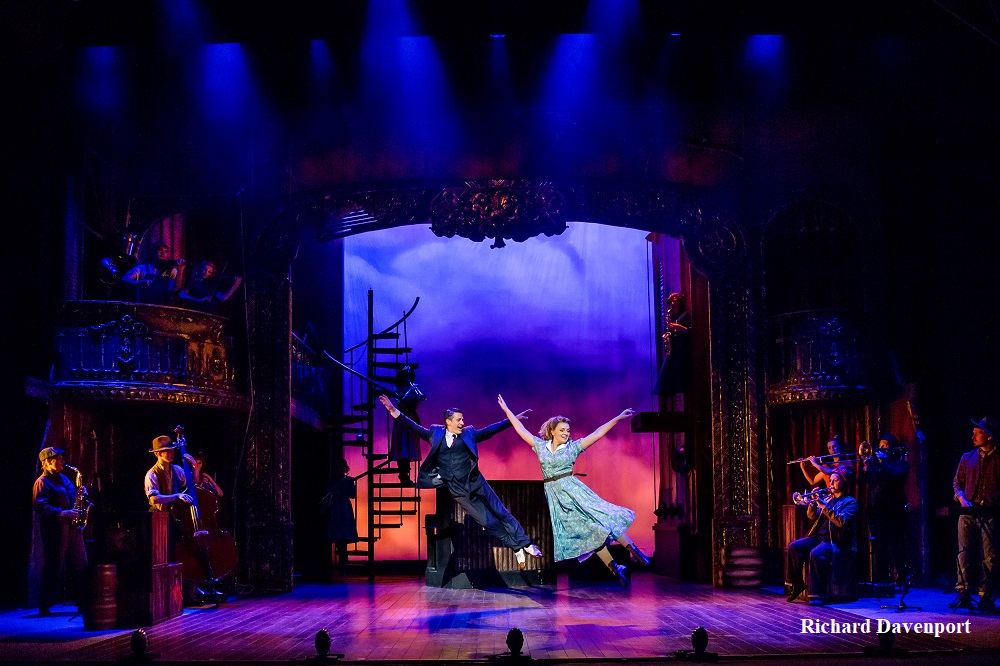 He heads out to Nevada where he soon meets headstrong Polly Baker, the theatre owner's daughter, and he is soon smitten with her. To try and save the theatre and win Polly's heart, he disguises himself as Mr. Zangler and along with the help of the Follies tried to save the theatre from closure. All seems to be going smoothly until the real Zangler arrives on the scene!
Originally billed to star Strictly Come Dancing contestant and TV presenter Caroline Flack as Child's fiancé Irene Roth, Flack sadly pulled out of the tour following medical advice and the role of Irene is therefore played by Hollie Cassar who gave an outstanding performance last night and appears to be getting rave reviews in several publications. Radio DJ for Mellow Magic, Tom Chambers plays the hapless Bobby Child, giving a loveable and laugh out loud performance, with the highlights of this performance being when he is disguised as Zangler, and comes face to face with the real Zangler (Neil Ditt); the pair perform a perfectly in sync comedy sketch, and his comedy act in Act Two involving a rope, a bucket and a theatre wall had the audience in bits! True old school comedy at its best! However, the most memorable performance of the evening came from Charlotte Wakefield as headstrong and feisty Polly Baker, a real no-nonsense character which any man would find a challenge to win the heart of.
The stage set for this production is truly magical, mainly based on the two theatres in the story with the New York back drops and stunning 1930s costumes, which, along with the onstage live band which some doubled up as cast members, transported the audience into the glamorous 1930's jazz era.
Although I found the storyline slow moving at times which didn't seem to flow properly, it was the stunning choreography (particularly the tap dance routines) by.Nathan M. Wright which made this show worth watching in my opinion. I found myself waiting for a "wow" moment to come, which sadly didn't happen until the very last moment.
However, as the youngest one in the audience last night, the show seemed a huge hit with rest of the audience and I put my age down to me not being engrossed in it. I can not fault it as a musical but we can't all love the same things.
Reviewer: Charlotte Browne
Reviewed: 7th November 2017
North West End Rating: ★★★