Slim ones, chubby ones, fit ones and downright fat ones greeted a packed Hull New Theatre on Monday night, as the curtain rose on Fat Friends The Musical.
I'm talking bottoms, bums, backsides – male and female – all tightly clad in garish Lycra and wobbling to loud music in a Zumba class, in deepest Headingly, Yorkshire.
Writer Kay Mellor's Fat Friends hit our TV screens way back in 2000, running for five years. This musical, set in Mellor's home town, just like the TV series, reunites the nation's favourite slimmers who are still, all these years later, trying to lose weight and get fit.
I never saw Fat Friends on TV, so was able to come to this musical with no favourite character – but I left with a definite winner in mind. I'll reveal all later.
The story centres around Kelly (Jodie Prenger), daughter of fish and chip shop owners, Betty (Sam Bailey) and Fergus (Kevin Kennedy) and her dream of looking perfect on her wedding day, when she marries fiancé Kevin (Joel Montague).
When Kelly reveals that Kevin "blew the germs off me chips when I dropped 'em on the floor," I instantly warmed to him. Who said romance is dead!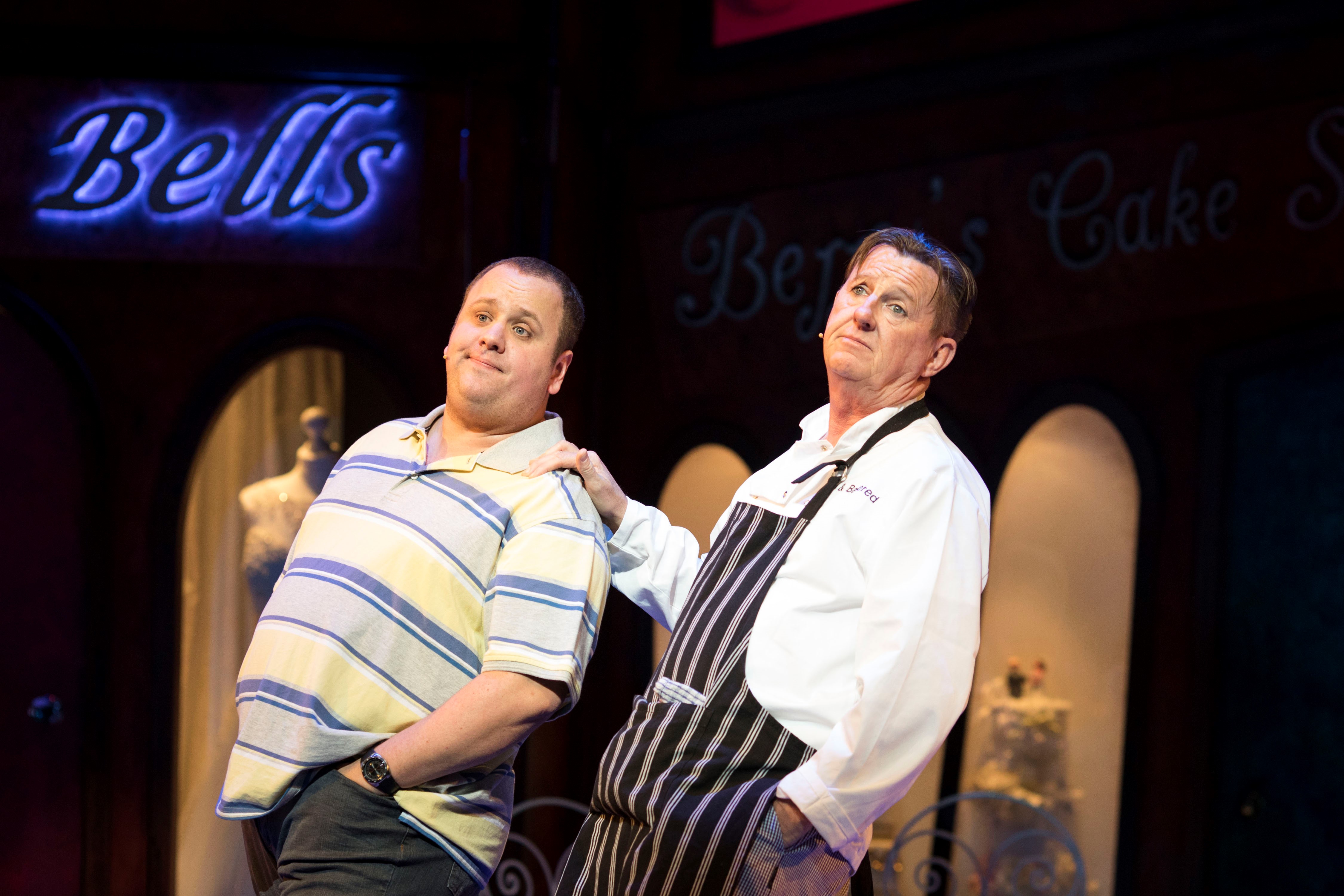 The family chip shop, Big and Battered, was going through hard times, as many locals seemed to be slimming. Indeed, Fergus had taken to advertising grilled haddock with no batter. As if!
Kelly's mother has lost 5stone in weight, after attending Super Slimmers classes, run by Lauren (Natalie Anderson), and all the family are to attend a Slimmer Of The Year ceremony. The £5,000 prize money would also come in handy. My money was on Betty to win, but I won't give the game away.
As it transpires, the focus shifts from Betty to her daughter, Kelly, and her wish to fit into a beautiful strapless wedding dress she's spotted in the window of Wedding Bells, run by Lauren, the slimming teacher.
The once fat, loud and proud Kelly, seems to change when she realises she will never fit into the dress of her dreams. And with only six weeks to the big day, desperate measures are called for.
Up steps slimming club owner Julia Fleshman (Natasha Hamilton). Stick thin and with a fabulous figure, she is everything Kelly isn't. Sensing a business opportunity, the conniving businesswoman lays down the dieting gauntlet to Kelly, promising to pay for her £2,000 wedding dress if she fits into it on her wedding day. Of course, the Look North cameras will be there to record the event.
Kelly accepts the challenge, but as the weeks pass, scheming Julia hands over some "supplements" to speed up her slow weight loss. Kelly loses 8lbs in one week – but it could be more than the flab she loses.
Meanwhile, Kelly's family and friends are all going through their own dramas – some sad, some surprising, some happy.
Humour abounded in this lively musical, but serious issues close to many people's hearts lurked in the background. Body image, self-esteem, money worries, religious woes, a surprise pregnancy and a broken marriage all rear their ugly heads, but the joyful shenanigans on stage cleverly masked the negativity.
Told through some wonderful singing voices (some a tad too loud at first), comedic actions and script, dancing to original music played by a live orchestra, fantastic stage setting and costumes, Fat Friends The Musical is two hours of raucous fun and laughter, infused with hints of sadness, pathos, worry and woe.
Despite the underlying dramas, I came away feeling uplifted, but, unfortunately, no thinner.
And my aforementioned favourite character? Former Atomic Kitten singer, Natasha Hamilton as Julia Fleshman, takes the prize. Her every word and action made me laugh out loud.
Reviewer: Jackie Foottit
Reviewed: 29th January 2018
North West End Rating: ★★★★
Written and directed by Kay Mellor
Choreography by Karen Bruce
Music by Nicholas Lloyd Webber
Musical supervisor, orchestrations and arrangements by Simon Lee