It's not often I'm lost for words, but what I witnessed at the Hull New Theatre on Tuesday night, left me speechless with awe.
And the cause of my "struck dumbness"? – dancers and the stars of Tango Moderno, Flavia Cacace and Vincent Simone.
I must confess here that I had never heard of these two – they might have come from outer space for all I knew of them. But I am so pleased they came down to earth to show us mere mortals just what they are capable of on the dance floor.
The press release informs me Flavia and Vincent have been dancing together for decades, are World Champions and West End performers. I'm a professional theatre reviewer for goodness sake. How could I not know this? Where the heck have I been?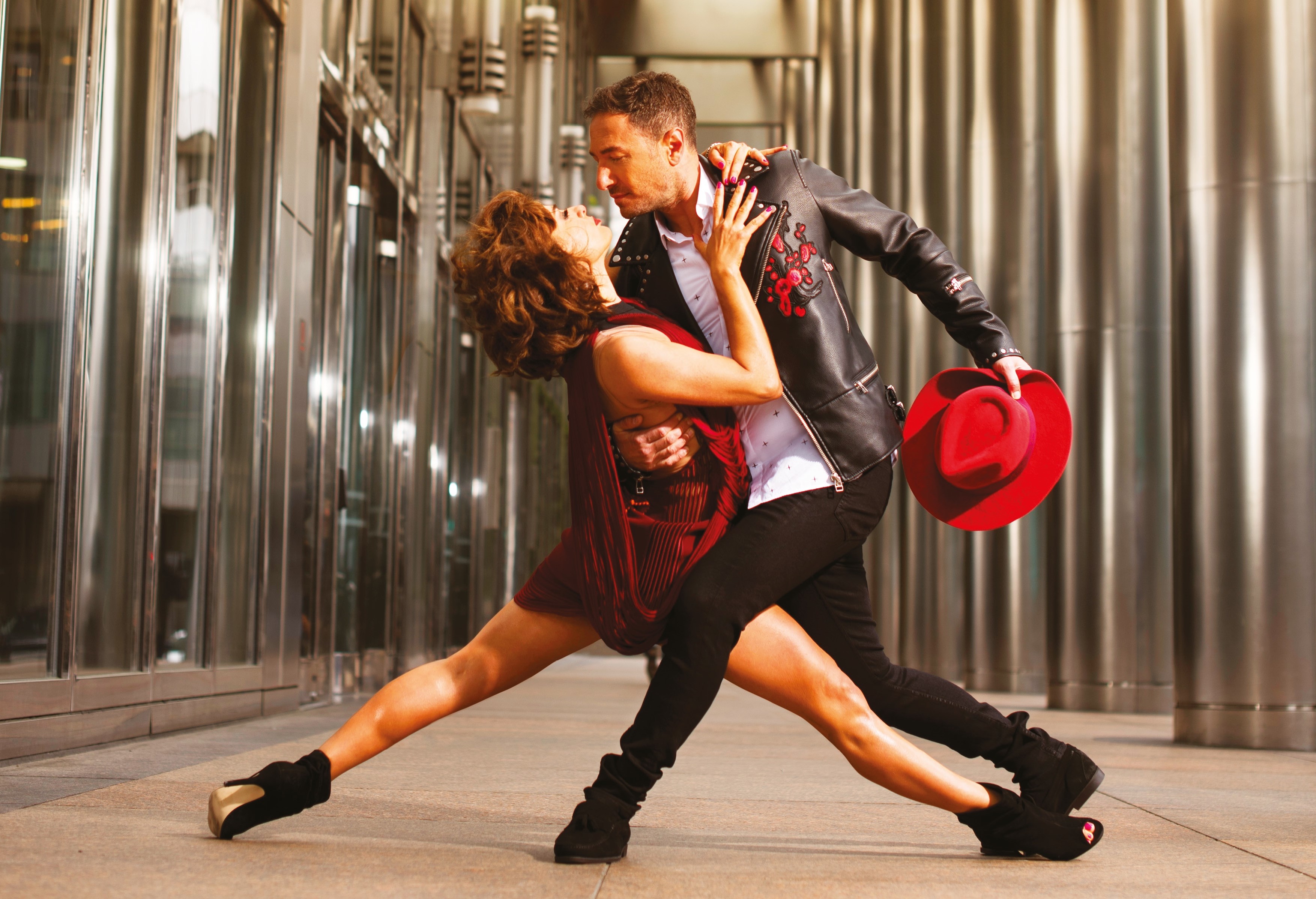 Enough of me, back to Tango Moderno. The moment the couple glide into view, side-lit on an atmospheric stage setting, it was obvious we were witnessing something special.
Flavia, gorgeous in wispy georgette and Vincent, sexy in tight jeans and short black jacket, covered in zips, just melted into each other's arms, every breath-taking step a delight to my untrained eyes.
Making each routine seem effortless, the pair seemed in another world when they danced. And we in the audience were transformed to another world just watching.
During several costume changes, Flavia's dresses grew more beautiful, complementing perfectly Vincent's more casual outfits.
She was made to look as light as a feather in Vincent's arms, as he swung her, lifted her and carried her around, to music played by a live band and songs sung by Tom Parsons (who also entertained us with his narration, poetry and guitar playing) and dancer/singer Rebecca Lisewski, who, as well as singing, brought a touch of comedy to her dance routines.
This talented pair did more than justice to songs made famous by Rag And Bone Man (Human), Michael Buble (Haven't Met You Yet), Percy Sledge (When A Man Loves A Woman) and Burt Bacharach's A House Is Not A Home, to name but a few.
Oliver Lewis on the violin was outstanding, especially in his rendition of Rimsky-Korsakov's Flight Of The Bumblebee (well, he was the 2010 Guinness world's fastest violinist).
Flavia and Vincent didn't hog the stage, though, graciously allowing a very energetic group of young dancers to share the limelight. In different little sketches, these young 'uns high-kicked, break-danced, rock'n'rolled, sang, smooched and thoroughly entertained us.
However, our stars were never far away, showing their fun sides several times with the youngsters.
But whenever Flavia and Vincent were on the stage, I didn't have eyes for anyone else up there. They were utterly mesmerising. In fact, at the interval, my theatre buddy sister, Christine, turned to me and in a very serious voice said: "Well, I'm sorry, but I've got to say something." (Oh no, she wants to go home, thought I). "This is the best thing I have ever seen."
Phew, my sentiments exactly.
And though the Hull New Theatre was far from full on this snowy February night, the rousing and prolonged standing ovation proved the audience agreed with us.
Reviewer: Jackie Foottit
Reviewed: 6th February 2018
North West End Rating: ★★★★★