From Weight Watchers, to F-Plan, SlimFast to Cambridge and Atkins to name a few (all of which are mentioned within the musicals song lyrics), there was (and still is) always some new diet coming out. Curious to get an understanding of the diet craze, writer Kay Mellor joined a local slimming group to get an insight into the ever expanding diet franchise.
Following this, Mellor wrote the much loved television show "Fat Friends" which went on to win several TV industry awards for best drama.
Flash forward to 2018 and the "weight" to see the much loved drama series given a musical makeover is finally over as it embarks on a UK tour. Packed with bags of northern humour, high energy dance routines, more lycra than an 80's nightclub, lyrics filled with colourful (but typically northern) language, "Fat Friends" is an absolute riot of show from start to finish.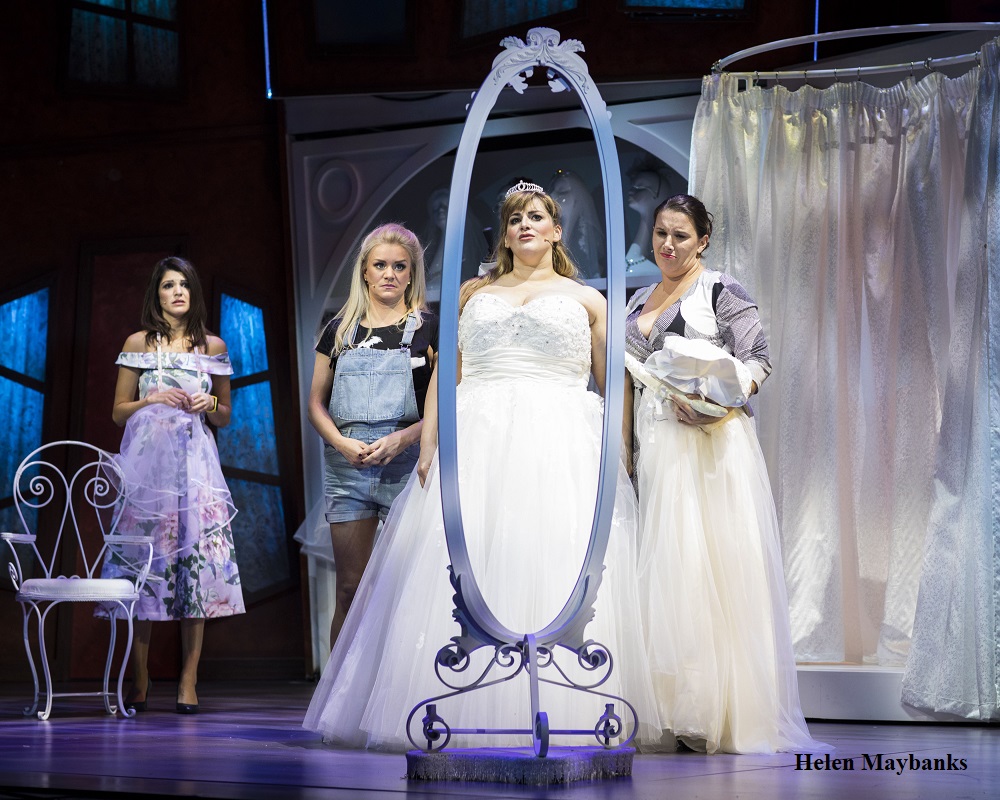 Kelly Stevenson (Jodie Prenger), the daughter of fish and chip shop owner (the aptly named "Big and Battered") is engaged to be married to her dream man - Yorkshire Water board worker Kevin Murgatroyd (a shared role between Andrew "Freddie" Flintoff and Joel Montague). For months Kelly has been planning the perfect wedding and has found her dream dress. Unfortunately Kelly has gained weight unbeknown to her and when she goes for a dress fitting she realises she cannot get in the largest size - a measly size 16, but decides to use her life savings to buy the dress regardless - despite the fact that it's at least two sizes too small. Betty - Kelly's mother (Sam Bailey) a yo-yo dieter herself, has been trying to encourage Kelly to slim down for the big day. Nominated and a favourite to win Super Slim of the year, with the BBC set to be covering the story, Betty takes Kelly and husband Fergus (Kevin Kennedy) along for support. When Kelly meets Super Slimmer founder Julia Fleshman (portrayed by Laura Mansell, understudy to Natasha Hamilton), she is soon tricked into becoming the new face of Super Slimmers', when Julia promises to not only pay for the dress but the whole wedding, in return for Kelly becoming a Super Slimmer member and being used in all their adverts. It isn't long before Kelly is "Going Global'…..but for all the wrong reasons!
Jodie Prenger is always an utter delight to watch perform, her humour comes naturally making her even more loveable, and she isn't afraid to be herself - which is part of this stories morals. Her rapport and chemistry with Andrew Flintoff is convincing as his doting fiancé; Flintoff was a notable surprise for me in this production - he can sing, dance and act, proving to be a huge hit with the audience earning cheers as he first entered the stage. His dim-witted, goofy and loveable character is predictable yet instantly loveable. Bridal Shop owner and Super Slimmer group leader for Headingley (where this story takes place) Lauren (Natalie Anderson) is equally loveable as the unlucky in love dreaming of finding the perfect Jewish man….until she meets handsome local Vicar Paul (Rotherham born Jonathan Halliwell).
Not since "The Book of Mormon" has a musical shocked me with its explicit lyrics, made me laugh till tears ran down my legs and left me hungry for more before the final curtain call. The song and dance routine by Prenger/Bailey/Hart involving an oversized chocolate bar was the pivotal moment I thought I was going to explode with laughter. It's such a tasty treat of a show that its run at Sheffield's Lyceum is now sold old!
A full fat five stars with a portion of fries on the side!
Reviewer: Charlotte Browne
Reviewed: 12th February 2018
North West End Rating: ★★★★★