From the production team behind Jeeves & Wooster, The Miser, The Dresser and the sensational smash-hit musical The Bodyguard, comes the stage adaptation of the 2012 comedy film "Quartet". This charming tale of four ageing opera singers - Cecily, Reggie and Wilfred, currently residing in a grand retirement home in Kent, along with newly arrived resident Jean - a once Opera star and ex-wife of one of the fellow residents.
It isn't long until secrets are revealed and chaos follows suit, but in true theatre tradition "the show must go on!" Every year the residents host a concert to celebrate the birthday of Verdi, but this year, prompted by the arrival of Jean Horton (Sue Holderness - Only Fools and Horses, The Green Green Grass), eccentric Cecily Robson (Wendi Peters - Coronation Street, Oh What a Lovely War) persuades the four to join forces and perform an opera quartet together.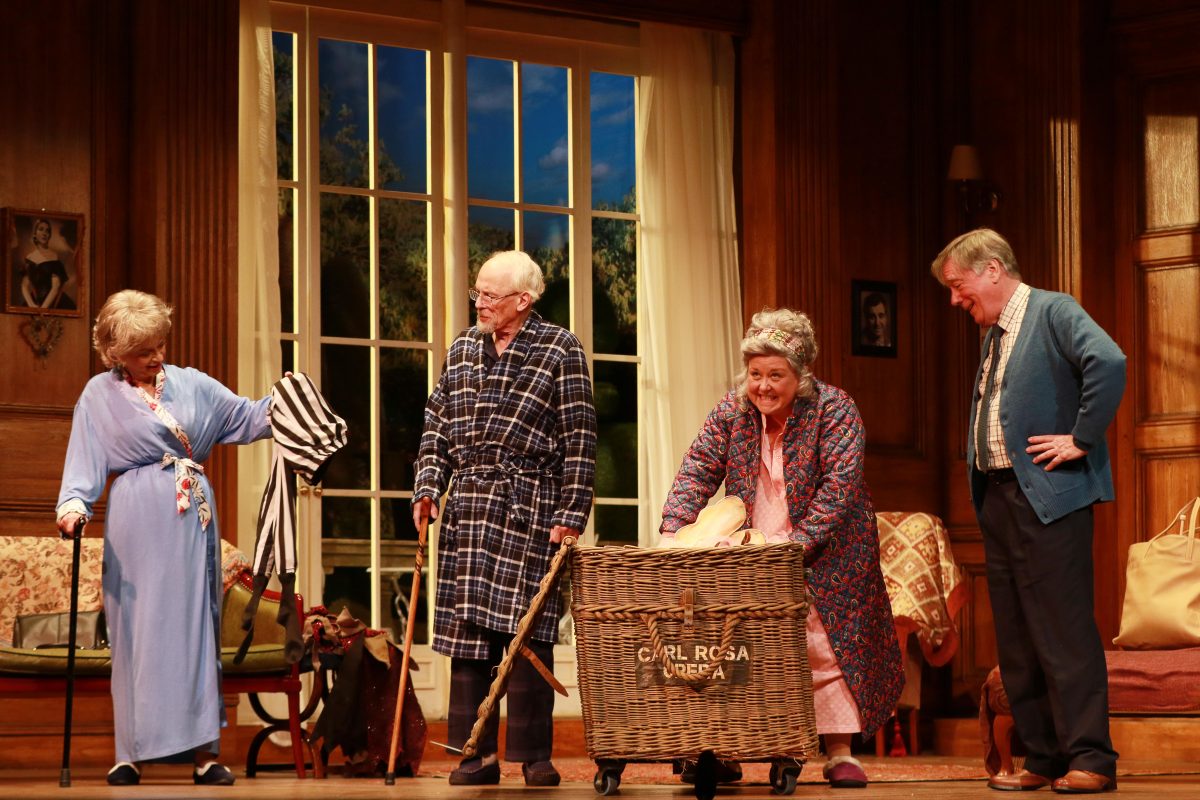 Wilfred Bond (Paul Nicholas - The Real Marigold Hotel, Just Good Friends, Eastenders) and Reginald Paget (Jeff Rawle - Harry Potter and The Goblet of Fire, Drop The Dead Donkey) seem enthusiastic about the idea and the three join forces to convince the less enthusiastic Jean. Soon the four are in full swing with their plans to give the other residents a performance to remember.
The foursomes motto is "NSP" - or "No Self Pity", and as the foursome reminisce about their successful carers, past loves and regrets, that certainly is the case. The foursome embrace entering their twilight years and find humour in growing old….disgracefully!
The stage set remains the same for the majority of the story; a grand sitting room in the residents care home, with Georgian style French doors overlooking a beautiful garden. The attention to detail in the "room" with the stunning features typical of grand stately homes really did make you believe you were also inside the care home. The story stayed true to the film version, however did feel somewhat slow in places with the occasional laugh out loud moments making it more enjoyable to watch.
Without all the comedy moments which came mainly from Wendi Peters character portrayal as the eccentric Cecily, it would have made for a disappointing couple of hours. However based on Peters performance alone I would definitely recommend giving these four ageing musicians a chance! Playing at Sheffield's Lyceum Theatre until Saturday 24th February before continuing its UK tour through to April 2018. https://www.sheffieldtheatres.co.uk/whats-on/quartet
Reviewer: Charlotte Browne
Reviewed: 20th February 2018
North West End Rating: ★★★