This rags-to-riches-to-rags to-riches story kept a jam-packed Hull New Theatre enthralled on Wednesday night, as the award-winning West End production Jersey Boys came to town.
Bringing to life the remarkable rise to stardom of Frankie Valli & The Four Seasons - a bunch of deadbeat kids from New Jersey, in America - Wednesday's sell-out show was one of 16 performances of the true story at this newly-refurbished theatre.
Excitement was in the air and, as the familiar strains of Oh What a Night reached our ears, the black and silver stage setting colourfully came alive with a "French rap star" and his backing singers bringing us the version, Ces Soirées-La, which topped the French charts in 2000.
Split into four sections – Spring, Summer, Fall and Winter – the show follows the group from their humble beginnings in "Noo Joizee", to their induction into the Rock and Roll Hall of Fame, after selling 175million records worldwide.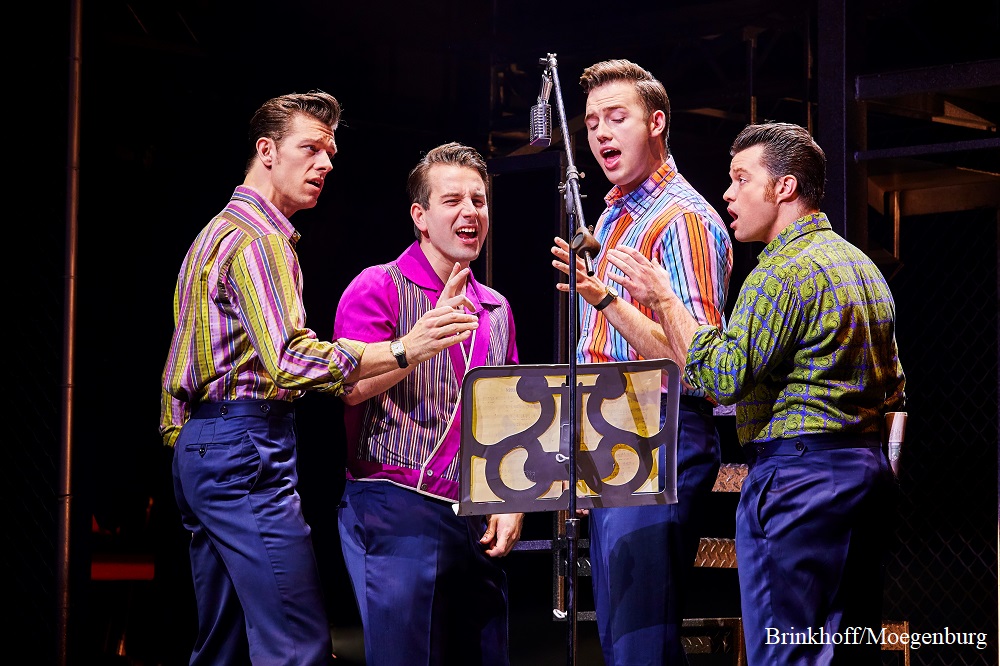 The high-pitched voice of little Frankie Valli (all 5ft 5ins of him according to Wikipedia) ensures he is the band member most people recognise. But Jersey Boys gives the chance for all four band members to tell their side of this amazing adventure.
However, because of his unmistakable voice, it's Frankie who we focus on the most. Michael Watson, as Frankie, does an absolutely amazing job, faultlessly hitting the high notes and doing more than justice to hits such as Sherry, Walk Like A Man, Big Girls Don't Cry, Let's Hang On, Beggin' and my faves, My Eyes Adored You and Can't Take My Eyes Off You.
C'mon Marianne, Stay, Working My Way Back To You were just three more of the many hit songs in the show. All around me I could hear people singing along. Music by the live orchestra, directed by Francis Goodhand, added to the fantastic atmosphere.
The young Frankie (born Francesco Stephen Castelluccio) often broke the law along with his friends, but was always let off because of his young age. The friends, Tommy DeVito (the super-talented and very funny Simon Bailey) and Nick Massi (the loveable, deep-voiced Lewis Griffiths), both musically gifted, became two of the original Four Seasons. Bob Gaudio (an amazing performance from Declan Egan) completed the line-up.
The long, hard, swear-filled (you've been warned!), road to fame and fortune sees Frankie suffer more than his fair share of heartache. Just when he thinks things are going okay – and we are enjoying his happiness and success – the atmosphere changes when bad news blindsides him, and us.
As if at least one broken marriage and the death of a beloved daughter aren't enough, he discovers Tommy has mismanaged the group's funds – having debts of up to $1million.
When you come from "Noo Joizee" you never desert your friends, is Frankie's mantra, and he agrees to take on the debt, with the only remaining group member, Bob Gaudio (Nick has left and Tommy has been exiled to Las Vegas by the mobsters he owes money to).
It's a hard slog, but eventually Frankie and Bob pay the debt, enabling them to concentrate on building up their own, well-deserved, fortunes. Bob's song writing skills and Frankie's unique vocals cemented a partnership - sealed with a handshake decades ago - which still endures.
It was as if Frankie, Tommy, Nick and Bob were actually at the Hull New Theatre on Wednesday night, so fantastic were the four main performers. But everyone on stage gave their all.
And their delight was obvious as the whole audience rose en masse to give them the lengthy applause they richly deserved.
I couldn't fault a thing. Oh, what a night!
Reviewer: Jackie Foottit
Reviewed: 21st February 2018
North West End Rating: ★★★★★