Imagine an immovable force with enough power to sweep people up off their feet and change their lives for good… No, I am not talking about the 'beast from the east' or the impending 'storm Emma' – I am talking about the smash-hit musical Mamma Mia!.
The inclement weather was not going to stop me getting to the Lyceum Theatre this evening! No way! And boy did it pay off! The 'Mamma Mia!' UK tour which began in 2016, has to be one of the most polished touring productions I have ever seen. In fact, never have I seen a touring production with this calibre of performance! From the moment the overture began to the final curtain you could see why this Jukebox musical has been a huge success around the world. The audience certainly get their money's worth.
The plot and music are a match made in heaven. Sophie Sheridan, preparing to get married to Sky, has lived with her mum Donna on an island in Greece for all of her 20 years. Having never met her dad, she decides to invite him to her wedding – there's a problem however, she doesn't know who he is. So having discovered her mum's old diary – she invites her three childhood sweethearts! What ensues is a 2 and a half hour laugh-out-loud musical romp – based on the music of ABBA. The soundtrack written and adapted by ABBA's Benny Andersson and Björn Ulvaeus is brilliantly woven into a brilliant and sometimes bonkers book by playwright Catherine Johnson. Mamma Mia! was the creation of producer Judy Craymer after a meeting with the two Swedish megastars when they were working on Chess with Tim Rice.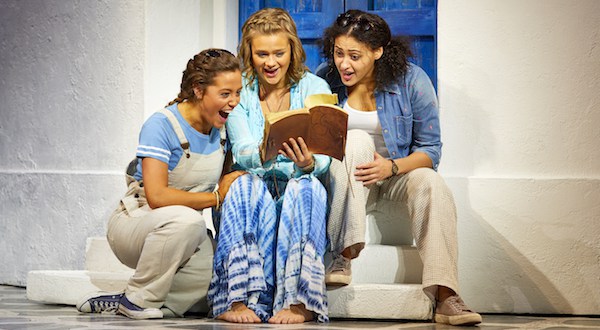 The production is crammed full with all the best-known ABBA songs – including Gimmie! Gimmie! Gimmie!, Thank You For The Music, Voulez-Vous, Dancing Queen, S.O.S., Money, Money Money and, of course, the title song - Mamma Mia!
Lucy May Barker as Sophie Sheridan is excellent throughout – her vocals were effortless and her connection with Sky (Phillip Ryan) was as strong as I have seen in Musical Theatre. Ryan himself was everything that sky should be – strong vocally and charming.
Understudy Rebecca Seale as Rosie and Emma Clifford as Tanya were hilarious throughout whilst also being given the chance to display some fine vocals in Chiquitita, Dancing Queen, and Super Trouper! They both had the audience in raptures at times.
Stealing the show however is the excellent Helen Hobson as Donna Sheridan. Her portrayal of the character Donna is exquisite and she steals the show in 'The Winner takes it all' – her belt at the end of the number left the hairs on the back of my neck standing on edge! Hobson's camaraderie with Seale and Clifford was solid throughout and their appearance in white lycra and platform boots (promised at the start of the show) transported you straight back to the 70's!
Jon Boydon as Sam Carmichael, Jamie Hogarth as Harry Bright and Christopher Hollis as Bill Austin all individually strong – but as a trio they were a tour de force – delivering lines with the perfect comic timing and equally impressing with their vocal ability! Morgan Jackson as Pepper, Brad Veitch as Eddie, Fia Houston-Hamilton as Ali and Erica-Jayne Alden as Lisa should all be commended for their respective roles – each of which were delivered with so much energy and passion, you couldn't help but love them!
It would be remiss of me not to mention this productions large and powerful ensemble – they work tirelessly throughout – delivering Anthony Van Laast (MBE)'s excellent choreography with ease. They also must be applauded for the way they executed the scene changes throughout, helping ensure that they production was as fast flowing and fluid as the score deserved.
Howard Harrison's beautiful lighting design perfectly complements Mark Thompson's production design.
Mamma Mia! has something for everyone – it is charming, it is hilarious and it is downright brilliant! And just when you think it is finished – the whole cast get the audience on their feet with an encore! I absolutely loved this production and so did each and every audience member who all left with a smile in their face and ready to take on the world!
Mamma Mia! is sheer perfection – get yourself a ticket for Mamma Mia – if you can! Mamma Mia! Sheffield Lyceum Theatre until Saturday, 17th March 2018.
Reviewer: Chris Hanlon
Reviewed: 28th February 2018
North West End Rating: ★★★★★