Following a sell-out run in 2016, The Damned United is back touring several Leeds venues - with a brilliant new version for both football and theatre fans alike. Kicking off at city centre based West Yorkshire Playhouse until 7th April, The Damned United is a seventy minute marathon of the highs and lows of the forty-four days in 1974 when the outspoken Brian Clough had his stint as Manager of Leeds United Football Club.
Following the resignation of Don Revie, who left Leeds to become the Manager for England Football Team, Clough left his eight month stint in charge of Third Division Brighton & Hove Albion to take over Leeds. This came as a shock to the nation as he had previously criticised Leeds players and their Manager. After just 44 days, Clough was sacked from Leeds United. Not surprising with the attitude he had - on disagreements with players Clough's outlook was "We talk about it for twenty minutes and then decide that I was right"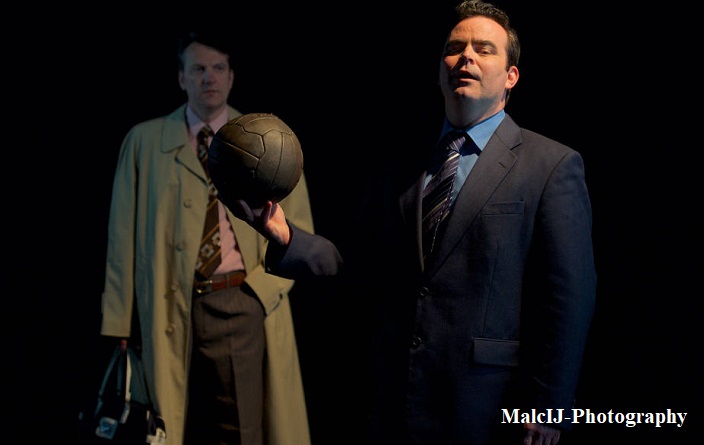 With both a book and film adaptation, and disapproval from Clough's family regarding the accuracy of the portrayal - both of which portray him as a foul mouthed alcoholic - the latter only becoming more apparent in real life in his later years, this stage version, with just three cast members and the clever use of a video screen to add additional characters, this production focuses on those 44 days and the 7 games of those 44 days. The highs - from winning matches, to the lows - the death of his mother, which had an adverse effect on Clough's mental state.
Despite not being a football fan nor being born in the 1970s, I've watched several interviews with Clough online to get some idea of what he looked/sounded like; Luke Dickson wasn't far from the real deal and his portrayal was believable. Watching him go from a foul-mouthed short tempered man to a blubbering wreck following the news of his mother's death, was a pivotal moment of this production. Supported by David Chafer as Peter Taylor and Jamie Smelt as Manny Cussins, (Leeds United Chairman), Sam Longson (Derby chairman) and all other parts, "The Damned United" is a powerful insight into one of the most talked about football managers in football history. Brian Clough.
"Down the stairs... Along the corridor... Round the corner... Into the dressing room. HIS dressing room. Hateful, spiteful place. Dirty, dirty Leeds."
Reviewer: Charlotte Browne
Reviewed: 28th March 2018
North West End Rating: ★★★★