Upon his seventh birthday, young ogre Shrek is forced out of his ogre mother and fathers swamp and sent out into the "Big Bright Beautiful World" to make his own life and fend for himself. His parents warn him that due to his looks and the fact that he's an ogre, others may not be so kind to him. Flash forward several years and Shrek (Steffan Harri) is happily living independently in his own swamp, an embittered angry ogre. So when his tranquil life is suddenly turned upside down by the unexpected arrival of a large group of fairytale characters including Pinocchio, The Wicked Witch of the West, The Big Bad Wolf and The Three Bears, whom have been banished from Kingdom of Duloc, by order of the evil Lord Farquaad. Branding them as "freaks", and threatening a penalty of death if they ever return, the characters seek refuge in Shreks' swap, but happy leading a life of solitary confinement, Shrek decides to head to Duloc to see Lord Farquaad (Samuel Holmes) to try and claim back his swamp and get the fairytale creatures their home back also.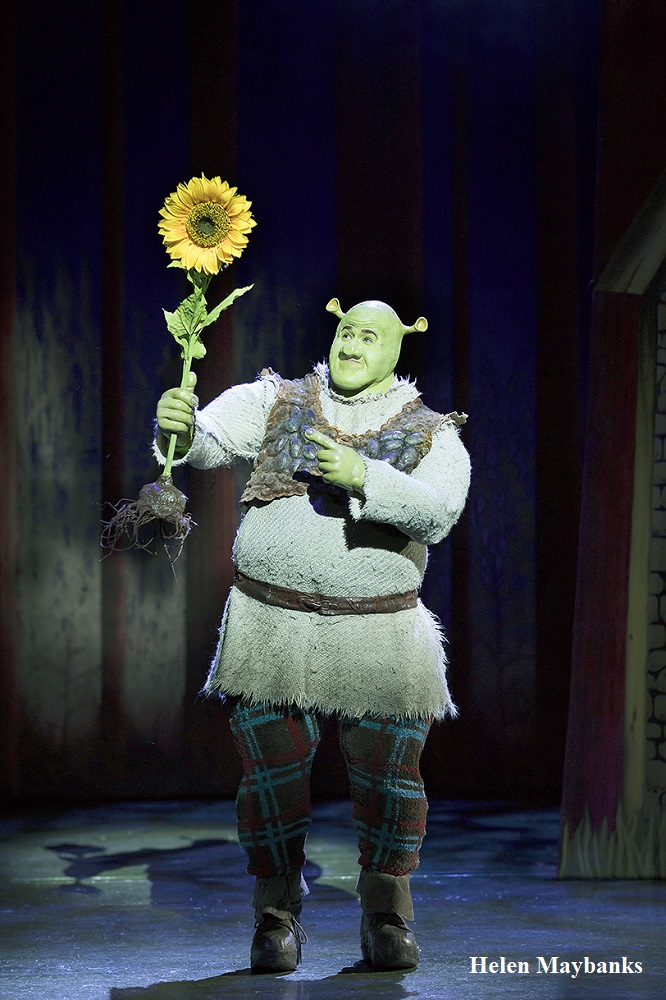 Along the way Shrek rescues a talkative Donkey (Marcus Ayton) from Farquaad's guardsmen and is soon persuaded by Donkey to let him continue the mission alongside him. Meanwhile, in Duloc, Lord Farquaad, in order to become King, plans to marry Princess Fiona, who has spent her life trapped in a tower, awaiting the rescue from her one true love.
Whereas the West End Production introduced us to a young Fiona, then saw her grow into a teenager and later into adulthood, this touring production has changed and we first meet Fiona as an adult, (Laura Main) surrounded by puppets she's made over the years (because everybody needs a hobby, right?) where she tells her story of years trapped in the tower dreaming of her rescue, comforting herself by counting down the days, reinforcing to herself "I Know It's Today". This wasn't the only change from the West End production, the majority of changes being to do with the stage set to enable it to tour different venues. However this didn't take away the comedy from the musical.
When Shrek is ordered by Farquaad to rescue the Princess and bring her to him in order to regain his swamp and get the fairytale characters their home back, he soon starts to become close to Fiona, who isn't what she first appears to be.
The production is full of comedy moments and innuendos (which luckily go over the majority of the children in the audiences' head) and it's particularly hard not to love the Evil Lord Farquaad (Samuel Holmes) as his pocket sized character provides the most comical moments of the story. Donkey is a firm favourite amongst younger audience members as him and Shrek soon become firm friends and rescue Princess Fiona together.
Laura Mains' tap dancing routine in Act Two is utterly flawless, admittedly it wasn't until this point that I started to warm to her in the character of Fiona. I didn't feel she portrayed the edge of insanity side of the character in "I Know It's Today" in Act One but by Act Two I'd warmed to her in the role. Harri was every-bit the scary but loveable green ogre Shrek, making this the most Shrek-tacular family treat of the Easter holidays. Performances run at Sheffield's Lyceum until 8th April 2018.
Reviewer: Charlotte Browne
Reviewed: 29th March 2018
North West End Rating: ★★★★